The final day:Every happiness will come to an end. Well, it is the final day and we needed to pack back to the KL city. I woke up at about 7 am ++, wow again I did sleep!! It is a better night as the weather is not as cool as the first day and it seems that many are still sleeping at that time. Wonderful night~ So, after the morning breakfast which is sharp at 8am, we have sufficient time till 10 am before we all are required to gather at Dewan Bentong with our luggages.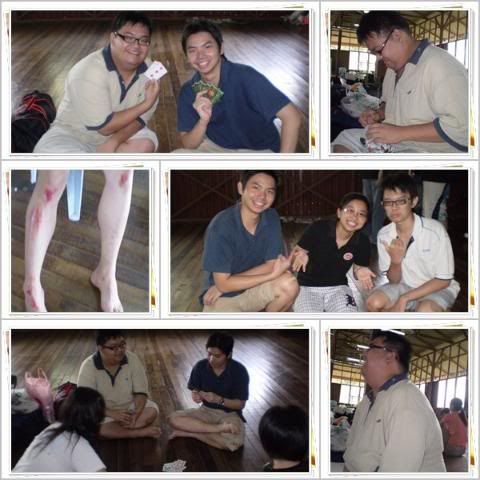 Actually, the four of us (Me, JY, Tomas and MF) have already packed our stuffs before the breakfast. So, we headed to the hall and spent our time chatting and playing chor tai de. Middle left: Hmm..the injury seem not recovering.. not choice la.. limited medicine available just can use the dettol to clean the wound Top and bottom right: MF was asked to insert the newspaper into his clothes to show up something..surprisingly he followed the commands.. sigh
Middle right: Me and Tomas with the assailant..haha.. the cause of our little wound on our knee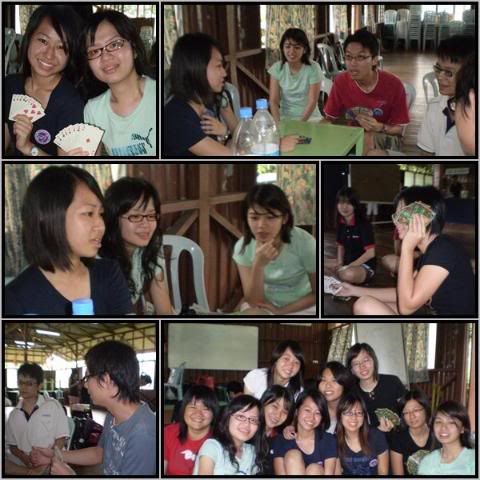 Top left: Xiao You and her junior, Shuennie..both are Queen of Gamble..toh poh
Middle right: The MCC?? very geng in chor tai dee
Bottom right: the gals y2 and y3..which year has more pretty gals?? tell me secretly haha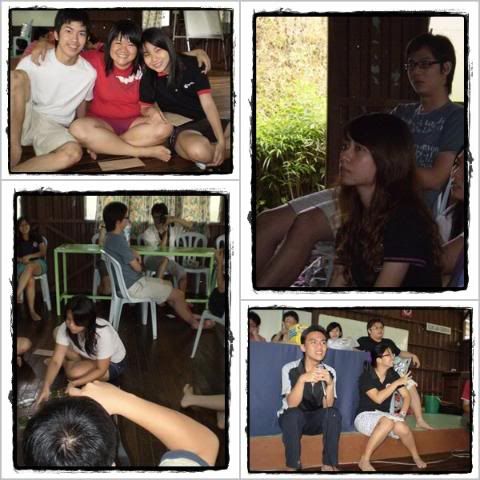 Top left: Kah Kit, Suk Yen and Hui Hoon..forgot the relationship in their family tree..
Top right: JY sitting far away due to .. some reason
Bottom right: Han Boon and Felicia get the feedback from the participants on the camp they had organised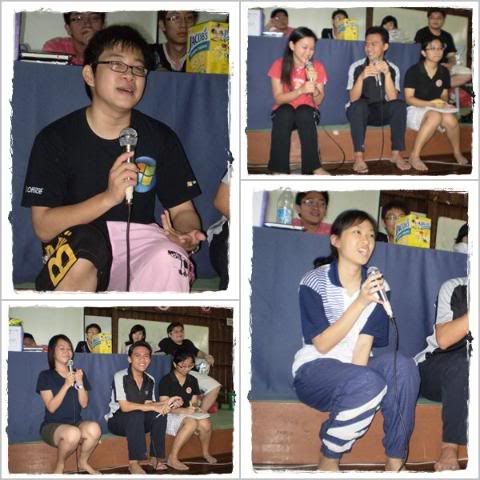 Top left: The first person to be called out to give their feedback is Irwin Liew Top right: Yuen Si speaking out her opinions.. and helping Vyonne if not mistaken to complain of the lack of info for the number of clothes to bring..well, i think 'commonly', we wont bring just 2 pants to any camp rite, don't you? Hahaha..
Bottom left: Shueenie describing her wonderful experience playing flying fox (i full stop already..no more elaboration)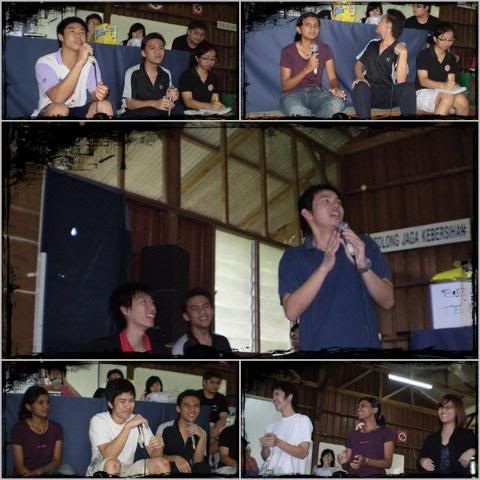 Another interesting event. They called out Kah Kit, Sabitha and Terrina Lim to give their feedback and asked them to stay in front. Then, out of expectations, we are being told their birthday fall within that month. Kah Kit in end of November, Sabitha in coming Dec and Terrina on the first day of our camp. Happy Birthdays!! And I (it's me) are being out of sudden pulled out to lead the others to sing birthday song for them. Aiyo..haha.. but ok la.. since we must enjoy and play to the fullest, I take the call. So, we sang in English, Cantonese, Mandarin and Bahasa Melayu (sigh, dis one is hard). I have tried in Indian but none of us know..haha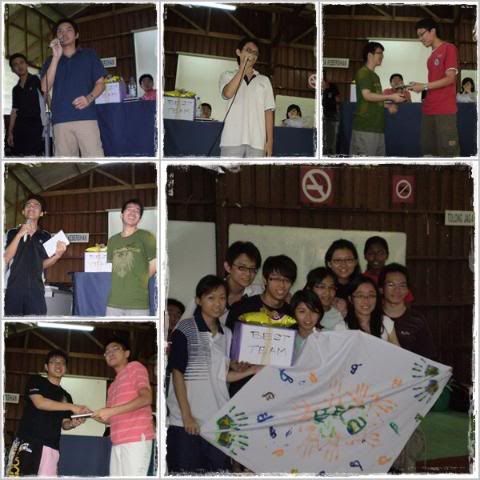 Then, they asked me to give the feedback. I helped my friends especially XY ..haha.. to voice out their opinions. This is followed by Tomas, the previous camp organising chairman. Then, we gave away the best participant award to Ho Jeng Win (thanx for entertaining us) and best team to Tomas's group. Bravo to all of you!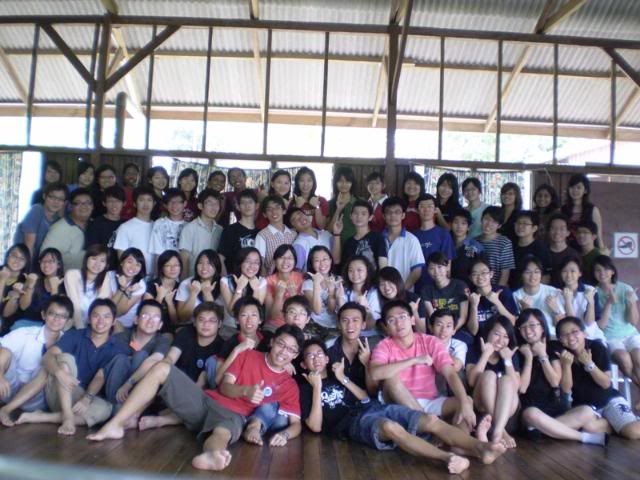 Participants and committee members of UCSIPSS Team Building Camp 2008, Dusun Eco Resort, Bentong, Pahang.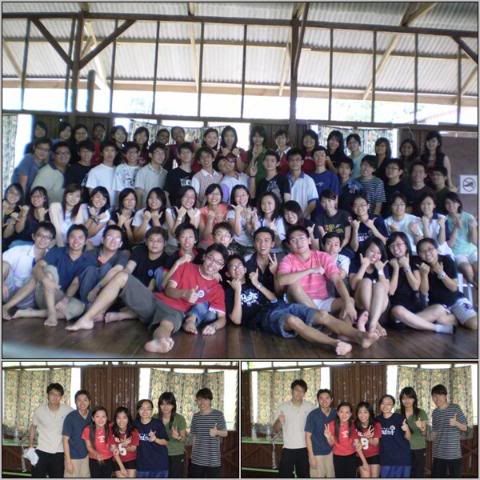 Bottom pics: My group~
From left: Jason, Me, Yuen Si, Zhi Wei, Min Lu, Yin Wei, Feng Jun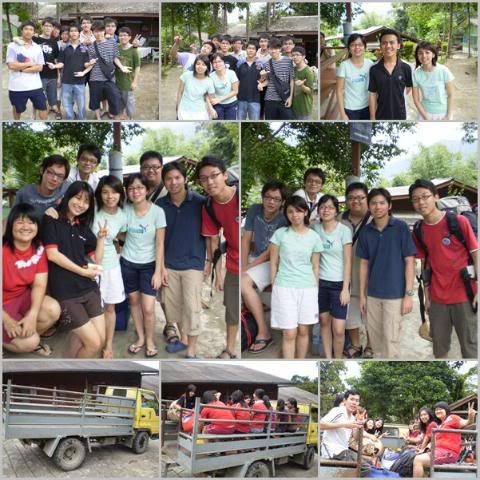 Top pic: The juniors XY genes, xiao you and see bee at last get to take photos with them..cant sleep?
Middle pic: The young looking seniors
Bottom pic: This is the lorry to transport us down to the lower ground where the buses are waiting for us. Chinese saying 'like selling the pigs'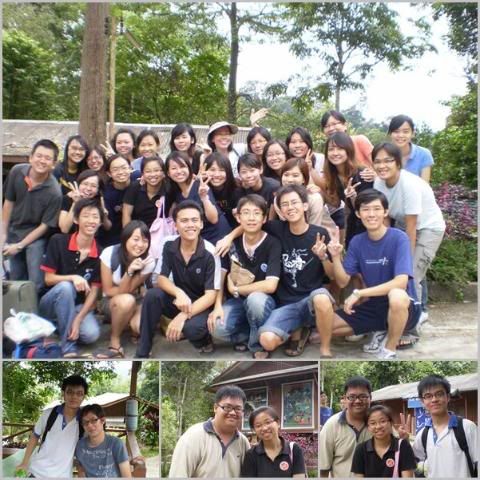 Top: Year 2 juniors Bottom: Happy friendships
Top: The daring guys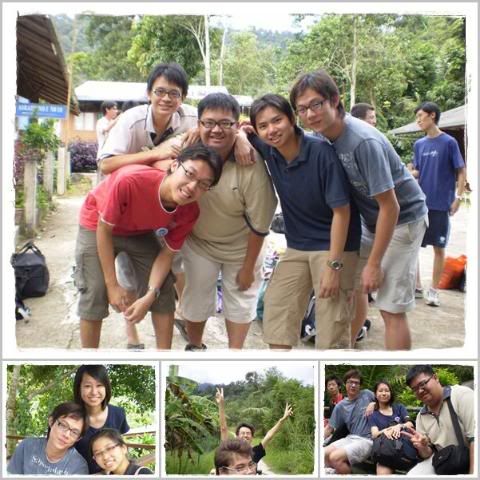 We are the last group to be transported down..as usual make sure others safe and no injury first. Top: The mighty FIVE (Tomas, Alvin , Meng Fai, Me, Jee Yang)
Bottom middle: Kelvin enjoying the trip down and he did take the video..haha and ask every 1 on board to say hie.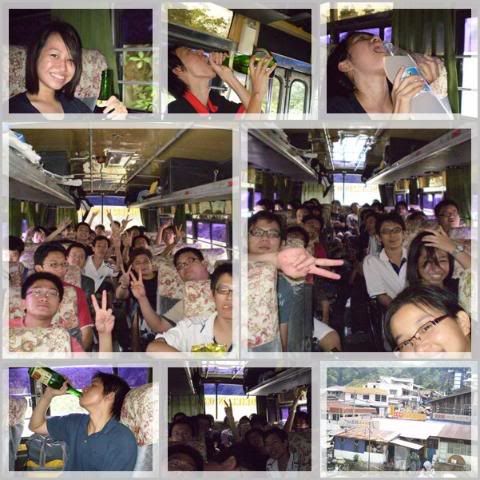 Celebrating in the bus. We passed around the champagne and isotonic drink, Revive. It required some skill to drink in a moving bus. So, I take the whole bottle instead at the last round. We are singing all the way from Dusun Eco Resort heading back towards UCSI University. Can you imagine? 1 hour ++ of non stop chatting, laughing and singing session. Joshua played his guitar while we sang along. In comparison to another bus which transport the XX genes, they all are fallen asleep. Aiks.. gals are gals..haha. Btw, we have two intruders with xx genes, felicia and shuennie in the bus too. They should feel lucky to be in our bus. Haha.
Bottom right: My kampung..haha.. go back there once a year..The bus driver even open the front door for me to capture the view...so so pai seh..haha
Overall, it is a very enjoying camp. Congratulations to all the committee members in making this camp a success. You guys had done a great job!
For the Y1 juniors, you guys should have taken this camp as a reference for you all to make another wonderful camp hopefully in the jungle, sleeping in the jungle and doing activities in the jungle. Compliments shall be rendered to all of you because throughout the camp, I can see the sportmanship in all and your enthusiasm to participate in all the activities as well. You guys will be the next leader in our UCSIPSS and we hope throughout the camp, you guys learnt something from it.
For my Y3 friends, lets wait for another camp to be organised and lets hope that there will be greater number of our fellow friends that will join us. Hopefully, there is no obstacles~
Thats all for my report. Hope you guys like it. Tq very much for viewing.