Our destination is to look for the Giant Pineapple Tarts recorded in the Malaysia Book of Records.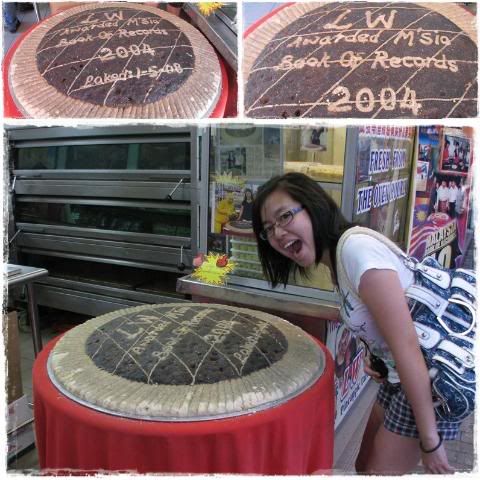 How big is the giant pineapple tart? Look at Wan Nah mouth. Even hers cant fit in.
You can try the samples given before making decision on what to buy.. aiya buy all la~
looks delicious?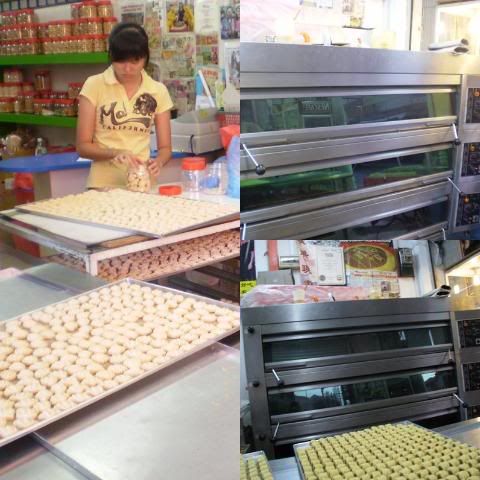 Baking in progress The large oven is placed at the entrance so that the customers can have a view
There are 2 types of pineapple tarts sold; butter or pandan coating. I bought the butter one which costs RM 14.80 to my mum (bigger container).
Left: The many newspaper articles on this shop Right: Even the Digi 'Yellow Man' visited this shop being attracted to the giant pineapple tart
Awaiting the pineapple tarts to be ready fresh from the oven
Guests book which you can write your name, location, date visited and messages.
Taking photograph with Madam Lucy Wee, the BOSS
LW Nyonya Pineapple Tarts House
Address:
HQ: 95, Jalan Kubu, 75350 Melaka. Tel: 06-28171626
1: No. 41-A-1, Jalan Hang Kasturi, 75300 Melaka.
2: 86, Jalan Tokong (Jonker Walk), 75200 Melaka.
3: 62, Jalan Tokong, 75200 Melaka.