The Stadhuys Building
History time:
The Stadhuys which means the municipal town hall was built by Dutch on the ruins of a Portuguese fort during the 1650's after having taken over from the Portuguese in 1641. It was built in 4 stories on a terrace of St. Paul's hill. It had been Governor' residence until as early as 18th century. It also function as the Dutch Administrative Center until 1824. The Stadhuys continue to be the State Governing Center until the end of 1979. The original colour of this building was WHITE. It was changed to red during 1820's and then become known as the 'The Red Building' till now. The Dutch ruled Malacca from 1641 to 1795. In 1982, the Stadhuys was converted into a history museum also known as state museum. The entrance fee to the museum is quite expensive, RM 10 so I did not enter. If you have the cash, you may probably pay a visit to see the strange components and antiques found during various renovation to the Stadhuys.
The water fountain located in the middle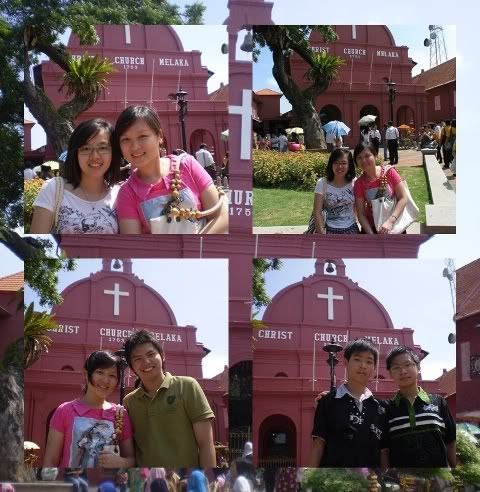 Christ Church Melaka
Malacca Trishaw Ride

If you want to enjoy the sightseeing around the town in a slow and laid-back manner, you may probably opt for a trishaw ride. However, bear in mind that the payment as to the point of writing is RM 40 /hour. You may be somehow feel akward as they play the olden days songs during the ride and everybody is looking at you. Another thing that I noticed is that all the trishaws have the Digi icons such as the umbrella, the colour and the back space of the trishaw wtih the Digi logo. ''Digi: I will follow you''
We spot this double decker bus alike to the MAMEE junk foods packaging that we used to buy when we are small and for some even now. As for me, I never ride in a double decker bus before. Accordingly, it is like the KL hop in bus where the bus will travel to places of interest around Malacca with only one fees for the whole day.
Along the Stadhuys, there are plenty of souvenirs shops selling varieties of things. One of them is the hat that we tried on.
Moving on, we moved to the St. Paul hills through this stairs. The state museum entrance is located on the left when you reach the top of the stairs.
These information boards were erected at the places of interest in Malacca town.
This picture was taken on Day 2 morning time after having our breakfast at Museum Cafe.