First of all, congrats for the winning of PR especially in Federal Territory of KL. Only one parliamentary seat i.e. Setiawangsa is secured by YB Datuk Zulhasnan, the former YB for Wangsa Maju, my constituency. * The previous term is hold by Mr. Yew Teong Lock only for 1 term. After some time, he was conferred the Datukship. Well, Datuk Zul is a good YB and he deserved to retain the seat BUT not when come to the job our Ministry of Federal Territories. With only Setiawangsa seat plus the Labuan & Putrajaya, his job seem meaningless as he himself has NO power but it was laid to DBKL. Who is/are the man/men behind the DBKL that are so powerful, even higher than him? DBKL has receive continuous complaints + 'attacks' from the new YB, Mr Wee Chee Keong and i'm can assure they hate this guy so so much. The good thing is that now our complaints can be forwarded to YB Wee and he will deal with the so called 'stubborn' and 'arrogant' DBKL. Surf to his blog to see more. He has been active in attacking the DBKL, the so called making policy as they LIKE and as they WISH. We hope that should the transition of government occurred, we will have the state level election or Federal Territories MPs being elected to chair the DBKL as they represent the KL people. Can you imagine the KL state with majority PR MPs do not have power in the state administration but DBKL has it and not even Datuk Zul?
Recently, (nt really recent la.. coz it happened months ago and I have no time to go ON SITE to evaluate the place) the DBKL has demolished some corner lots at the shop houses (Chinese food's hawkers area) around the roundabout at Desa Setapak. They are no doubts illegally built structure but the question arise is WHY it is being demolished after the parliamentary seat was lost to PR candidate? Why demolition is not done when the parliamentary seat is hold by BN candidates for years? Why the demolition only to the Chinese hawkers area and not the Malays? (the Malays' stalls are located just behind the LRT station and no doubt is also illegally built structure as well). As the people claimed, the DBKL wants to revenge to the KL residents for not supporting the BN in the past General Election. How truth is the claim? What say you?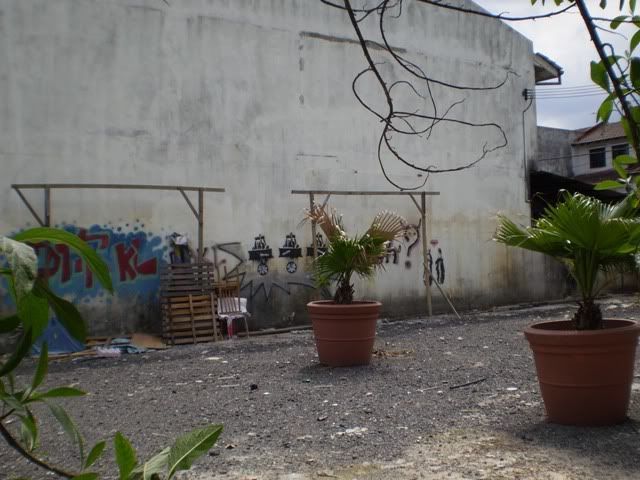 The demolished area which is now left with pots of plants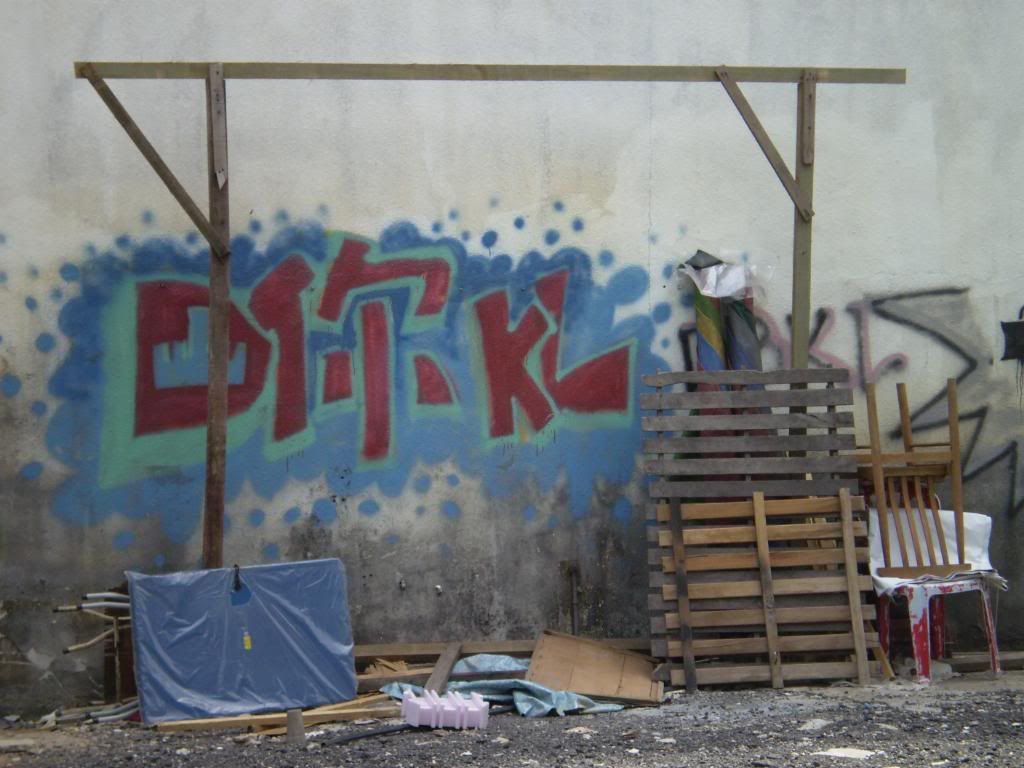 Message for the DBKL from the hawkers
What is the message behind the drawings?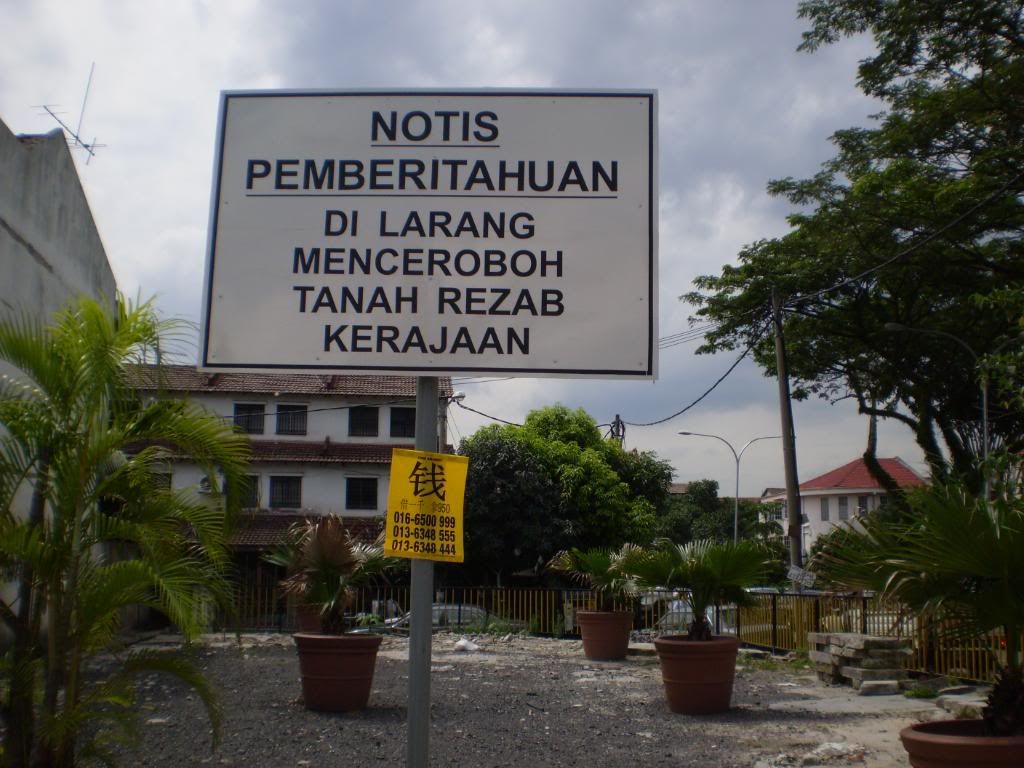 Wow.. tanah rezab kerajaan.. yg sudah diduduki bertahun-tahun lamanya..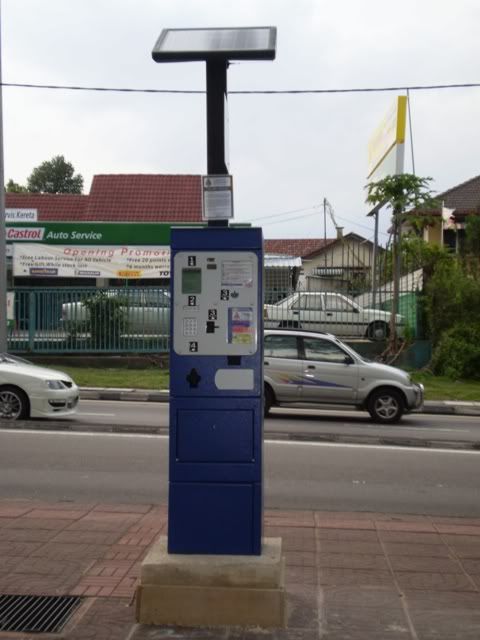 Now, almost all the place in KL has this machine for the coupon based parking system.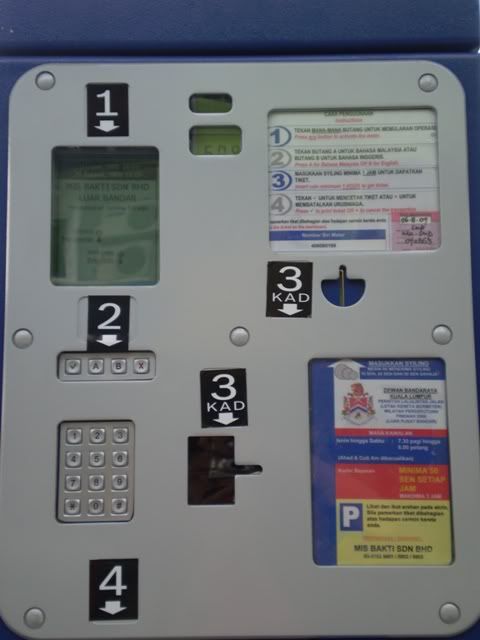 The minimum is as usual RM 0.50 for 1st hour

The issue is that according to a trusted source, the DBKL officers are very hardworking and making more frequent visits to summon those who did not pay for the parking. Good job? What say you? I had see them performing their 'job' at least three times.

\