Tee Keat's daughter graduates at USM (from the Star)
GEORGE TOWN: It was a proud moment for Transport Minister Datuk Ong Tee Keat who witnessed the graduation of his eldest daughter at Universiti Sains Malaysia (USM) here. Swan Wui, 23, received her degree in
Pharmacy
after doing an external degree programme at
University College Sedaya International (UCSI)
in Kuala Lumpur.
Also present at the convocation was his wife Datin Jane Ong."I am happy and proud to witness my eldest child's convocation. I understand the course was tough and she faced a lot of challenges to finish her studies," he said when met after the convocation ceremony.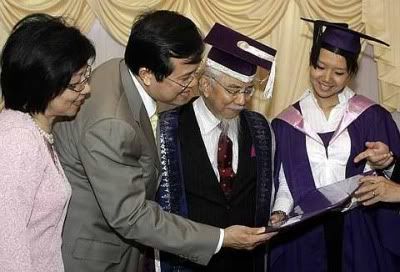 Proud parents: Ong and Jane looking at Swan Wui's scroll after the convocation ceremony in George Town yesterday. With them is Dr Lin.
Swan Wui plans to work with the Government for at least three years before deciding whether to further her studies.When asked if she would follow in her father's footsteps and enter politics, the petite lass, who is the eldest among three siblings, said firmly that she had no interest in politics.
Among the 815 graduates who received their scrolls at the convocation's afternoon session yesterday was Roseleena Kassim, who is the Malacca Yang di-Pertua Negri Tun Mohd Khalil Yaakob's sister-in-law. Roseleena, 61, received her degree in Social Science majoring in Political Science from the university's pro-chancellor Tan Sri Dr Lin See-Yan. Among those present to witness the proud moment was Roseleena's elder sister Toh Puan Zurina Kassim, who is the Malacca Yang di-Pertua Negri's wife. Roseleena thanked the university for giving her an opportunity to further her studies."I am grateful to the university and the lecturers who helped me. The opportunity given by USM allows women like me to pursue our education and enhance our knowledge," she said.
wow...i didn't know PK year got one VIP daughter studying in my uni. Never heard PK mention be4... great great!~