With quiz just a week ahead, we went to challenge ourselves for a 10 KM marathon at Shah Alam, a new place for me and the rests. We had no choice as we had make the payment and for the sake of sport, we still carry on the plan. The qualifications time for the men open category F was 50 minutes while Women open was 1 hour both for a 10 KM distance. It meant that for my category, the average time for 1 km was 5 minutes, crazy and impossible time for me and normal people. We reached to Dataran Shah Alam by 7 am. Due to Malaysian timing, we were late and luckily the event was started late as well. By rite, for my category, it should not be MB Selangor Tan Sri Khalid Ibrahim to officiate it, but we were just too lucky he had did it for us. As i passed by, I waved my hand to him and he did the same back to us. Although he is not a star or idol, he should be proud of by reducing the corruption in the state and developing the state towards a real SELANGOR MAJU.
Be4 hand, i had set my time .. which is to finish the 10 km in in 90 minutes. I clocked 83 minutes and 26 seconds, which i felt very satisfied of which i had not do any preparation and slept merely 2 hours before the race. Chie Chek, Dickson and Wan Nah were able to get the finisher medal in which top 300 finisher would get it. Congrats! Chie Chek and Dickson clocked about an hour ++ while Wan Nah should be around 75-85 minutes. The rests were able to finish the marathon as well. Good job t0 every1~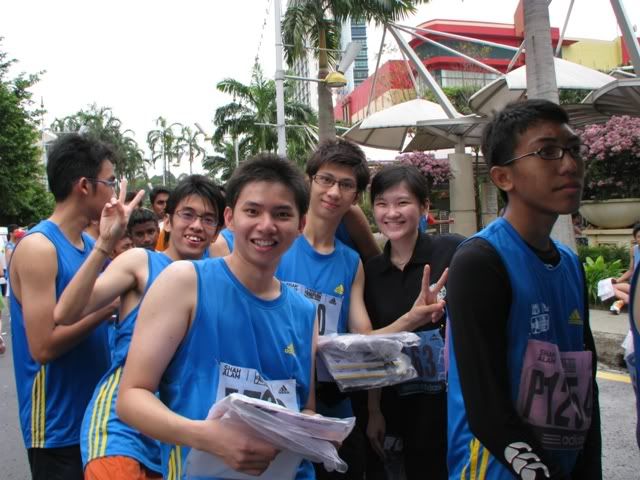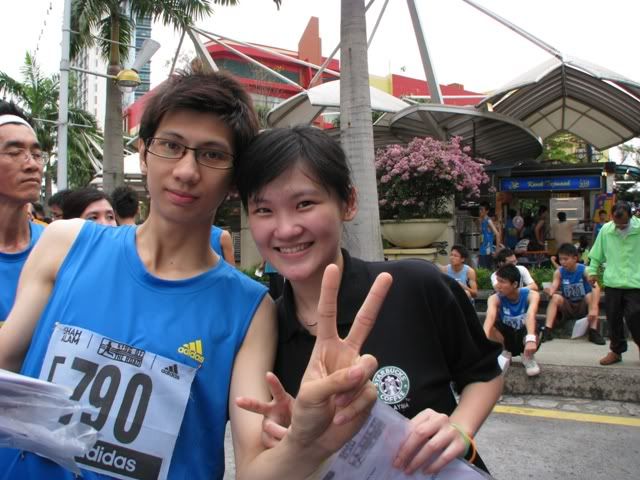 Upon finishing the marathon, the first thing in mind was to quickly rush to the drinks area to get ourselves hydrated back. There wasl only 1 refreshment station (100PLUS water) during the marathon. So, we were really dehydrated and energyless.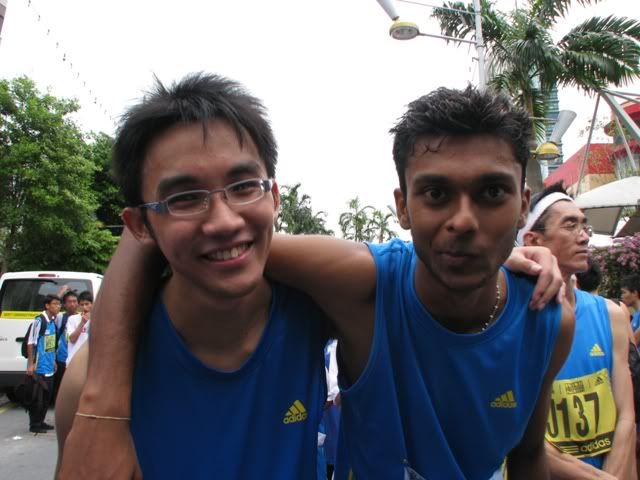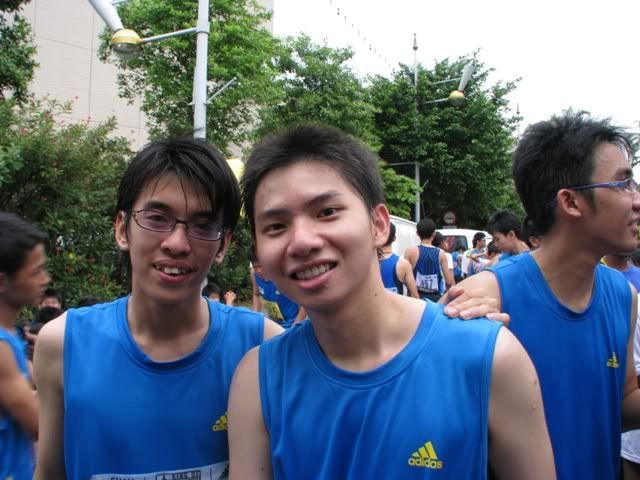 If you observed our vests, its ORIGINAL from ADIDAS which costs RM 59.90 while our registration fees was only RM 20. It is damn cooling when we have to run early in the morning sleeveless where our sweat condensed into cool water showering back to our skin. And thats lagging our run as we were not just need to run for a far distance, but to resist the cool sensation all the way en route to the finishing line.
L- That was the starting line. R- We were provided with 100 PLUs and MILO.. but the most common thing is to 'queue' in a huge crowd to get the water. It was a long wait.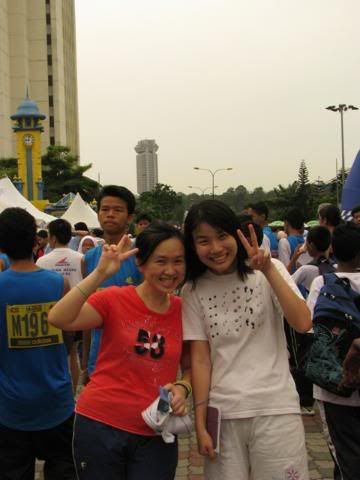 L-Poor CHin Fa. We lost her for about 20 minutes. No one had actually told her where the place to meet up after the run. We had been searching her until at a moment we decided to make announcement to the PA system for 'lost people'.
The building surrounding Dataran Shah Alam.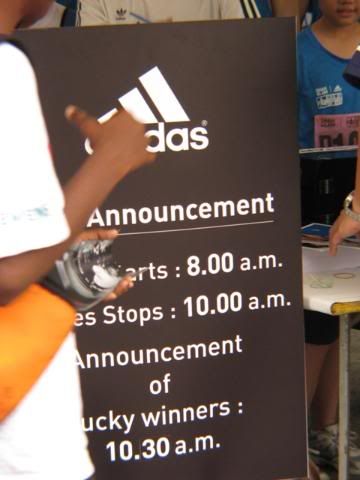 R- All participants were able to join a lucky draw for a branded newest sport shoes (4 brands including Adidas). So, we queue up to try our luck.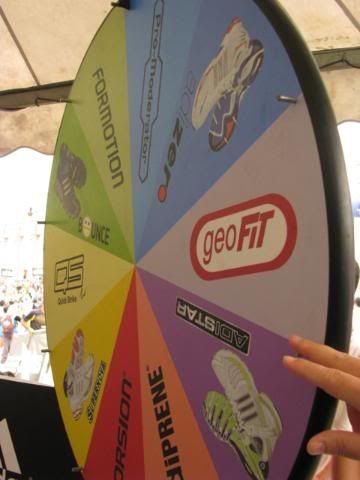 The only thing you need to do was to fill up a form with your details and write down your shoe size. When come to your turn, SUMBODY (why?) will help you to turn the 'fortune' wheel and if the indicator stopped at the shoes pictures, then you will be able to go for second round of drawing.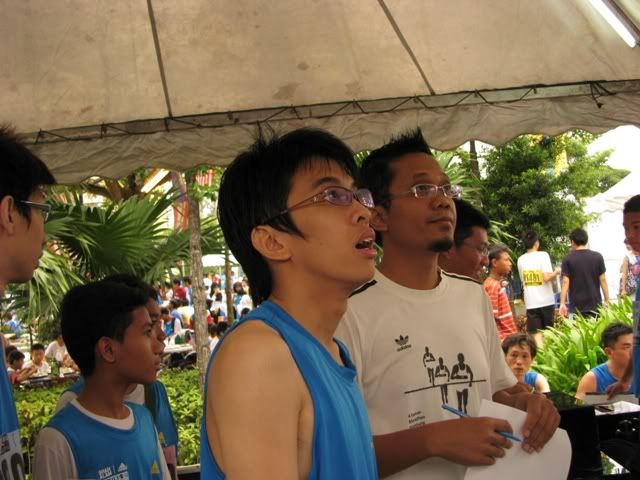 Chie Chek, Dickson and Nicholas were the lucky one to have spinned to the pictogram of the shoes. However, the time was just about 900 am while the announcemnent of the results would be at 1030 am. It definitely a long wait~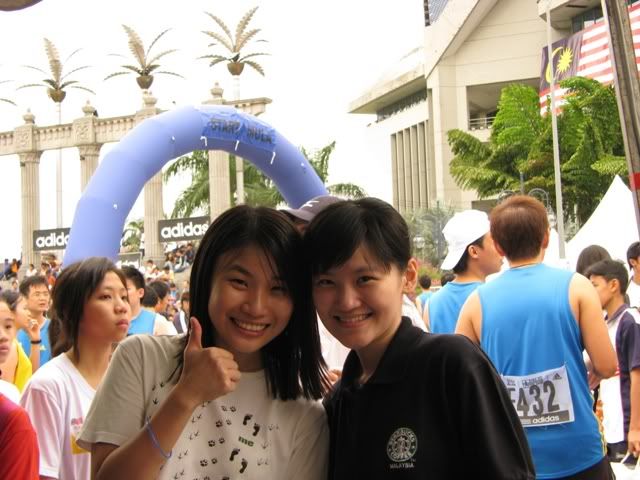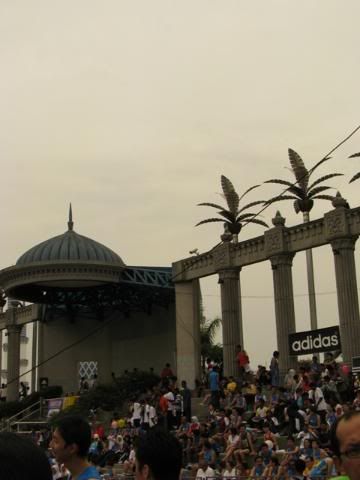 So, we mingled around while waiting for the time to come.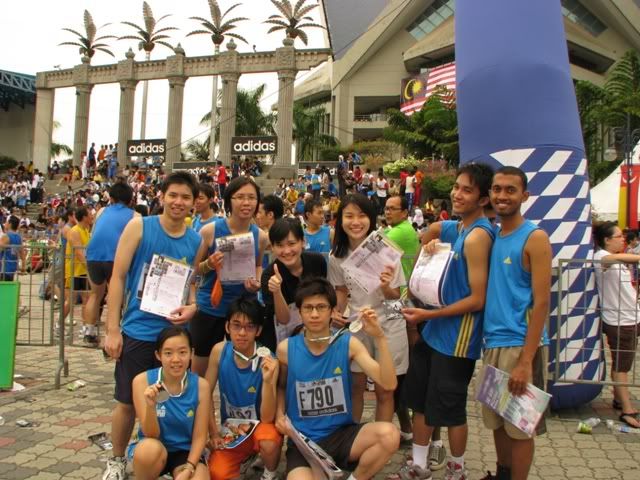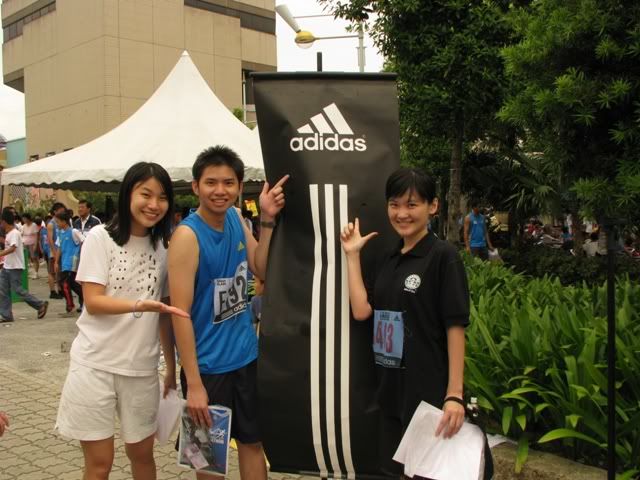 L-The group photo, wonder where is the complete group photo. the photogrpaher was Suk Yen and the the new face in the group was Wan Nah housemate.
R- My photo fans club has started our actions!
R-The consolation prize for me was an Adidas anti-odour(deodorant) spray which i able to get it FOC while waiting the rests taking the water. In the pic, i was spraying at CC while the gals can smell the 'fragnance' of CC axillary part.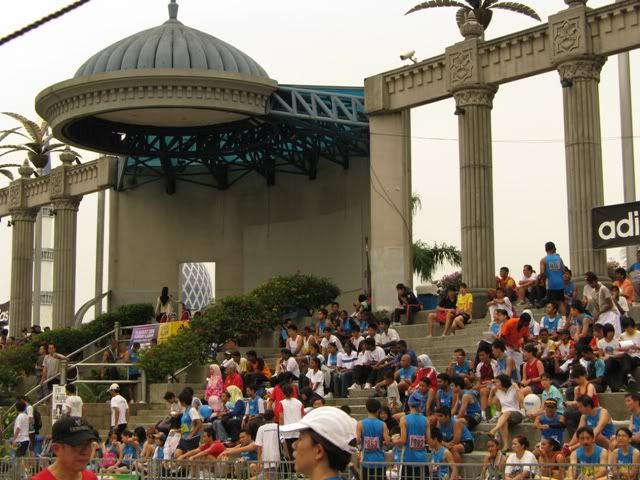 L- Those peoples were resting after a long run.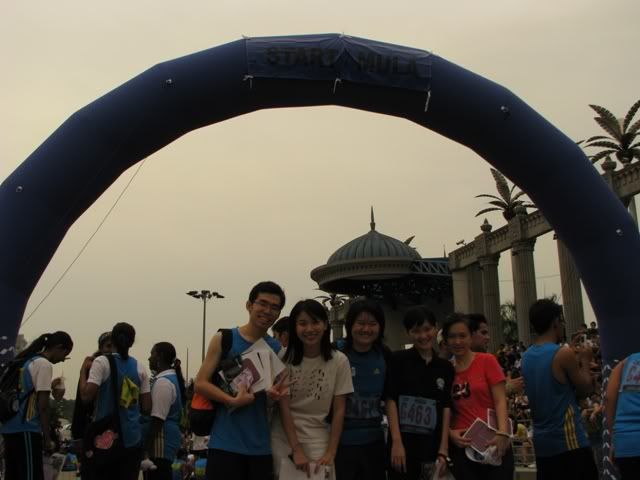 R-This was the place where the MB stand and officiate the event.
Yeah, we did it!~ R- Of coz, we need to thanx to our sponsor for the event--> ADIDAS
L- See the Powerbar steel banner. Ask rajes for further stories...cant say it here.
Able to spot this place again where there was no people. So, w/o further delay, we went here for pictures.
L-We were sitting while waiting the time to come. It just about 930 am..an hour to go.. R- The guys in vests..Raj..cna u plz dont block your own face~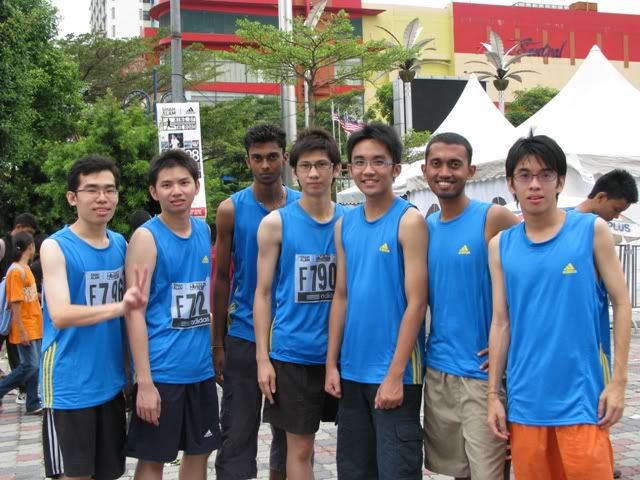 In different pose...
We decided not to sit there and wait. Instead, we shall go for a LIGHT breakfast. Some went back to the cars to get their stuffs and clothes. We went to a nearby bistro (mamak) which was full of people from the race. Then about 1030 am, the three went to check if there were the lucky one to get the shoes. But sadly, it wasn't them. Our next 'station' was to the Klang Bak Kut Teh (nearby the Kuang Hwa High School). It was a long journey with miss turning and so and so.. we went there with 3 cars. During the journey back also was a long journey with this and that. Wat a tiring day. Overall, we do enjoyed ourselves as we managed to finish the marathon and compensated back with the bak kut teh. I sweat more when eating bak kut teh than while running. Swt. Till now, want to do lab reports!! arg~~
Latest pictures from hp.
Its hard to see such method of boiling of water still practised in KL. Definitely the operator of the restaurant know the dangerous consequences of such act, but why take the risks? Each gas tong is placed beside each table. So. you can DIY if you want re-fill of hot water for your pot of Chinese tea.
The given pot is so small that cannot cater for so many ppl at one time. We ordered two pot.
The usual wet bak kut teh
The wet bak kut teh.. Not really nice and quite salty. Guess it is the first time for many of us eating dry bak kut teh.
Nicholas like the bak kut teh very much till he drink the whole pot of soup.
(half la impossible whole)
Suk Yen, Hoi Hoon and Wei Yau
Dickson and Cindy
Rajes, Wan Nah and Chie Chek
Chatting after finish eating
Nicholas and me
Bill time..
My consolation prize. Adidas antiodour.