YES!!! It is Year End Sale.. and even greater sale in conjunction with Jusco J Card Member Day Sales. From 15 to 16 December 2009, the sale will take place at Mid Valley, KL. Hurry, it is only for 2 days. Grab your stuff at discounted price up to 70%! The opening hours during the member day sales is from 9 am to 11 pm. To avoid traffic congestion which usually happen even at normal day at Mid Valley, arrive as early as possible. Also, remember to bring your J Card! It is vital to swipe your J Card as all purchases on these 2 days are only meant for J Card members. Do you know that Jusco is actually for Japan United Store Company? Jusco stores can be found of course in Japan, Malaysia, Hong Kong, China and Thailand.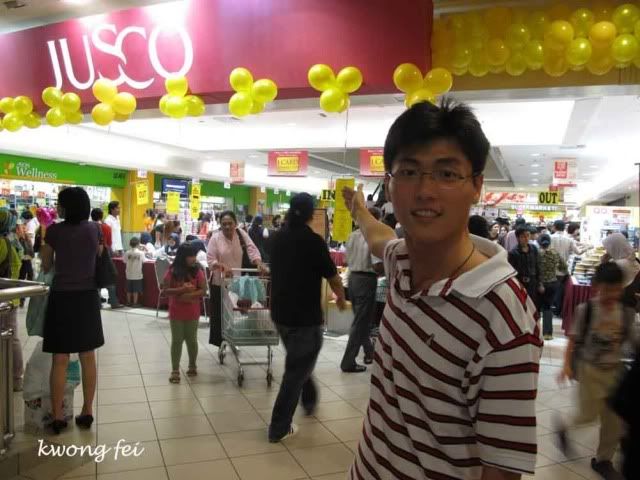 Wei Kiat is welcoming all of you to the J Card Member Day Sales at Mid Valley. Let's start from the Ground Floor, the Supermarket. At the entrance, I think the most hot sale is baby diapers. Mammy Poko is sold at RM 43.90 - jumbo - all sizes (cheaper 20 cents than normal per piece according to my sis) and another brand, Wee Wee Diapers? is sold at RM 34.90 - jumbo (if not mistaken). Anywhere I go even at the above store, I can see many trolley with at least 2 jumbo diapers from both brands. Some, even bought 2 TROLLEYS!! OMG... 1 year supply? Brands Essence Chicken is sold at price for 4 bottles but will get another 2 bottles free. Blackcurrent Ribena bottle is sold at RM 10.00 only. I see beers too but not sure about the price. Darlie toothpaste is seem having promotion too. Basically, you can see all aunties and uncles at the supermarket with trolley each making the walking lane jam!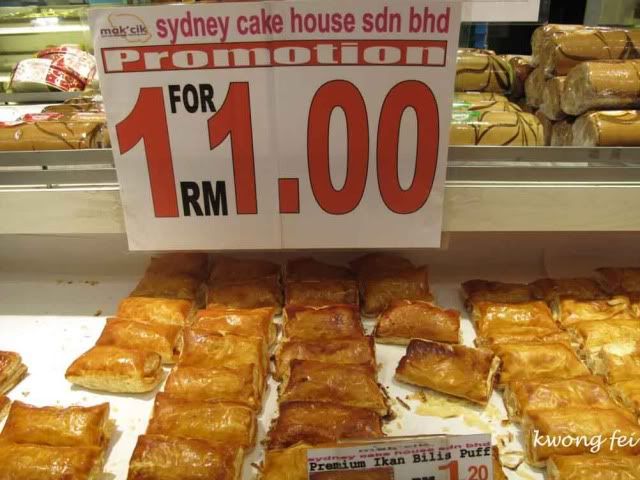 Apart from that, La Boheme, the signature bakery store of Jusco is having big promotion too. Muffin normally sold at RM 1.60 (if not mistaken) is now only RM 1.00 each. Hotdog bun is now sold at RM 1.00 each too. The above tuna bread (is that correct name?) is sold at RM 1.00. There are many more discounted items and most importantly, all of them are baken fresh from the oven.
As for me, I shop at the Men Apparels Department. There are just too many choices and too many cheap clothes. I would suggest readers to look for expensive brand and check for their discounted items. You can now own good quality and good design clothes at super discounted price up to 70%.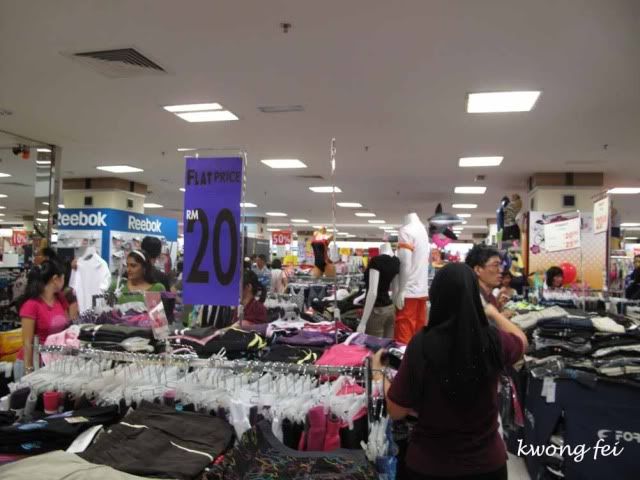 If you see flat price, don't even bother to visit the booth. You can look for them again at any other day. Also, from time to time, Jusco department items will have 'Happy Hours' of which there will be additional discounts on top of current discounts. You can find items such as clothes, watches, sunglases and etc at 80% extended discounts during these happy hours. However, expect some noise pollution through loud hailer and sudden surge of people pushing each other at these times.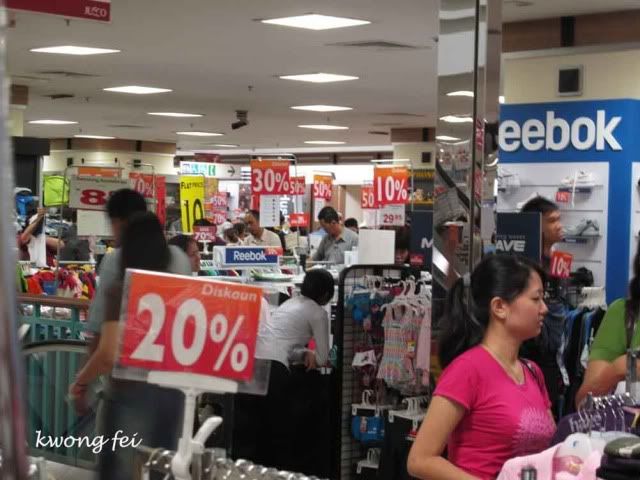 New arrival items and expensive brand usually have discounts at minimum 10% up to 30% maximum. For kids' toys, the promotion is seem to be from 50-70%. Children clothes is sold at even below RM 10. I wish I could buy for Jun Jun too but too bad I dunno how to buy children clothes. It good to look for sport shoes too as you can buy good quality sport shoes at much lower price below RM 50.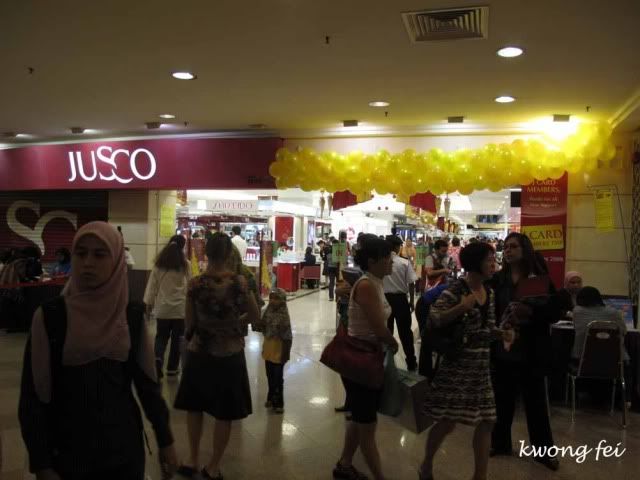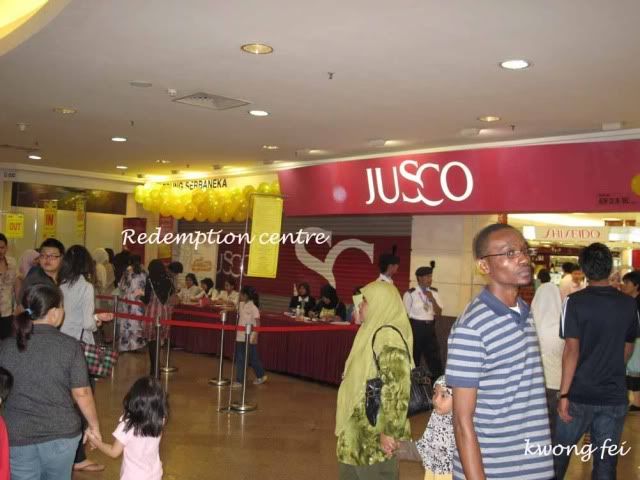 Check out the redemption counters. If not mistaken, for every purchase of RM 100, you are entitled for a RM 10 voucher. You can combine few receipt together but in condition the colour of the receipt must be in same colour. Basically, the apparels department is
Red
Colour while the Supermarket department is
Green
colour. I'm not quite sure for electrical and houseware department. The vouchers is valid only after the 2 days sales ended until unlimited time frame.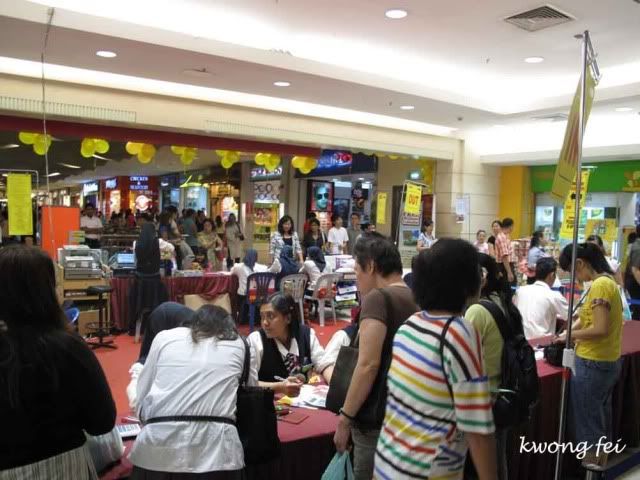 This is the redemption counters located at the Ground Floor, the supermarket. You just need to write down your IC number and sign.

Waits no more! Hurry to the Mid Valley store and shop at discounted prices! Address: Jusco Mid Valley AT3 Mid Valley Megamall Mid Valley City 58000 Kuala Lumpur Phone No :603-22844800 Fax No :603-22844900 Normal Business Hour: Monday - Thursday & Sunday; 10:00am-10:00pm Friday - Saturday; 10:00am-10:30pm