Bukit Gasing is an ideal place for walking for exercise. Those living in PJ and KL come here frequently especially weekends for exercise and to take a close step to the mother nature. You will be shocked to see a lot of grandpa and grandma do the walking despite their old age. This place is easily accessible through the Federal Highway.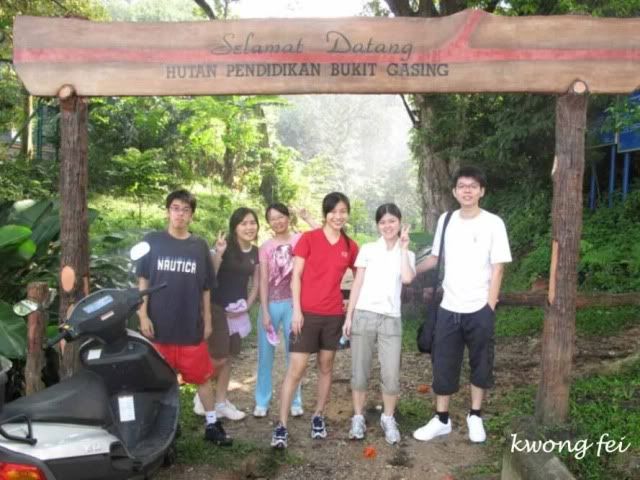 The walkers: CC, Shin Ying, Poh Chin, Hui Hoon, Siew Hoon, Kuan Poh & Me That motorcycle spoil our picture.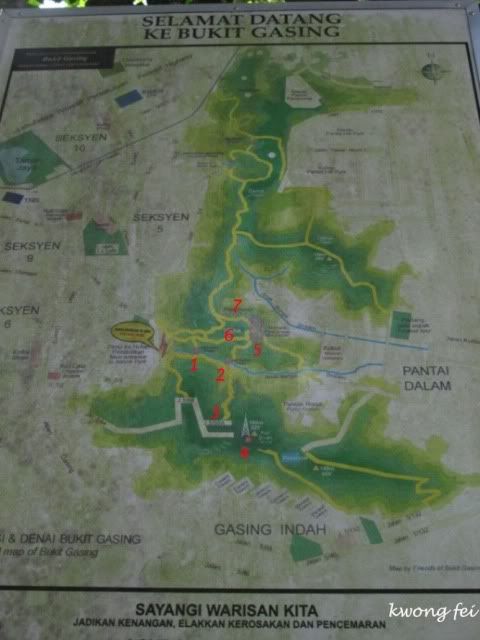 Alright, remember this map well. If you are first timer, you really need this map as guidance. I will be mentioning these spots inside the jungle in red to guide you.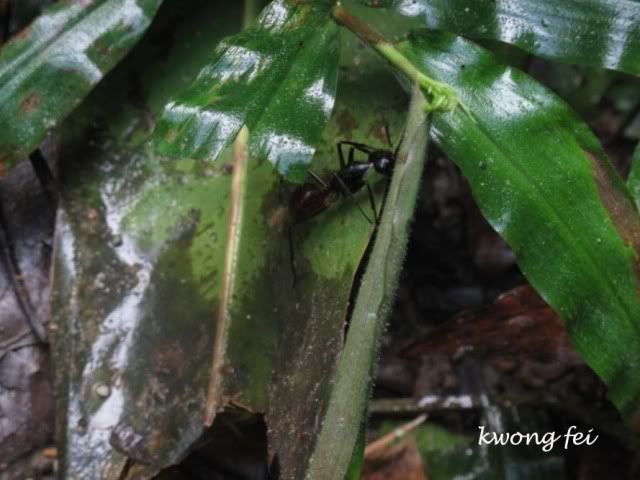 |Big black ant captured.




The girls inside the jungle. Such places is nothing new to Siew Hoon. She was raised nearby jungle with wild elephant. Haha~




CC, KP & Me



A quick reminder not to destroy the trees. Took this picture in rush as those friends already call me sakai for taking endlessly photos. So, didn't have the chance to turn the macro mode.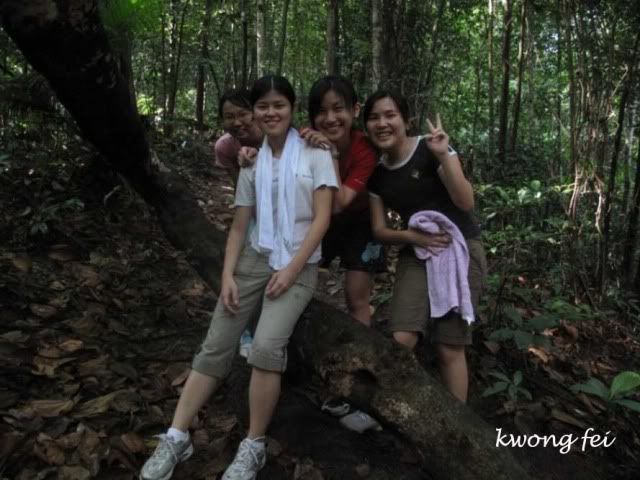 As you can see, it is very refreshing inside the jungle. You'll get fresh oxygen from the plants and get close to the nature.

L-

Walking up the secondary forest which covers almost over 100 hectares. R- Group photo as usual. Thanks Poh Chin for the photo.




This wooden stage for unknown purpose is the landmark that you are in the right track.




Nice trail?

We started our journey from 1 to 2 and then 3 which was a wrong route out to the jungle! Coincidentally, Hui Hoon friends who arrived here earlier and entered into jungle earlier also uses the same path as us as we were using the RIGHT lane rule. After asking the passerby, then only we know the correct path. At spot 2, you need to cross the suspension bridge and head up from there. Anyway, after getting out from the jungle at spot 3, we then met with Hui Hoon friends and took a long break.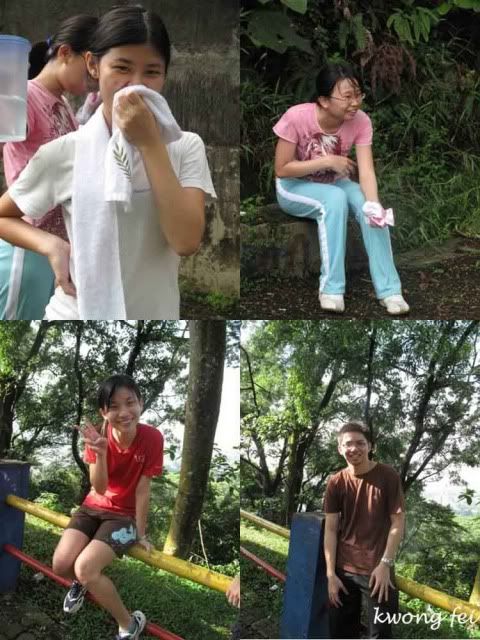 Poh Chin and Shin Ying cannot 'tahan' already. These two really need to do more exercise. Look at Poh Chin tired face. Haha.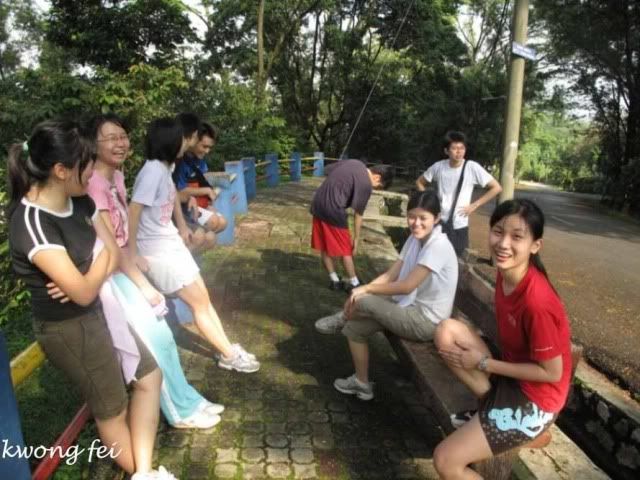 Alright, here is the big group. Oi, you orang come here chatting or trekking?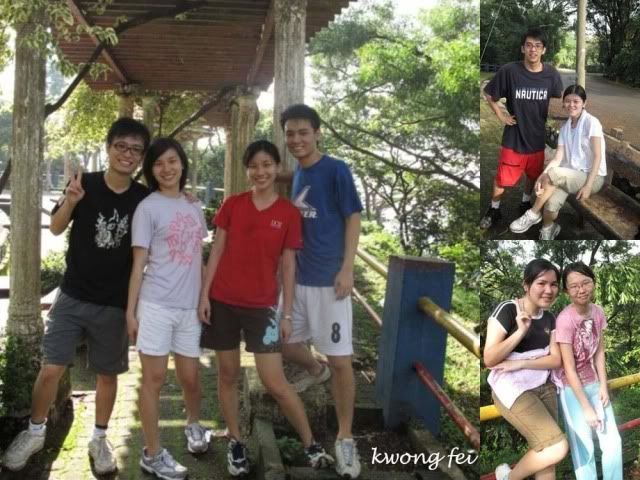 L-

The perfect twins of twins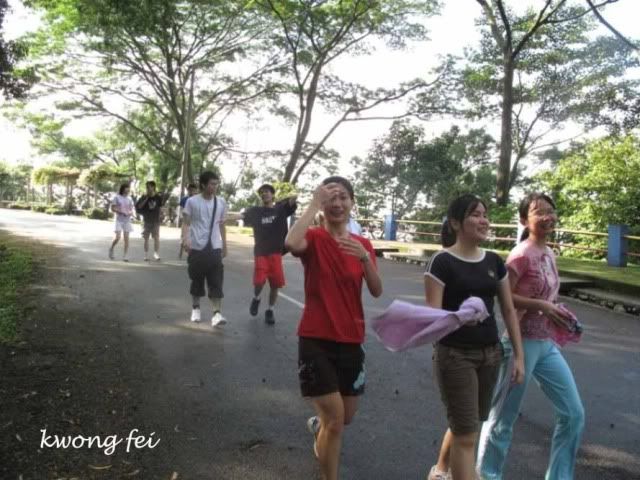 After a long break, we were now ready to get back into the jungle using the same route.



We walked down from spot 3 to spot 2. While on the way, I slipped down twice as the grounds were wet and slippery in addition to the less grip on the old crocs I was wearing. But, no worry, I had bought a new crocs for the future trekking.



Remember this spot 2. You must use this way to go up to the watching tower which was the ultimate destination.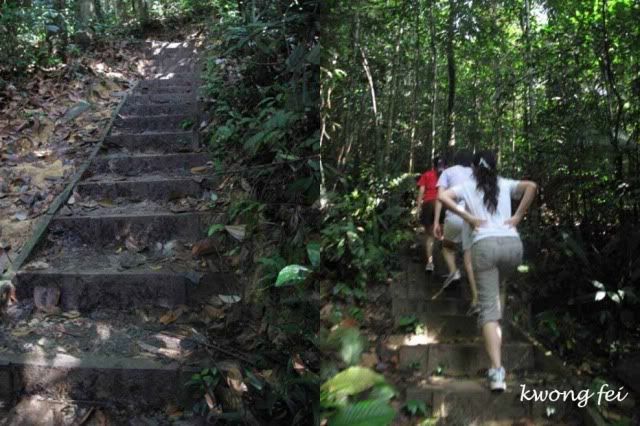 Alright, climbing up stairs again. It is a long length stairs.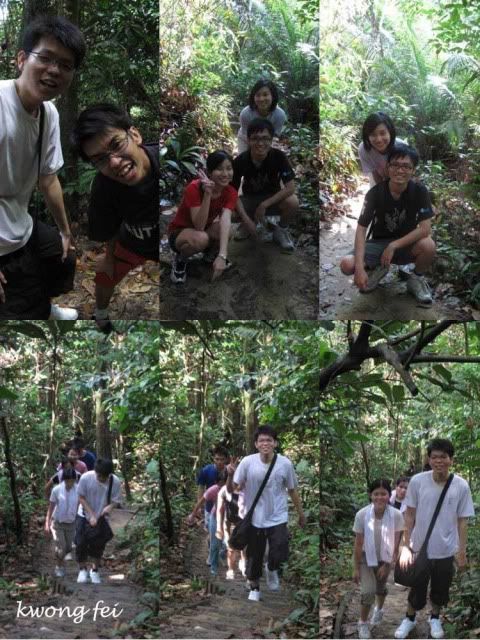 Pictures time~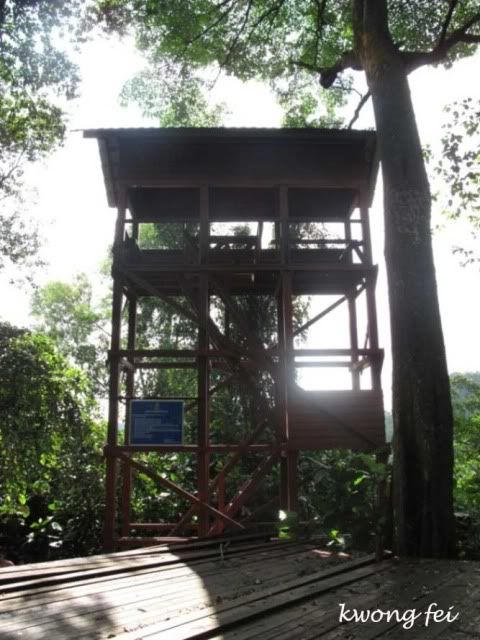 This is the said watching tower and a wooden stage similar to earlier one but this is bigger.




The two tired buddies. Haha.




All pictures taken from the ground by Shin Ying.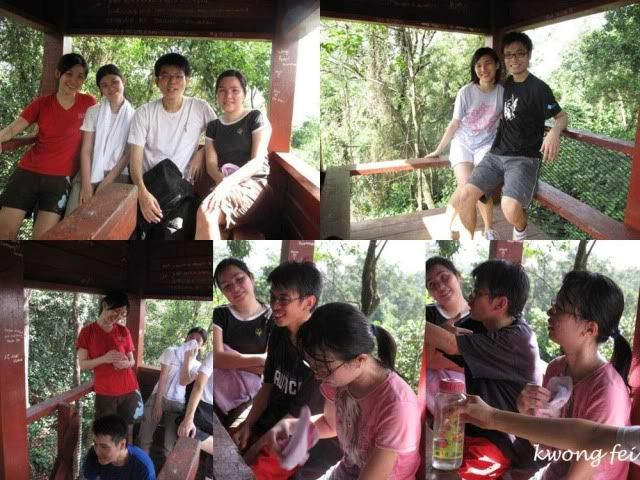 Then, both Shin Ying and Poh Chin climbed up the stairs and joined us. Both of them was reluctant intially due to tiredness but after hearing our loud laughter and chatting session, they too wanted to join. As you can see, CC do the most talking. Haha.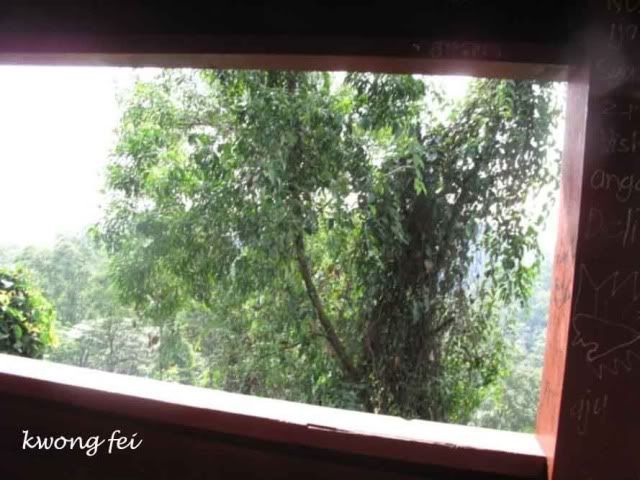 This picture tells you the uncivilised people who vandalised the wood with lot of wordings.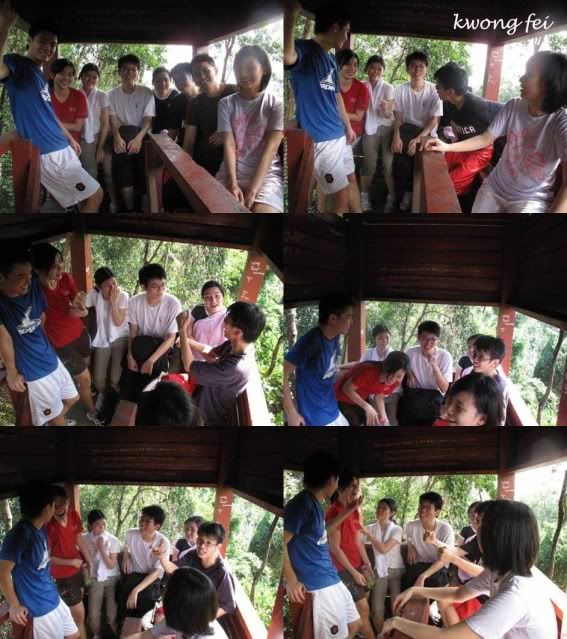 The chatting session at the watching tower.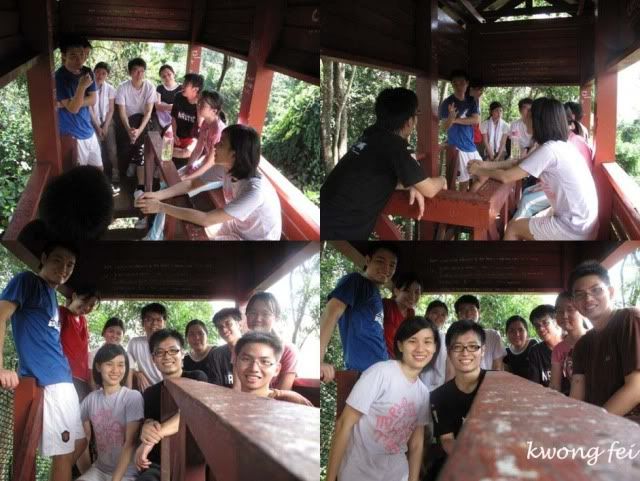 And group photos~ =P



This is the view at the watching tower or spot 4. Accordingly, there is a temple over there. HH friends were once walked over there and took a super long route back to 5. However, the temple route was closed temporarily due to renovation.


Taken from the watching tower. That is the stage which I mentioned earlier. I would suggest to those who want to try something special by eating nasi lemak here. I planned to do so but they are said it is very sia sui. But, after we went there, they all regretted for not doing so because they were already very hungry. It is great to eat nasi lemak in the middle of the jungle right? But, do remember to properly dispose them and do not pollute the jungle.


After the long period hanging around the watching tower, we then headed down to the starting point. Initially, we plan to take a long route exiting at a playground. But, we again took the wrong path. From the watching tower or spot 5, we took the spot 6 back to spot 1. This is the usual route. If you want to have another round of excitement that is to the playground, you will need to take spot 7 leading you at an exit with fence gate. Spot 6 is climbing up hill while spot 7 is climbing down hill. That's why we got mistaken as we wish to travel up more and longer.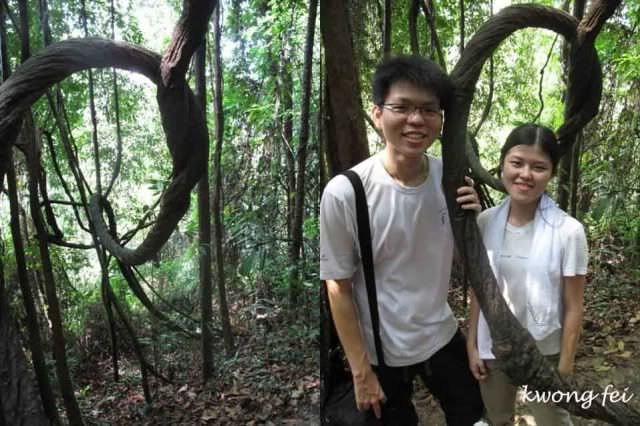 Anyway, while on the route of spot 6, you will reach to this site with the tree branching into curve which is suitable for a couple pic like Siew Hoon & Kuan Poh. Well, I didn't say there is something between them. It was just your assumption.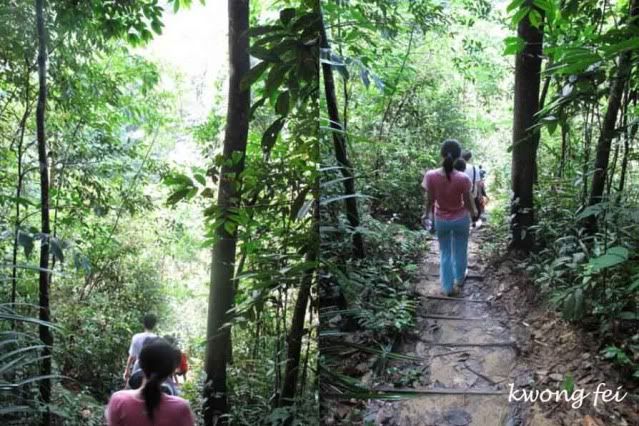 As usual, I either tailed them from back or lead them which usually in alternate round.



Alright, see their cheerful faces. This is the spot 1. When you first enter into the jungle, you need to walk straight and not taking a cross at this bridge.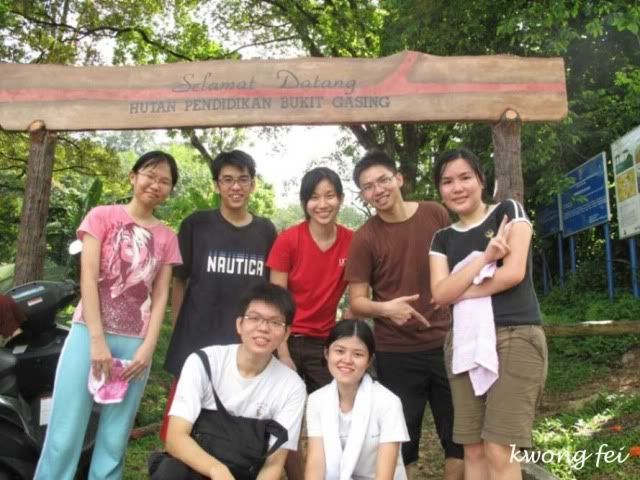 Proudly introduce you the UCSI University Team with the slogan 'free and easy' and 'always on'. Haha. Seem to be my copyrighted slogan.
So, how about you? If you are residing in KL and boring with Titiwangsa Lake, you can try this jungle trekking. Between, forgot to mention that there is no entrance fees, no parking fee and no toilet.
**Disclaimer**
This is example of blog post which I used online photo upload service, Photobucket. Thus, the picture seen are much clearer without need to click to enlarge the picture. However, the drawback is it takes longer time for this post to completely load. For usual blog post with total picture more than 30, I usually used Blogpost service namely, Picasa. The uploaded picture is small in the post and sometime blur if I stretched too much. But, if you click to enlarge, you can see original clear picture. The loading time for the post is much faster than with Photobucket. Hope to answer all the queries.