yo! Greetings to all my friends out there!. Here is a chance for you to spend your weekend time with something special which is to be volunteer for a service project and get yourself enjoyed at the next day for the grand celebration of Global Peace Festival 2008 held in Bukit Jalil.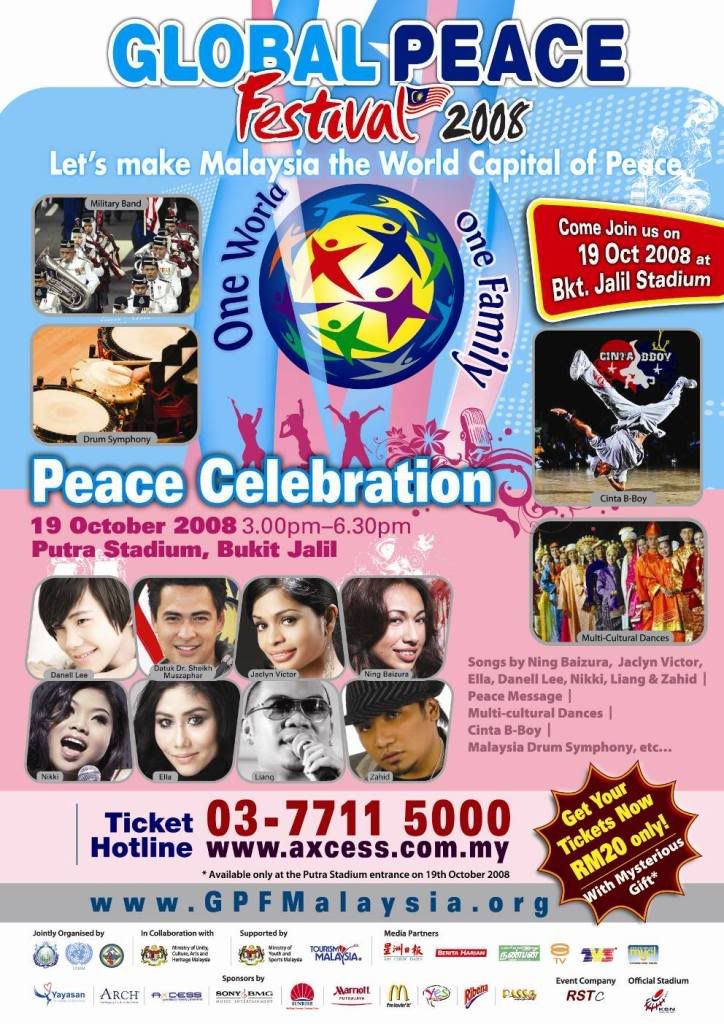 Let's hear what these ppl say:
Message from Dr Teh:
Greetings of Peace!
One of the hottest international peace event is making it's way to Malaysia soon! It's the 'GLOBAL PEACE FESTIVAL'! Hear Malaysian Idols Jaclyn Victor & Daniel Lee sing live the song 'Where Peace Begins' for the first time ever! Come and be entertained by Ella, Ning Baizura, Nikki, Zahid, Cinta BBoy, specially choregraphed Multicultural Dances, Malaysian Drum Symphony, Angkatan Tentera Band, etc. Watch a special Peace Dedication by 40 children. Join these celebrities and Malaysia's first 'Angkasawan' Dato' Muszaphar to celebrate peace on 19th October at Putra Stadium Bukit Jalil. So, what are you waiting for? Grab your ticket @ only RM20!
Message from the secretary;
Dear Volunteers, thank you for wanting to volunteer! The Global Peace Festival needs you and not all of you have come to our meetings yet, not everyone has found a place to join us yet.The Global Peace Festival is coming closer and closer and with each day our anticipation grows. It is going to be grand, 20.000 people in Putra Stadium, with such celebrities as Jaclyn Victor, Danell Lee, Ning Baizura, Ella and Nikki, Liang, Zahid and Shruti and the Angkasawan. One day before 1.500 students will work to clean up Kampong Kerinchi. These are the two sides of the Global Peace Festival and this is what makes it so great:
Work hard and play hard for Peace
Please do join our Roadshow, as we want to meet people personally, sell the tickets and talk to them about the Vision of Peace the Global Peace Festival is promoting. Find your university or a date of your convenience in the below list and get back to me if you can join.
UKM
UPM
UNITEN
UTM
DistedHan
Chiang
INTINILAI
USIM UTeM USM Equator UiTM PTPI KDU Penang Segi Penang KYM Politeknik Melaka
(these are not the full list.. most major public universities are involved)
For volunteering during the GPF you can join our Service Project. Please join our service project! The Service Project will take place on Oct. 18th in Kampong Kerinchi. The Kuala Lumpur City Council will provide all our necessary equipment and we will spend the whole day in the area and clean up and paint as many blocks we can. We are gonna have lunch with the locals who are facilitating the 1.500 meals and maybe even help to load the 5 trucks waiting for the waste to be recycled.
As you know the Ministry of Education fully supports our project "The Power of 10 cents", so please look out for any announcements in your university and go all out as soon as your teacher adresses it! The initiative will work with the volunteers from UNICEF we are sending. This initiative is not even about the money, it is an awareness-campaign, about extreme poverty.The main goal of the GPF is to promote family values and through shifting our thinking from the self-centered "i feel good about myself, because i help others" to "there is no 'other', the people we are talking about are my family!" we are exactly making that difference. Please be part of this!
Venue: Taman Bukit Angkasa, Kg. Kerinchi, Petaling Jaya Volunteers: 1500 students from International & Local Universities The service project will involve: 1. Clearing the walls of 10 blocks of low-cost housing and getting it ready to be painted. 2. Paint the buildings. 3. Carry out recycling activties. 4. Greening activities - Tree Planting Back to the main topic, do you want to join the event for the good course?
Before that, I would like to take this opportunity to condemn the uni! UCSI has agreed to send at least 2 buses to join the event and today, i saw the letter signed by Mr Sudesh stating it was actually THREE buses. Up to now, there is only 4 students who are interested with 1 had register while the rest not yet. What a terrible uni! Mr Teryy had identified the person but he didn't mention who was to person who make such promise. Accordingly, the person said ' I don't care. die die also send 100 students to the event'.
I was informed that SSLA who had being passed the job of recruiting find difficulty in do so because most of the students are in the midst of exam. Worse still, the heavy responsibility was given to a normal member, Leon whom I met today. Pity him. As some of you might notice, there is a GPF banner hung at the school lobby first floor. But sadly, it doesn't attract any1 and worse still not contact number is written. So, how the students want to get themselves involved in this event?
Next thing which I hate so so much. Accordingly, those who may concern had booked two buses for the event. The latest info is that no drivers for both of the day. OMG! What is the meaning of having a bus without the driver? Is this what we called an university status? Many alrdy hate the school system since the bus services no longer a free service but we, the students have to pay to the school for the services charged at a higher price than the market price. Same UNI 'eating' the same UNI students! Lousy !~
The service project is on this Saturday, 18 October at Kampung Kerinchi, PJ. The payment is RM 10/pax but now is FOC. (sometimes it is always good to register late..haha). Food and certificate would be given. (initially dont want to mention as we go there not to get the cert!) So, we need to go there by our own since there is no bus for us. If the number is large, then we shall depart from UCSI using the shuttle. If it is less, then we shall go by our own to BTS LRT station. Then, we will take train till KL Sentral before changing to Putra LRT to Universiti station. At there, there will be people sending us to the kampung using van. I wonder how to ferry 1500 students using unknown number of van. Interesting! This service project will be officiated by Minister of Unity, Cultures, Arts and Heritage... er.. later i figure out who's that). The event is tentatively from 8 am to 5 pm. There family carnival is running at the same time at Bukit Jalil and will be launched by Dato Azalina..what her post now? previously Sport Minister..
Those volunteers will be given a free ticket for entrance on the main celebration the next day, 19 October 2008. On that day, we need to reach by 10 am where we will practise the parade to represent our respective Universities. The official launching will be at 1 pm. At 3pm, there will be a World University Students Assembly. Please take note that this is an international events which we have delegates from other countries..all university students. Then, we can enjoyed ourselves throughout the day and see what can we do there.
So, a very IMPORTANT message to all my friends. This invitation to join the event is extended to you.. ALL UCSI STUDENTS. Should you are interested to join, please email or MSN or leave a comment here with following particular:
1. Name as in IC
2. I/C number
3. Mailing address
4. Contact number (hp and house if any)
5. Email
6. Indicate which day you want to come: 18 or 19 or both
18-Service Project at kampung Kerinchi
19-GPF 2008 celebration with celebrities
(I had been strongly reminded to ensure those who are coming for Sunday event are really committed to come as RM 20 is sponsored to you!) Please send the details ASAP by today. I will send the information to be process to the respective GPF person in charge. The closing date is by today.
Then, I will list the person who are going and we will discuss the mode of transportation in later stage. I will keep updating my blog.
The confirm lists:
1. Me of coz..hehe
2. Phang Wen Bin
3. Alvin Teo Kuo Jing
4. Wong Woei Yau
5. Leong Meng Fai
6. Chok Shen Yean 7. Koay Hooi Hoon
8. Christine Foo Ai Ing
9. Rajesweran
10. Ng Wan Nah