Today marked a very special day for all of us. Our quizzes have just ended for half time on Monday and ALL lab reports for the whole sem have finally come to an end on Wed. Now onwards, we no longer being attached to the labs and lab reports. By commemorating our freer time on Wed onwards be4 the second half of quizzes kicked in, MF has suggested to have a Cooking Day of which each of us is divided into groups and each groups is required to prepare their own food and bring to the Common Hall (21st floor) for mass dinner gathering.
The Chief Chef MF is preparing his first trial of Coke Fried Chicken..it's actually coke TWIST as he added the squeezed lemon juice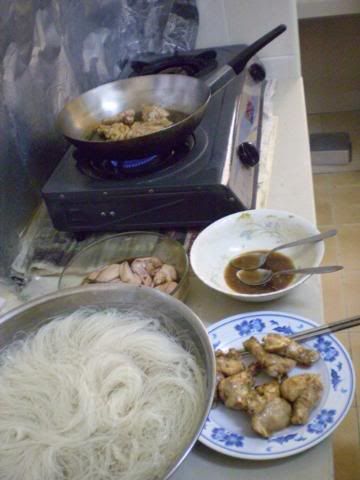 The initial stage is to fry the chicken into half to 3/4 cook.
While JY and I (added last minute) are preparing the so called 'lionhead chicken'.. I cant find any relation with the name and the dish we are preparing. In these pic, he is cutting off the soft bones to make the meat soft enough to be made into smaller pieces ==> 'finely divided particles'.
MF cutting the sengkuang
Hoping to take photos in each process of making
After cleaning the bones, next process is to chop the meat into small pieces ==> size reduction. JY do half while i do another half.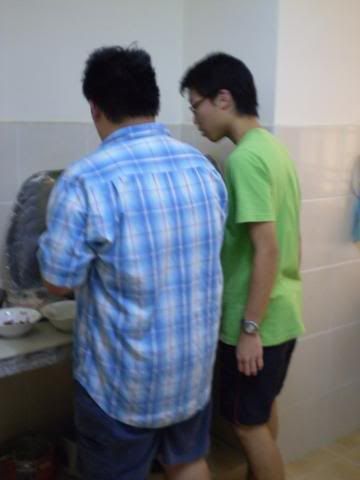 L- Then, I do the mixing with other ingredients: mushroom and sengkuang ==> Addition of flavouring agent and mixing process while JY do the chopping of both ingredients. After that, JY do the frying while i make the chopped chicken meat into ball shape.
R- Alvin started to prepare his meal: cabbage coated bacon with mushroom + sengkuang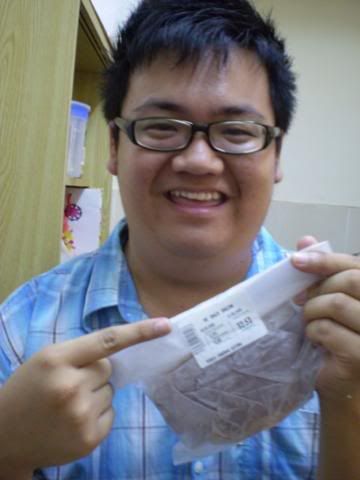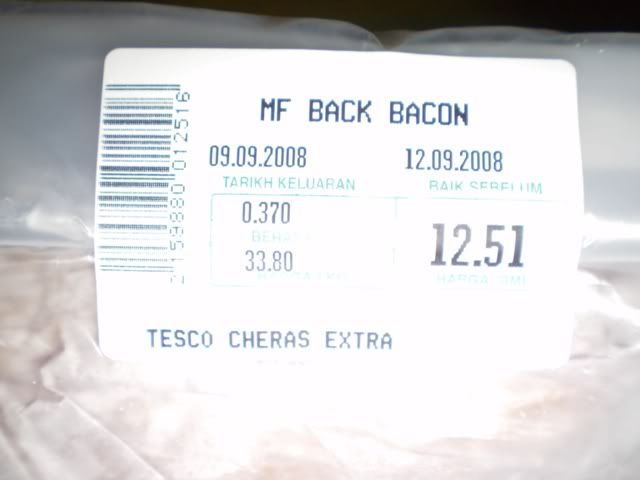 MF and his company products: MF Back Bacon ==> Branding
L- The boiled cabbages for Alvin dish.
R- MF another recipe: Chicken wing with filling of mushroom + sengkuang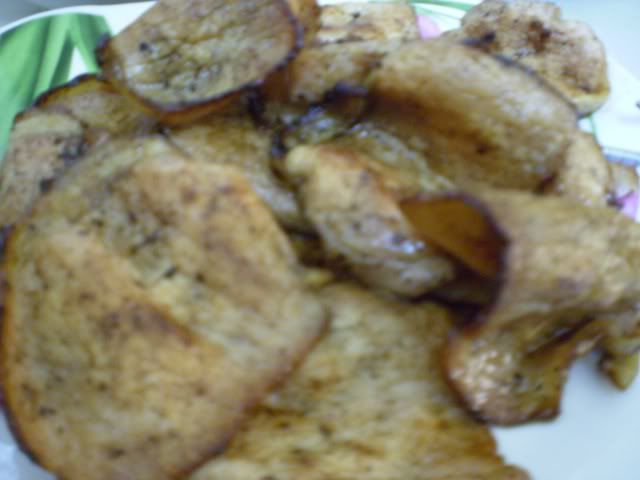 Fried bacon and fried chicken
Meanwhile, JY has sneaked out to give something to someone and to help Joanne's team after emergency call from them. So, I continued frying the remaining chicken and the sauces.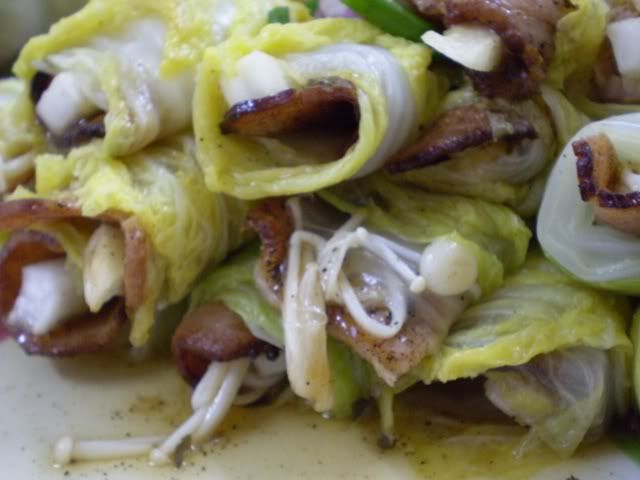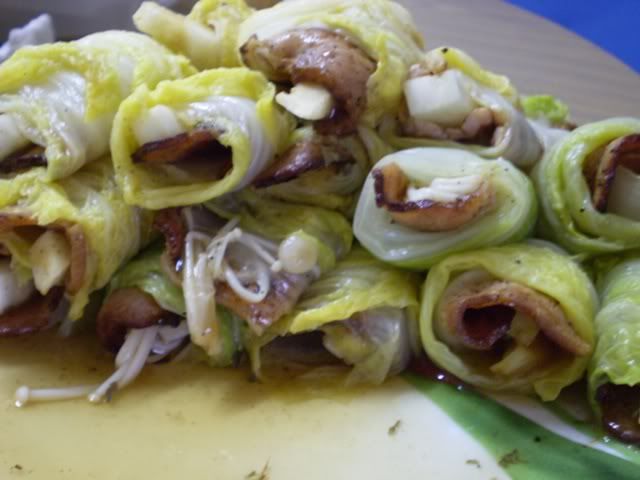 Didnt get to take Alvin preparing the food as he avoided me and I wasn't free dat time. This is the finished product of his. Oh yeah, it is added with ......forgot wat it is called... the long needle shape..kam chi ku..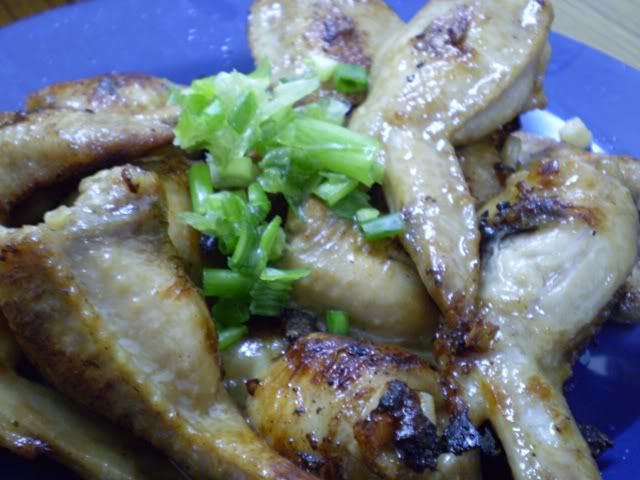 This is the finished dish from MF: Chicken wing with with filling
Next, MF continued to prepare the Coke Twist Chicken
L- This is the finished dish of me and JY: Chicken meatball rather than lionhead
R- This is the finished dish of MF: Coke twist chicken
After that, I go down to take pictures from another team consisting of Joanne & her bf, Xiao You and See Bee. Be4 I left, the rests have come with their prepared dishes. So, what did they cook? Scroll down..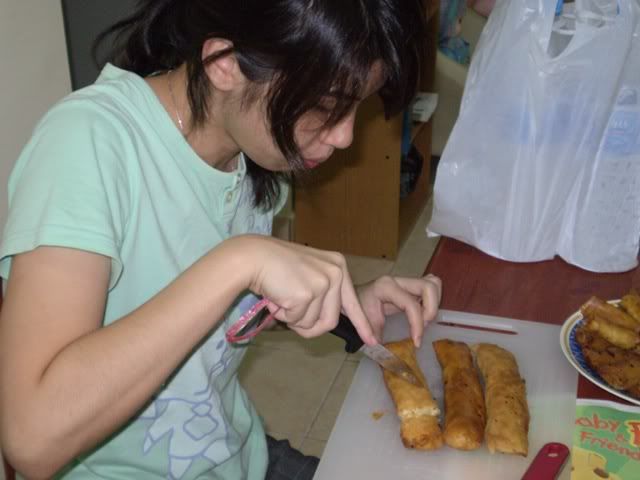 L- See Bee cutting the popiah, R- Xiao You rolling the popiah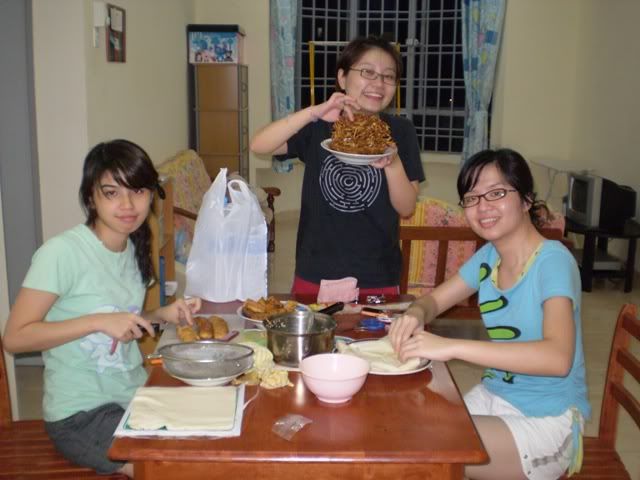 The chaos team. Full of loud noises + screaming + nervousness + humours + OMG.
Individual shots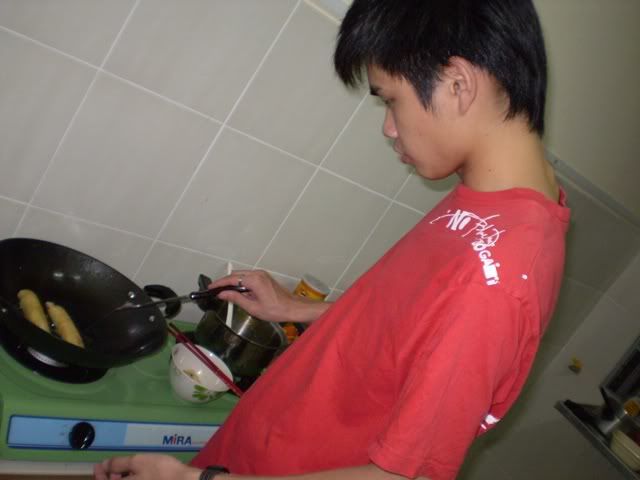 Joanne's bf is frying the popiah while the meatball is fried by JY
==> In Procees Production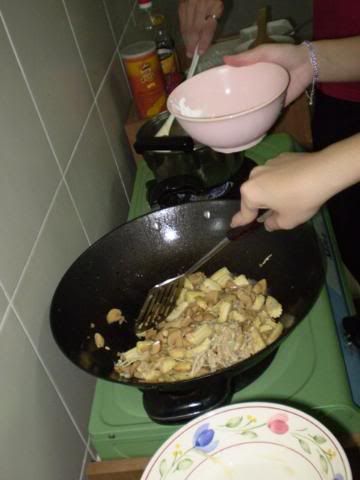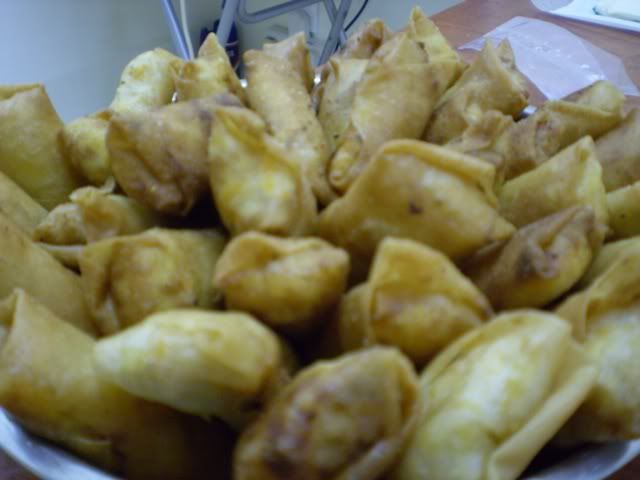 Those frying causes the floor to be oily.. OMG + screaming~
The finished dishes: Popiah roll and fried meatballs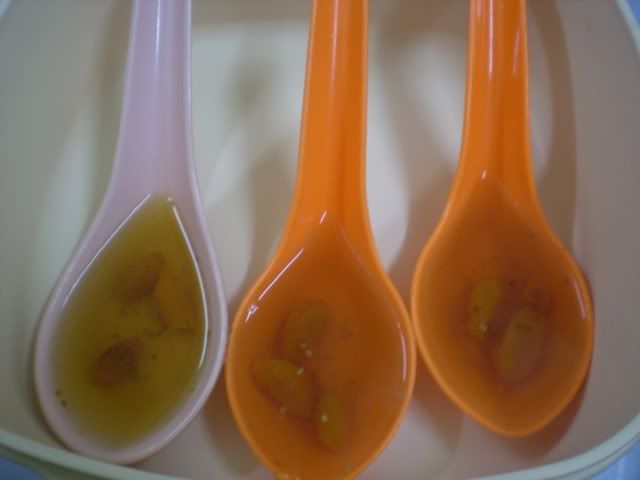 L- Then, we have this fry unknown. I dunno what it is that.
R- The spoon as the jelly mould. Due to the lack of time, their initial plan to make jelly into shape has been cancelled.
R- Mixed fry with chesnut. What's the exact name for this dish?
Next, with capacity of 5 ppl, we bring 10 dishes up to the Common Hall. So, wondering what happened during the delivery? Opening and closing the door...the lift.. and your hands.. I dropped off one small piece of popiah on the floor which causes screaming~ haha...
Those sushi are prepared by Tomas & his gf, Mei Yin. The yellow fried pop corn meat is prepared by Wei Ling.. to be exact her mom if nt mistaken.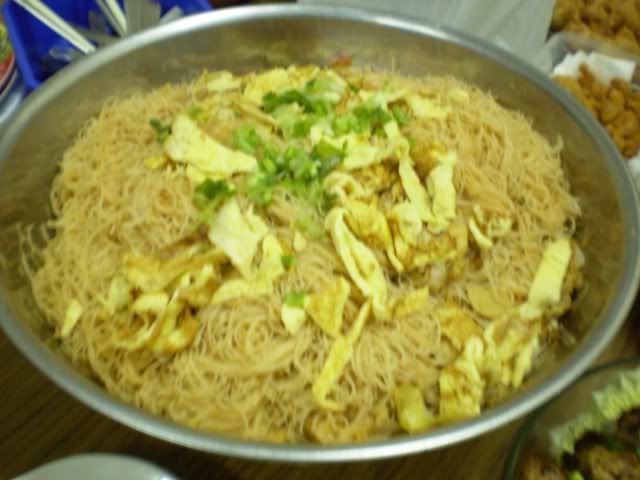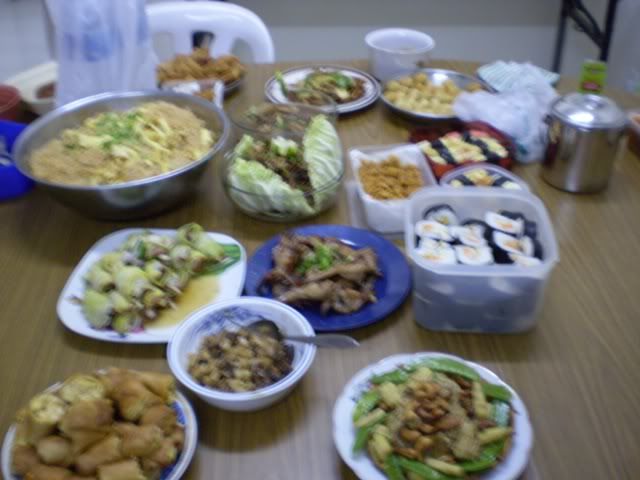 L- The fried vermicelli is prepared by MF, his 3rd dish which is also the main dish. R- The food prepared by all of us
It's MAKAN TIME.
It should be around 8++ (late dinner for all)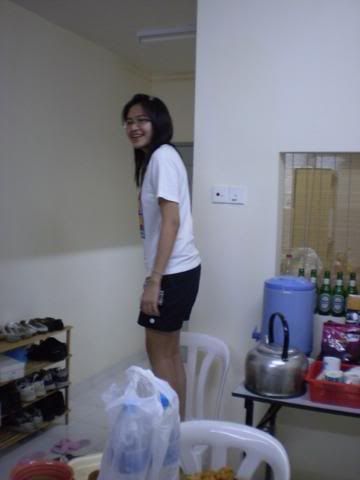 L- Those gei zhi jelly prepared by Joanne teams R- Guess what Wei ling is doing? This is the auto reflex when seeing a furry dog.
This soya bean + longan jelly is prepared by Wu Ji. He left half way for his 'activities'.
Forgot to mention, we have a special visitor as well, Niu niu.. She is the centre of attraction for the whole event. As we did not prepared anything else besids foods, we spend hours playing with Niu Niu.
Chit- chatting after the luxurious meal + fulling meal ==> Digestion
Joanne is so keen to become Niu Niu new mother. She claimed it is the first time she hold a dog and she loved her very much. Well, not when Niu Niu urinates...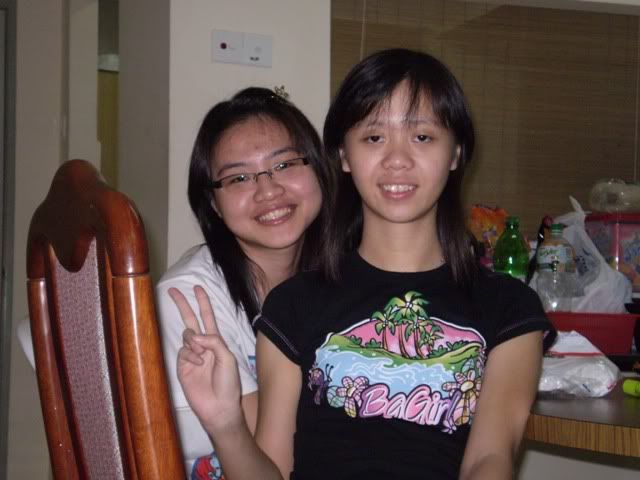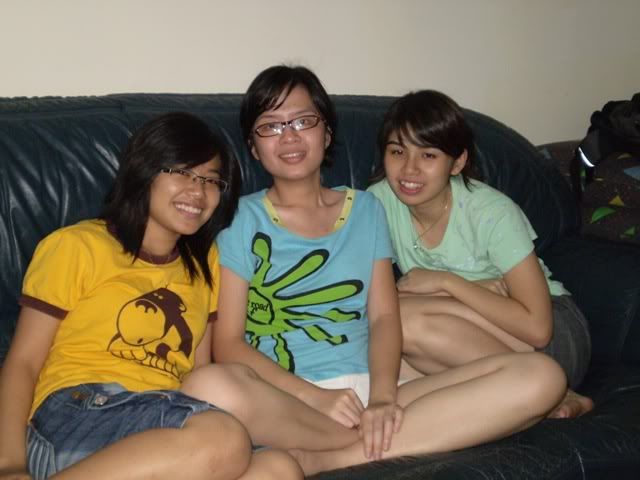 I set this auto timer pic. Due to logistic problem, I need to run a big round to the place where I stand. It's 12 + 1 (Wu Ji) + 1 (Niu niu)
MF and Alvin continued to eat remain food be4 cleaning out.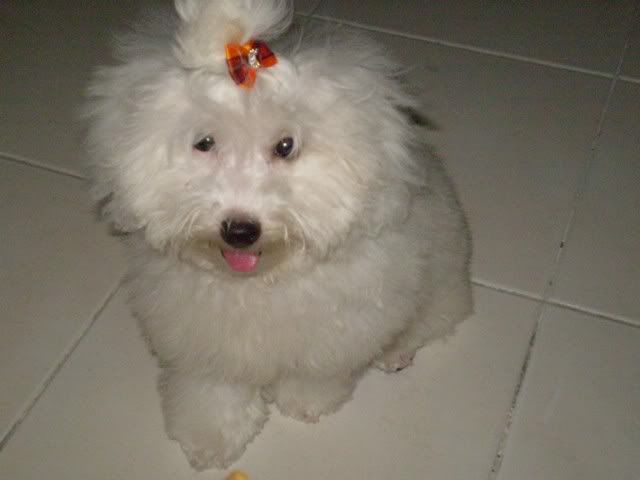 Niu Niu- She should feel tired to entertain so many people in one day. For exlcusive picture of Niu Niu please click here. She had grown up + fat.
Well, that is not the end of the day. After eating, it is the cleaning process. MF house intially cleaned days ago has now become 'back to normal'. Niu Niu which has undergo grooming and treatment days ago need to be cleaned up after the contamination in the house ( I never have my hair cut for rm 40 above..but Niu Niu had it alrdy..jealously'nya). MY house = OMG. Need to wash the plates, woks & utensil used, clean the tables and mop the floor. Wee Ling if nt mistaken need to stay at Chui Wei's house. MF house..dunno what will happen?
Overall, it is an enjoying day. But, most of the feedback from all is 'NO next time'. hahaha.... All of us have shown our dedication in making the special menus and for some of us, be into kitchen since long time ago (Well, it's true for me).