What is WHAT Medicine? WHAT stands for World Health and Asian Traditional Medicine. Previously, it is known as Women's Health and Asian Traditional (WHAT) Medicine. The conversion to World Health is an expansion to the scope of Asian Traditional Medicine.

Source:
Official website
It was established in 2005 and was since held annually. So, what is the purpose of such exhibition? It serves as a platform to promoting alternative Asian medicine to the public as well as commercial arena regionally and globally.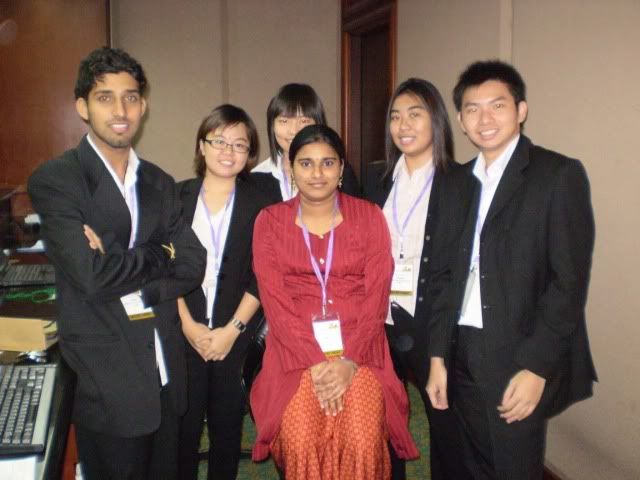 Nirmal, Li Peng, Lee Yen, Sharmin, Me and one of the Alterni Staff, Ms AMUTHA.
This year, WHAT medicine was held in PWTC with the theme (i supposed) 'Natural Remedies for Health and Wellness'. For the exhibition, you can find wide range of health products and services, cutting-edge discoveries and the latest in holistic alternative medical technologies and products. Accordingly, there were 39 main exhibitors including Alterni, Hamdard laboratories, MAKNA, IJN, MARDI, NKF, Ruyi, Total Health Concepts, Well Again, FRIM, IMR, Entogonex, Energy Medicine, Fusion Creations, Holista Biotech, Nova Laboratories, MLF, Nutreeherb, Holista, Biofeld and many more. This excludes the food booth and a nursery site selling herbal plants. You can have free bone density check to check the risk of osteoporosis (OMG, I am about to reach the risk level), live blood cell check, BMI (including total fat, total water, visceral fat and so on) as well as goodies bag.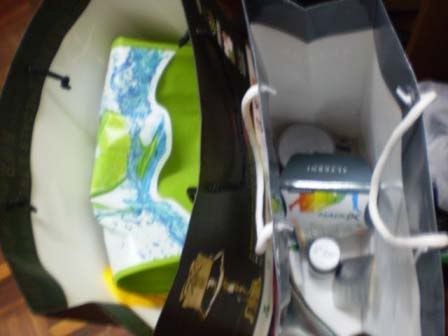 These were the goodies I got from this event, one from Alterni and one from KLIGP. There was another one goodies bag from Suruhanjaya Pilihan Raya (SPR) as I just newly registered as a voter.
There was Community Health Talk running in the exhibition hall at Level 4 discussing on health related issue in the community. Besides, there was Public Health Talk taking place at Dewan Tun Hussein Onn at Level 2. For this public health talk, it drew many members of public to attend to the talk as most of them got a special invitation from Alterni. The first topic on Saturday 20 June 2009 was Osteoarthritis and treatment using alternative medicines whereas the second topic on Sunday 21 June was on Evolution of Omega-3 fish oil in treating heart diseases.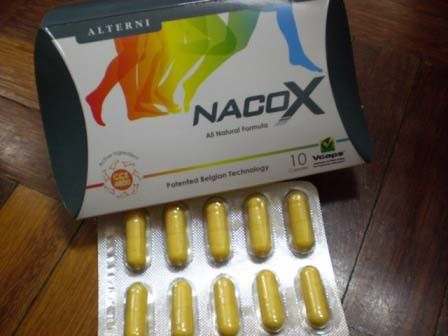 Natrox is a newest product by Alterni used for relieving pain the natural way. It contains CCE 4800, an unique curcumin extract which has anti inflammatory and anti oxidant properties that can help in relieving joint and muscular pain caused by injuries and arthritis. Accordingly, NACOX has a higher absorption (4000x) rate compared to other curcumin supplement. Hence, better efficacy in treating pain. This patented Belgian technology behind Nacox was researched by Porfessor Yves Henrotin, one of the only 12 members of Osteoathritis Research Society International and International Cartigae Repair Society.
Running along with the exhibition was the conference named as Scientific Conference. It was a 2 day events held on Day 1 and Day 2 which was a paid conference as high as RM 500. There were various topics discussed by various high profile speakers. Some of the topics were: - Traditional Medicine and Anti Aging -Changing Paradigms - Halal Natural Products Research - Development of Transgenic Artemisia annua L. plants for enhancing Artemisin yield - Ginger moving from food to cosmetics - Quality control and Standardisation of medicinal plants & products - Nanocurcumin in experimental animal models - Curcumin inhibits pro-inflammatory mediators and metalloproteinase-3 production by chondrocytes - A novel extract of Labisia pumila useful for Th 1 immune upregulation - Effect of Holoptelea integrifolia leaf extracts on blood glucose level of alloxan induced diabetis rats - Unani medicine to prevent cardiology in light of Avicenna's book - Vitiligo repigmentation- a cosmetic need And many many more.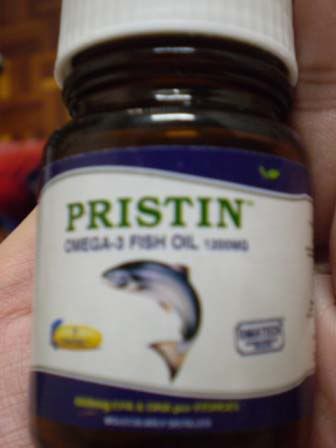 Pristin Omega-3 fish oil
I got this for free after answering 3 questions and filling up my details. One fishgel contains highly purified fish oil with 660 mg EPA and DHA. In order to ensure toxin free fish oil, an advanced molecular distillation technique known as OMATECH is being employed. It has double protection against oxidation. Mixed natural tocopherols protects against oxidation whereas the amber gas bottle packaging protects the sensitive fish oil against heat and sunlight.
Besides, there was also an Industry Dialogue Programme. It was a free to attend dialogue session starting at 9 am till 12 pm. Opening speech was by Yang Berbahagia Dato Rajen M, the organising chairman of WHAT MEDICINE 2009. The panelists for the session were a) Prof. Larry A. Walker, Director, Research Professor of Pharmacology, National Center for Natural Products Research, The University of Mississippi, USA b) Dato' Iskandar Mizal, CEO Malaysian Biotech Corporation (MBC) c) Dr. G. N. Qazi, Vice Chancellor, Hamdard University, Delhi d) Prof. Dr. Ibrahim Jantan, Dean of Faculty of Pharmacy, UKM e) Mr. Loh Tong Soon, Yangtze Delta Region, Institute of Tsinghua University, Zhejiang, China.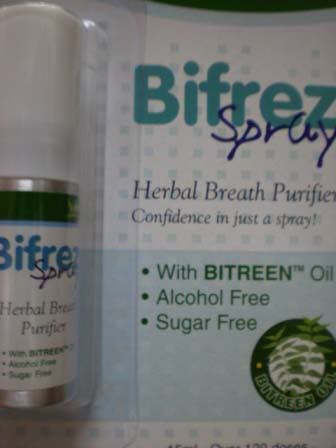 One of stuff inside the goodies bag was this Bitfrez natural breath spray aka purifier.
Back to my job scope. For this event, there was surprisingly only 1 typist. The tags were generic and will be collected after visitation and redistributed to new customer (budget la). I was in charged as usherer together with Sharmin at ground floor whereas Lee Yen and Nirmal were in charged on 3rd floor.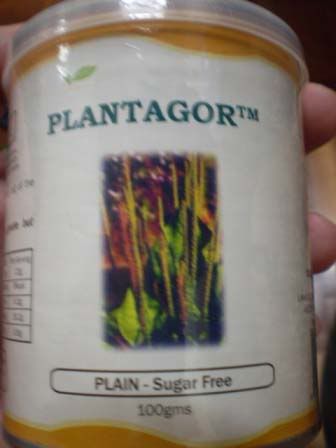 Another freebies, Plantagor for constipation. This herb is traditionally used for astringent, anti toxic, antimicrobial, anti inflammatory, anti histamine, demulcent, expectorant and diuretic. P. psyllium is useful for constipation, IBS and as dietary fiber supplement. I haven't consume it perhaps may misuse it for dieting purpose. Haha.
Day 1: There was an event running together which is KL International Gifts and Premium (KLIGP) 2009. 95% of public that intended to go for exhibition were coming for this event. So, there was huge crowd and long queue at the registration counter for KLIGP wheres there is no queue at all for WHAT Medicine. Initially, I was being scolded for chatting with Sharmin as there was NO ONE coming for this event. My job scope had changed to be usherer for KLIGP. Most of the public did not read or see the title for the registration counter and were instead registering for WHAT medicine. While on half way registering, then only they realized they went to the wrong place. Most of the times I needed to guide them to where is the KLIGP registration counter, where to get the registration form and how to go the exhibition hall. On the other hand, I was pretty interested on the event registration company that handled the event. The crews got their own crew t-shirt and their job seemed pretty interesting with goodies bag to be distributed out.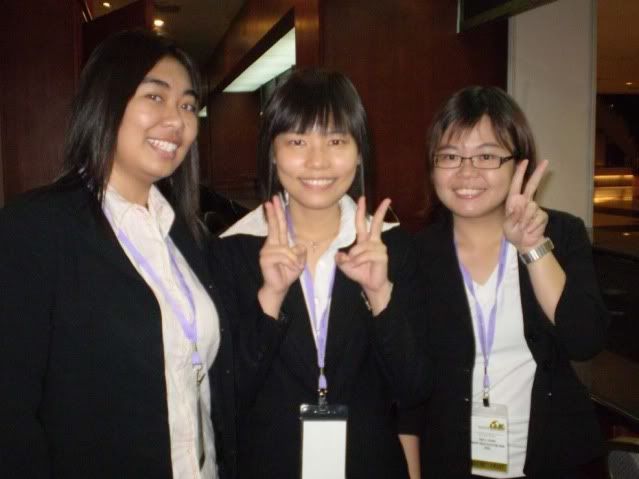 Sharmin, Lee Yen, Li Ping
Day 2: Though KLIGP was over, yet there were people who confused with the official last day of the event. As usual, I need to explain to them about it and even need to answer them WHY. How would I know when I was not in charged of that event. I managed to persuade 40 % of the public who intended to attend KLIGP to cross over to WHAT medicine. Those who rejected were seemed saying 'Har..medicine ar..not interested la'. I met with Datuk Nancy Ho, the President of MPS but before I can slowly recalled who she was and to greet her, she already gone else where.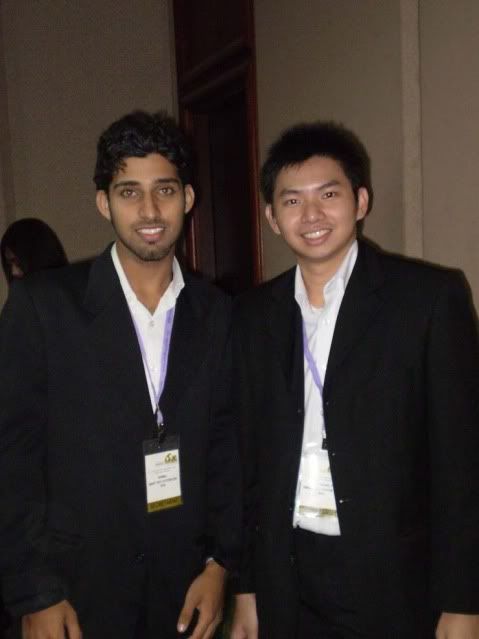 Nirmal and I
Day 3: The crowd was the least among the 3 days. So, we were asked to key in the data while waiting for somebody to register. I can stand outside the registration counter for 1 hour without attending any customers.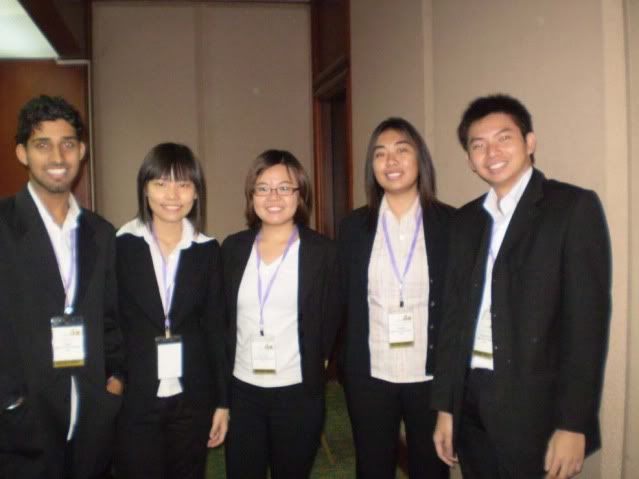 Colleagues for WHAT medicine 2009
Whether this event will be organised in next year was still a question mark. The response from the public was very poor and super duper far from the expectations of 10000 public as stated in the official website
here
. I managed to talk to a person whom I did not know but should be a VIP from his attire (couldn't see his tag). He asked me on the numbers of visitors as well as usual question WHY? So, I told him my personal opinion. The success of any event is dependent on the marketing strategy. How good your event is but nobody know about it is a failure just like this event. Many people who came for this event did not realise the existence of such event as most of them were either dragged by me to visit the exhibition or someone who happened to be at PWTC for jalan-jalan. Only a handful people know the event. Whereas, most who knew the event were invited by Alterni with a special invitation card delivered to their mailing address to attend for the public health talk. That's what I called marketing or promotion. Later, then only I found out the person whom I talked with was the Chairman of the WHAT Medicine 2009. (oh.. lucky I did not receive any complain lodged at me). Another issue was the use of abbreviation WHAT and there was no any other poster, flyers or materials with complete full words. If I am one of the public, how do you expect me to attend the exhibition when I don't even know what is WHAT?