What is Digi Campus? It is one of the most exciting prepaid plan that every one especially the students must have.
I had recently converted my plan from Fu-yoh to Digi Campus.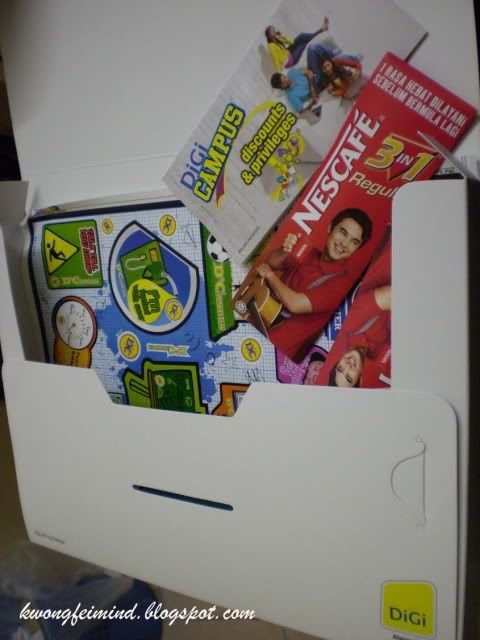 This is the goodies folder I got upon activation which includes D'Campus sticker (bet it is to clear old stock), 2 Regular Nescafe powder stick and a book of voucher with discount. (outlets include City Chain, Clinique, Genting Bowl, OhMega Forces, MPH, Optical 88, Pineapple Computer & Accessories, Pizzahut, Rasamas and Starbucks)
I am sure some of you may heard a plan called D'Campus. Previously, the coverage for D'Campus plan was within the campus of the participating 15 colleges and universities. It was a great plan that you can make calls within your campus for free to any DIGI number. However, it seemed to be most beneficial for students who stay inside the campus only or in another words, the campus hostel. Recently, Digi launched this newly featured Digi Campus of which the coverage now is EVERYWHERE. This new Digi Campus plan comes along with one of the greatest attraction which is FOUR year validity. For those minimum user of hp, this can saves up your money and at the same time reducing the hassle to reload credits once it expires. Lets say you reload RM 30 per month, your total reload for the year would be RM 360. But, what if you only use about RM 200 per year only? When the credits expire, you need to reload in order to get your line active. However, this plan offer you 4 years validity. Once you sign up and reload, your credit validity will be up to FOUR years. The expiry of the credits is counted a year from the previous reload. Lets say you had signed up for Digi Campus and reload RM 100 on 1 August 2009, the validity will expires on 1 August 2010. When you perform reload of any amount such as the minimum reload RM 3 on 3 August 2010, your credit will expiry on 3 August 2011. The cycle continues until you reach the maximum 4 years validity and if not mistaken from the date you perform the first reload upon activation of the plan. Accordingly, if you do not reload when the credits expires, your line will be turned to restricted mode and will be terminated if no reload is performed for more than 365 days. Whether the line will be active or not as in receiving calls & sms during restricted mode is a question. But, I don't think there is people out there who can't reload a minimum of Rm 3 right? Don't be sia sui~ Next attraction is the FREE calls to any of the Digi numbers. When you spend RM 2 in total usage including voice call, sms or data, all your subsequent calls will be FOC for the rest of the day. This would be great who those Digi users couple who can now enjoy FREE chatting over the phone for hours without worrying the phone bills. How about the normal call rates? The call rates to Digi and any other numbers is fixed at 15 cents per minute. Another feature attraction is FREE SMS. Oh my.. Digi is about FREE stuffs. This FREE SMS is applicable to the 11 Friends & Family numbers. For those who have converted their call plan from different service provider to Digi, you may also add the newly converted number into the Friends & Family lists although the number does not start with 016 or 014. Besides, SMS to any other network will only costs as low as 6 cents per sms. For data services, the normal charge of 10 cents/kb still apply. However, should your monthly data usage exceeds RM 30, the rest of the month usage will be FREE. However, I don't think this feature is applicable. If the users can spend RM 30 just for data usage, then they won't be mind of paying more or changing to a cheaper plan. Eligibility age? As mentioned, this plan is targetted for students and the eligibility age is below 25 from participating universities and colleges. You can check whether your institution is included or not
here
. After the age, the plan will be terminated and will be offered to sign up a special Fresh Grad Postpaid Plan. Otherwise, you can sign up for normal prepaid or postpaid plan that you wish. What should you do? For new customer, you may subscribe by purchasing a new Digi Campus pack at participating dealer outlets, DSS outlets or during DiGi Campus events at selected universities & colleges. For existing D'Campus users, just reload any amount from now onwards and you will get the benefit of the new plan. For existing Digi prepaid users, you can ONLY convert to Digi Campus during event roadshow. For other service providers, you may convert to this Digi Campus and subsequently become a Digi Customer while RETAINING your existing number. Do remember to bring along with your IC and your student card for validity. Is there existence of such great deal? Yea, why not when comes to Digi. The main target group for this Digi Campus is the students and their main objective is to attract more people from other network provider to convert to Digi. Well, talking about the coverage, Digi did poorly but only at certain places and at certain times. It doesn't have a big impact to me except during my birthday time when I cannot have the access to network for the whole night. Friends of mine who converted to this plan at the same day are Digi users (Vun) & other providers (Jasmine, Christine, Wilfred). So, how about you? Between , I was labeled as Digi agent and perhaps it is now.. haha..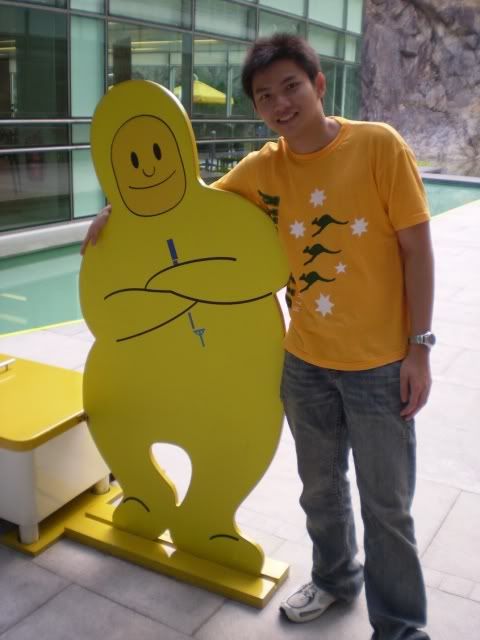 Pictures taken at the Digi HQ at Shah Alam during the Digi Family Carnival.
More info at the official website
here
.