Looking for food but bored of fast food restaurants? . Let's try the Penang Recipe located at 1 Utama.
I am aware that most girls do prefer Asian style restaurants rather than fast food restaurants such as McD or KFC. In addition, they prefer small servings and less oil, less fat and less rice which is totally different as for males. Hence, this place suits to the XX gene bearers.
You can try out the pandan nasi lemak either with fried chicken or curry chicken. (recommended) Others are like normal meals. Though it serves Penang recipe, the assam laksa will never be the same like the one in Penang. So far, the best that I ever tasted was the one inside Jusco, Mid Valley.
Assam laksa @ RM 6.90
Erm.. normal lor but with small portion.
Pandan nasi lemak with fried chicken @ RM 8.50
Too bad, the pandan rice run out so they gave me a plain rice instead.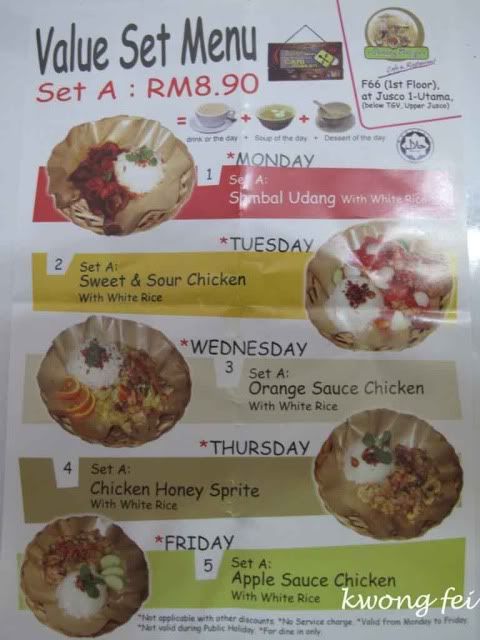 There are two value set menu. Set A is all on rice while set B is all on noodles. Each set comes with a main meal + a drink of the day + a dessert of the day. These sets are value for money but only available of Mondays to Fridays excluding public holidays. Too bad I came in a wrong day for the savings. @.@
*All prices stated are nett price. There are no service charge or government tax.
Address,
Penang Street Cafe & Restaurant Sdn Bhd.,
Branch: F66 (1st Floor), Jusco 1 Utama
Tel: 016-2177496 (Fanny Goh)

Centre kitchen: 2-1, PJU 5/11, Dataran Sunway, Kota Damansara, PJ.
Tel: 603-61417717, 603- 61407663
Thanks for the nang!