We started the day with a light breakfast. Each of us was given a packed drink and a bread. For those who were unlucky, they did not get the drinks as it was limited.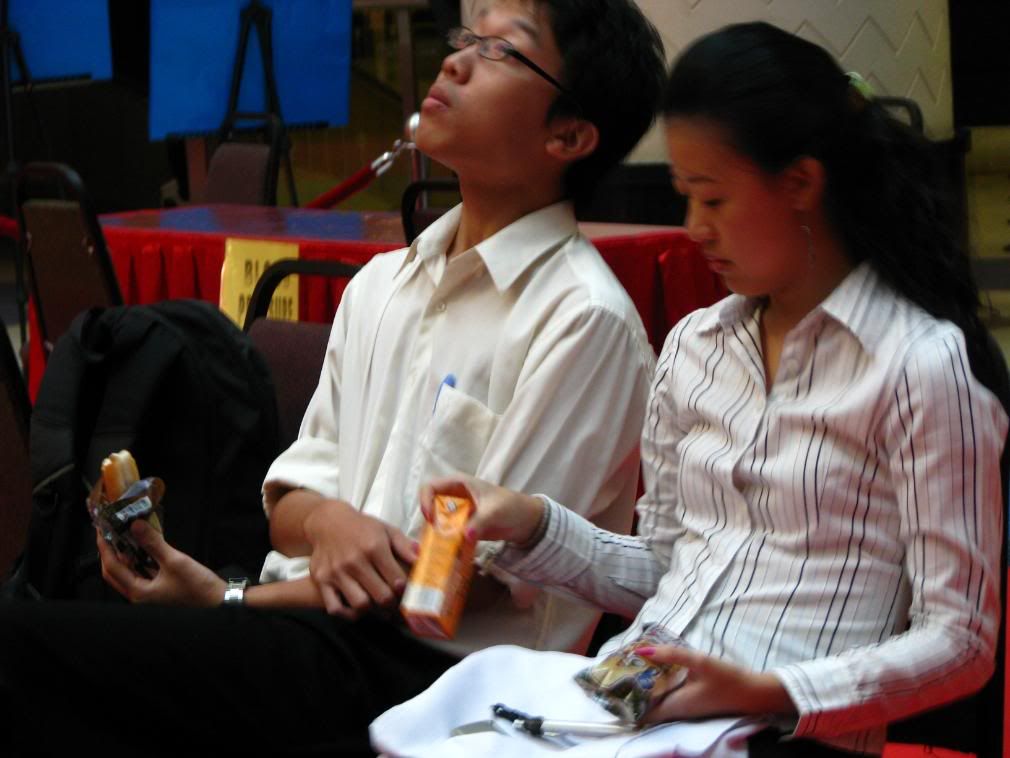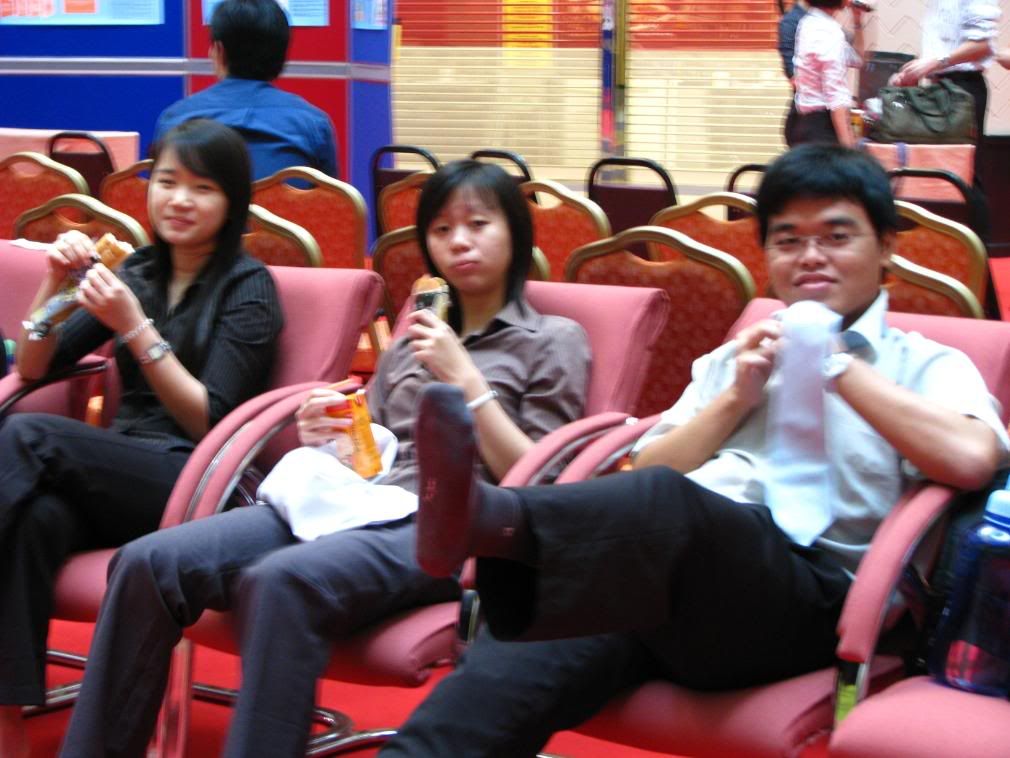 L- Alvin and Lee yen R- Kat, Chui Wei and Vun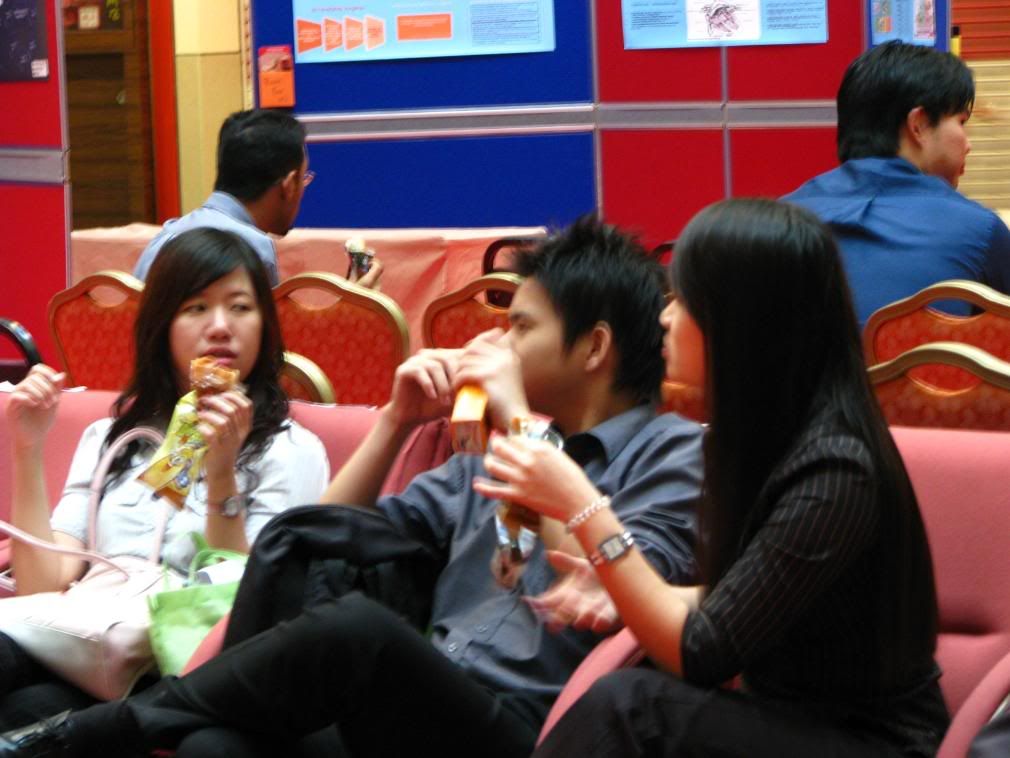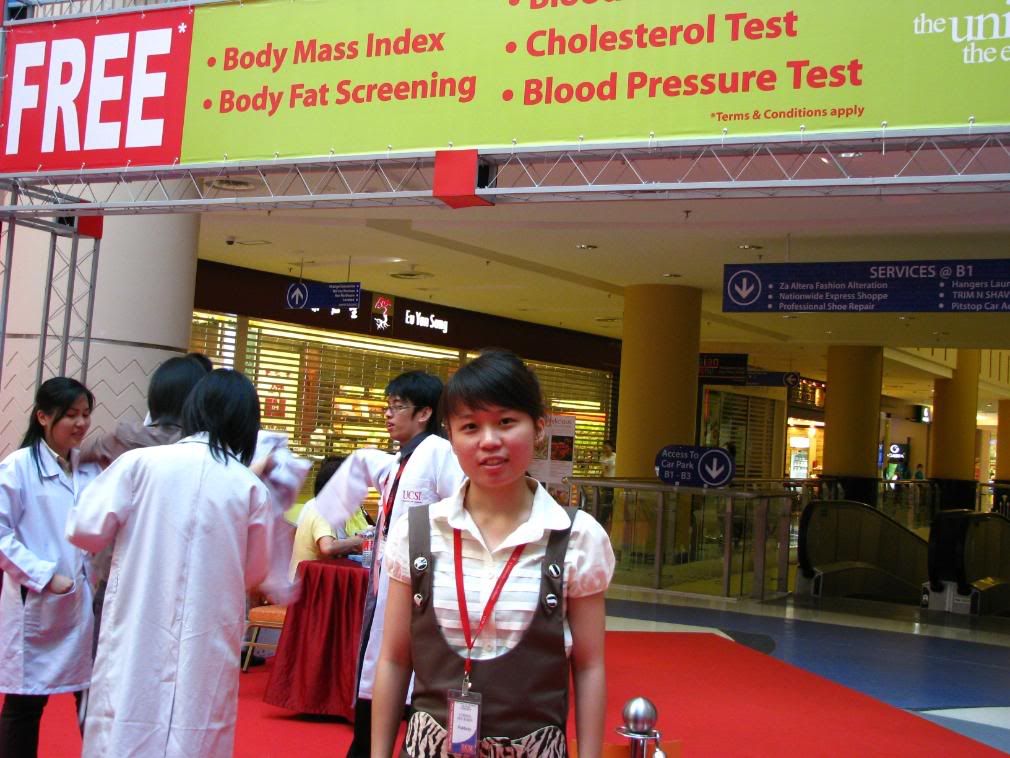 L- Christine, me and Kat discussing the questions raised by the public R- It was the first day for Pink Khee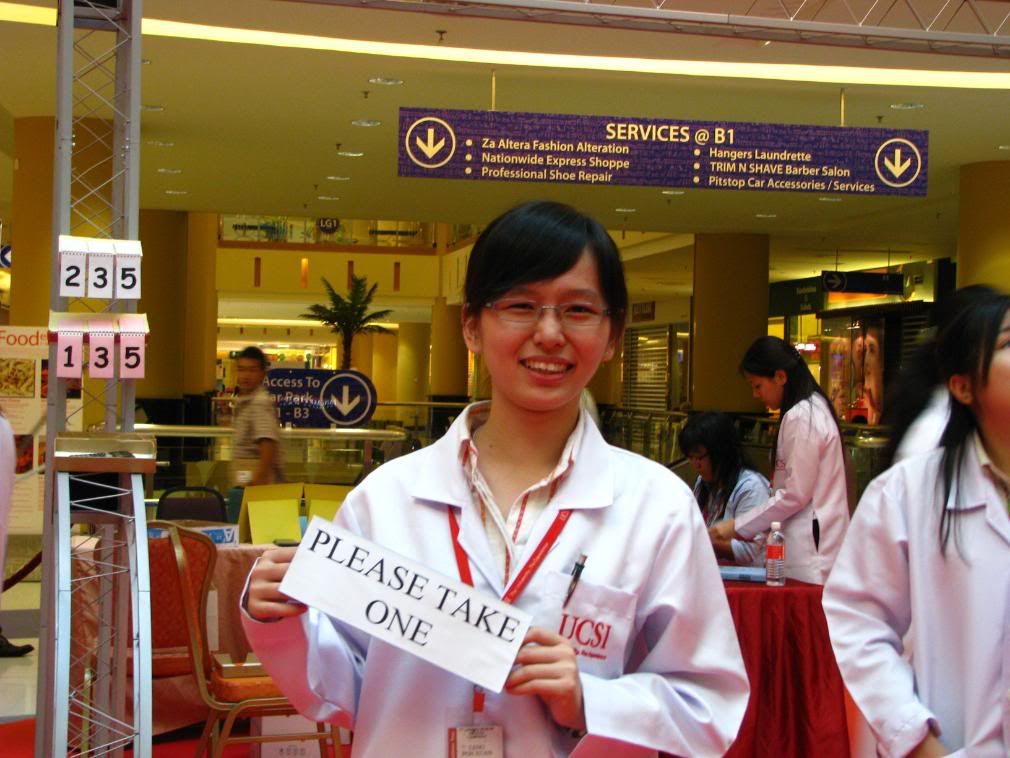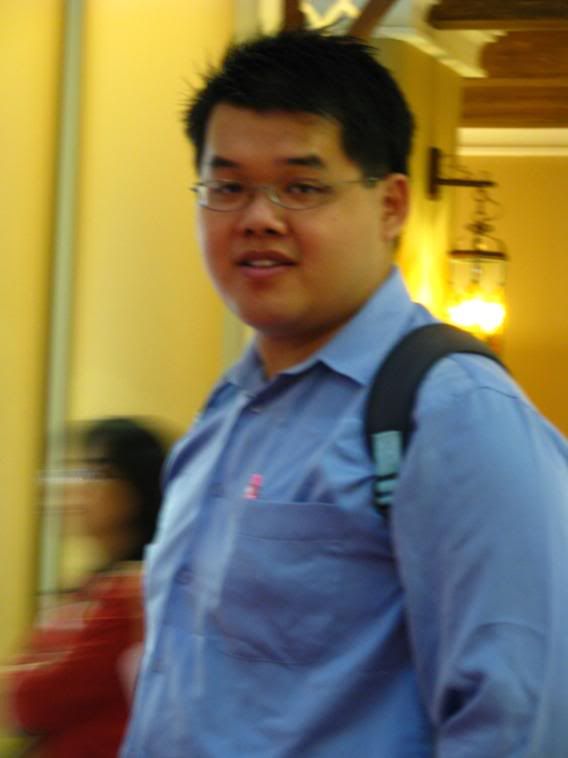 L- Plz take her..haha.. it was Poh Xuan
R- Unknown senior to me, he has many year experince handling PHC and also NoGAPS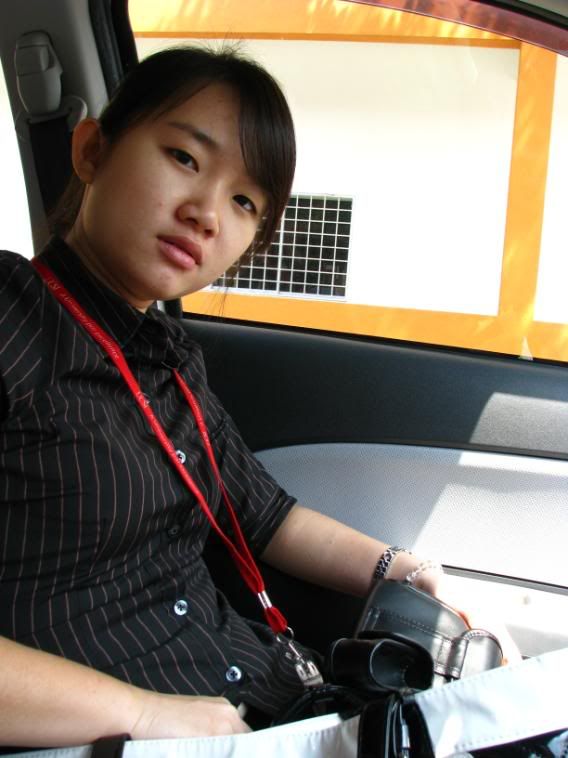 At about 11. 50 pm, Suk yen and Kat went out to take our lunch boxes. I did help Suk Yen the same thing on the first day... hey buddy,acting cool?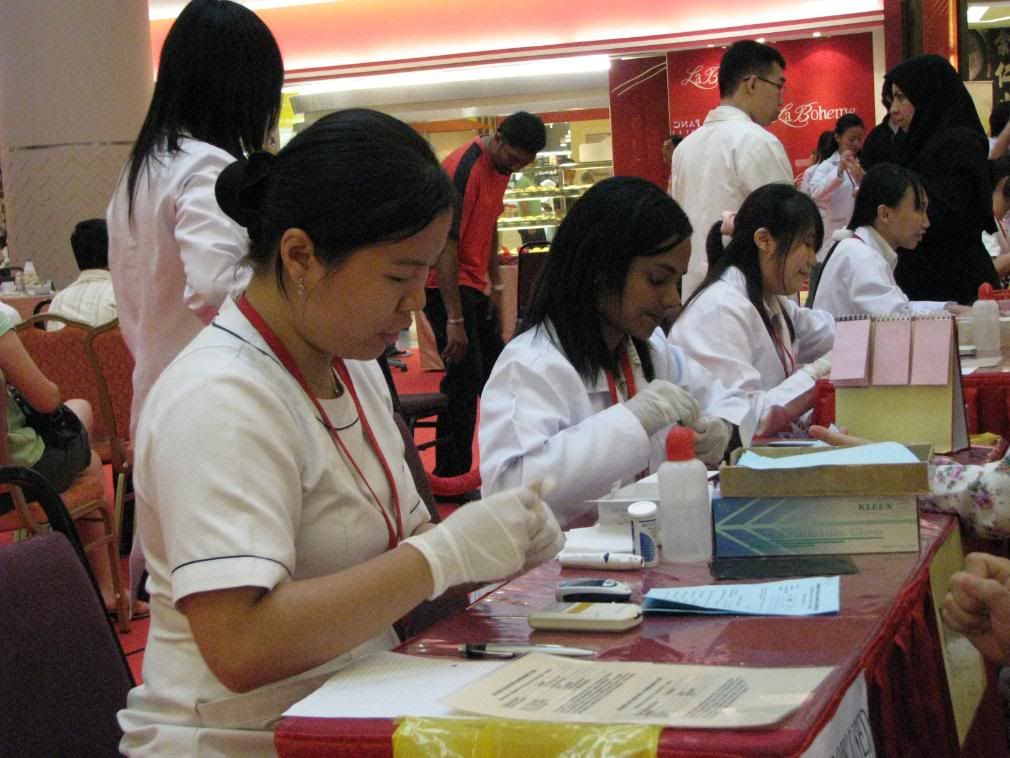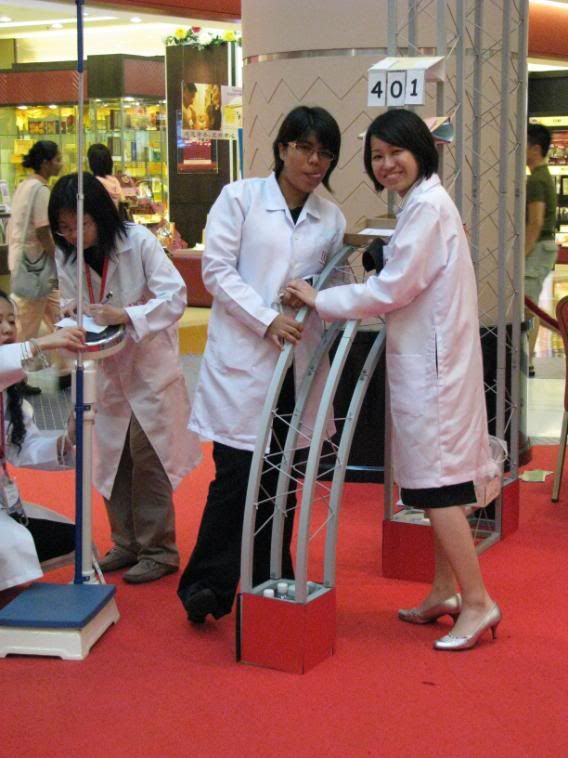 Preparing to work again..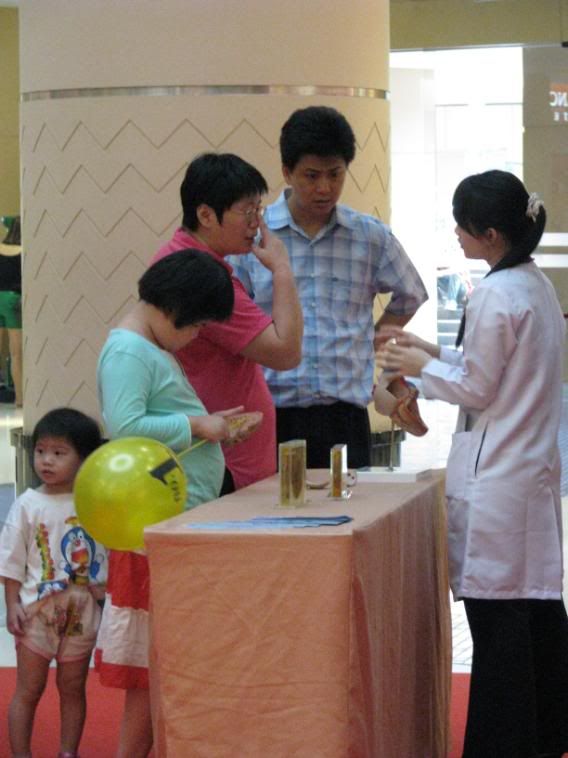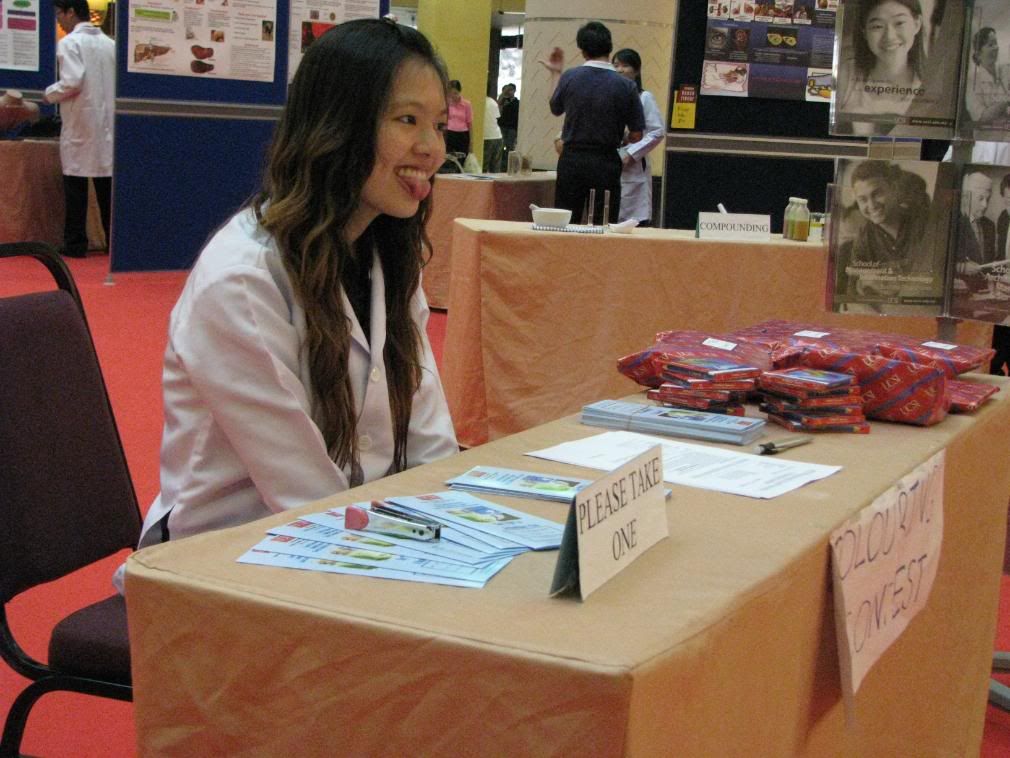 L- Kat explaining the heart model
R- Alison stucking out her tongue to attract the kids to register for colouring contest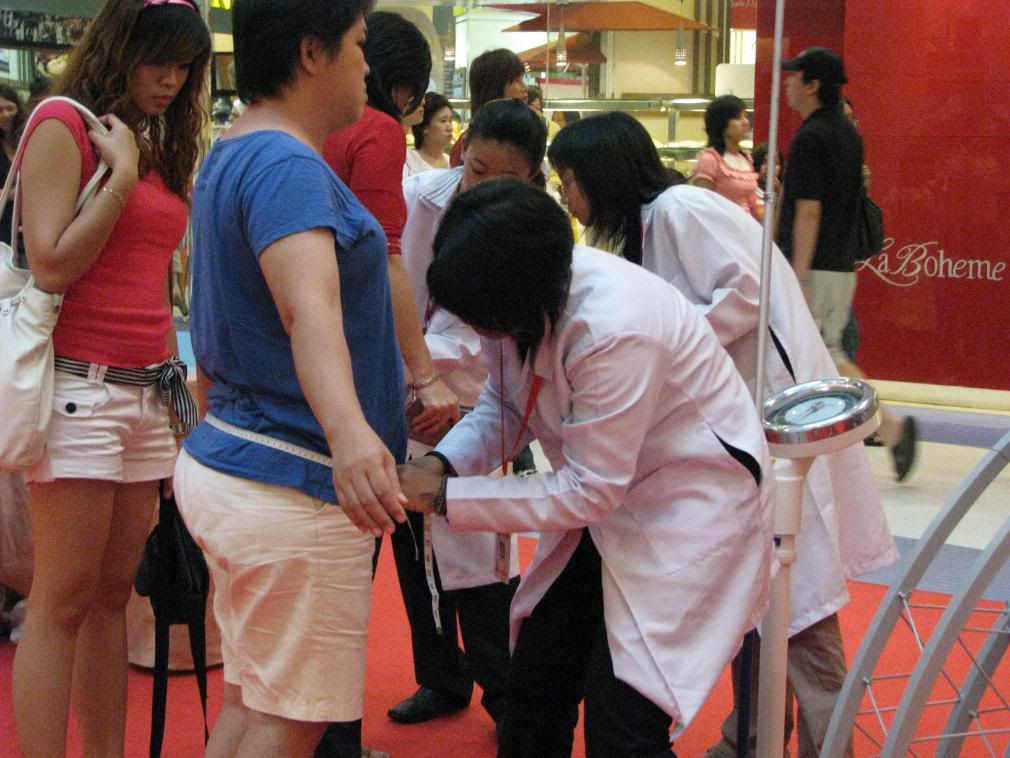 L- Measuring waist to hip measurement
R- Measuring blood glucose and cholesterol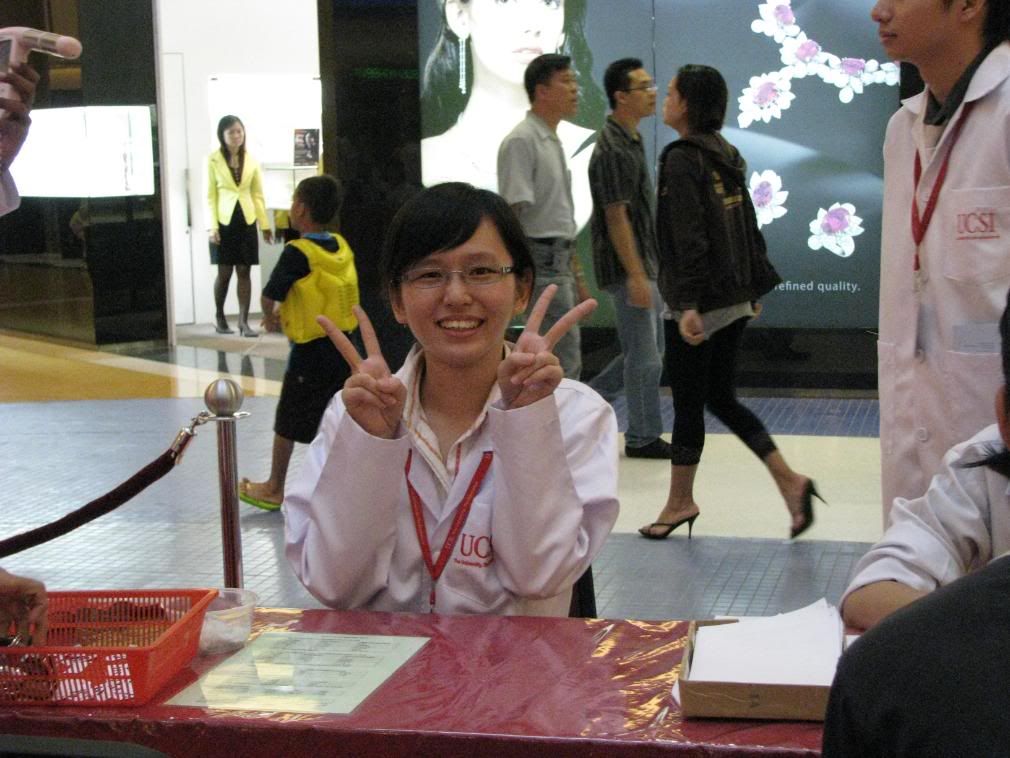 L- The kiddy Poh Xuan R- Dr. A with Ms Wong Pei Nee on duty as counsellor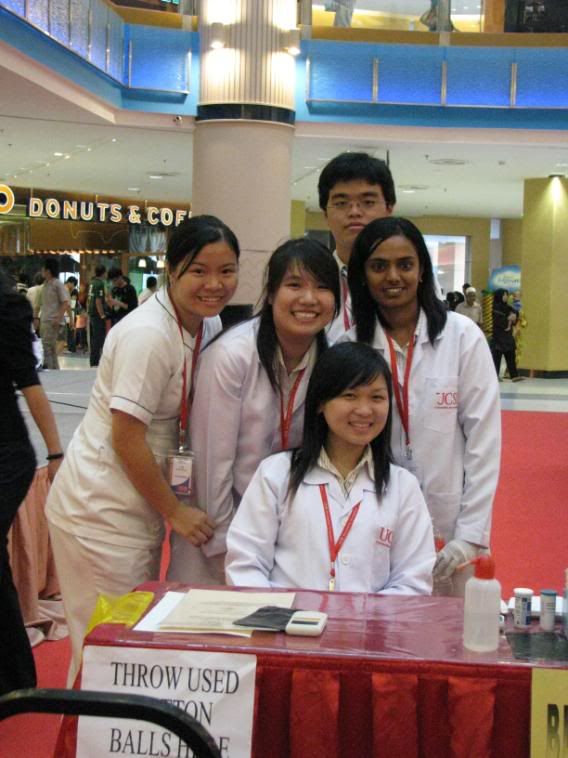 L- Screening department, Vun was the usher
R- dr. A with Ms Wong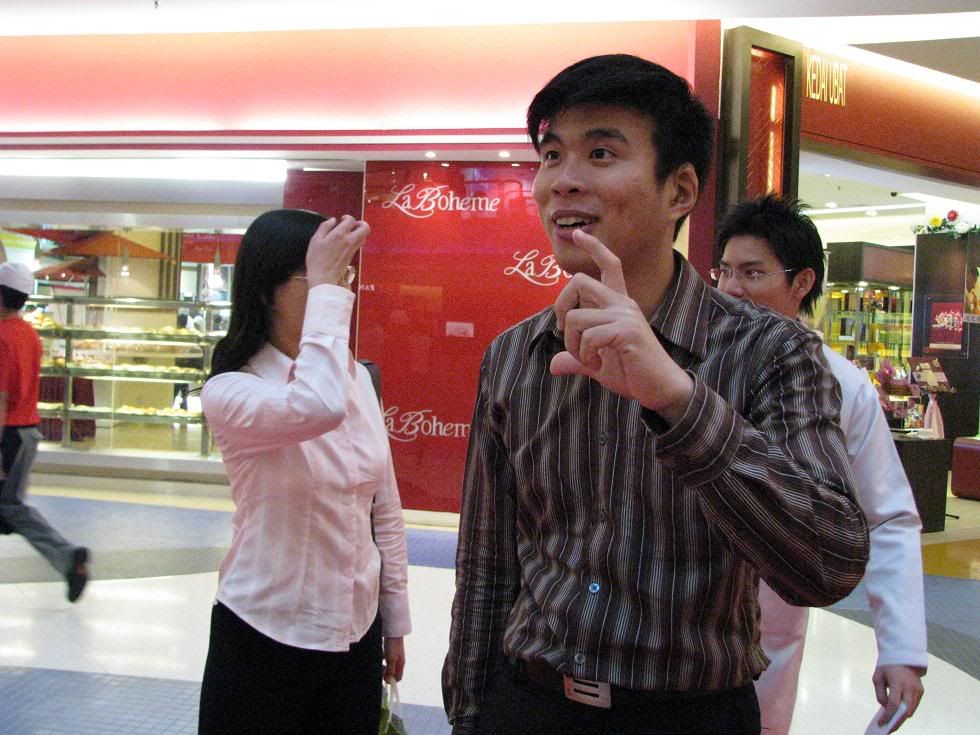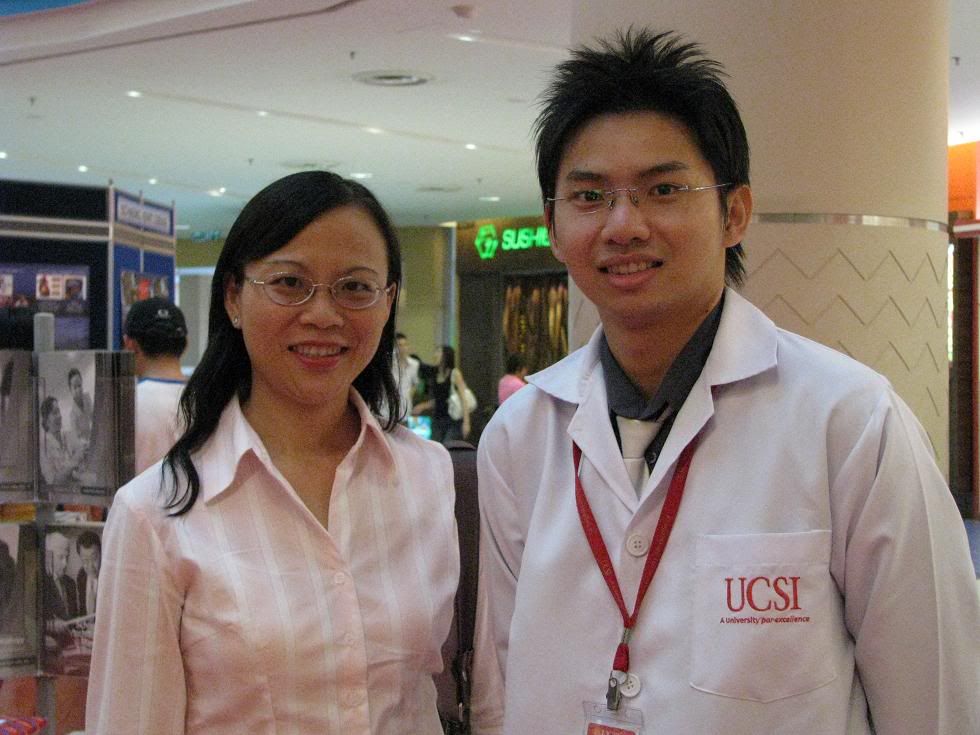 L- Where was the camera? How come nobody take picture with me?
R- Me and Ms lyna Irawati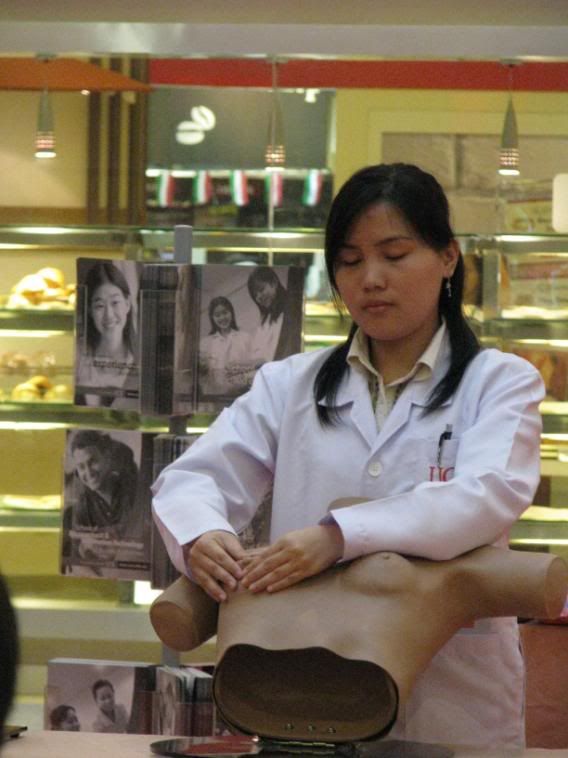 Shin Ying doing BSE demonstration.. If you want to check your breast, just squeeze it and check for the fluid that oozing out..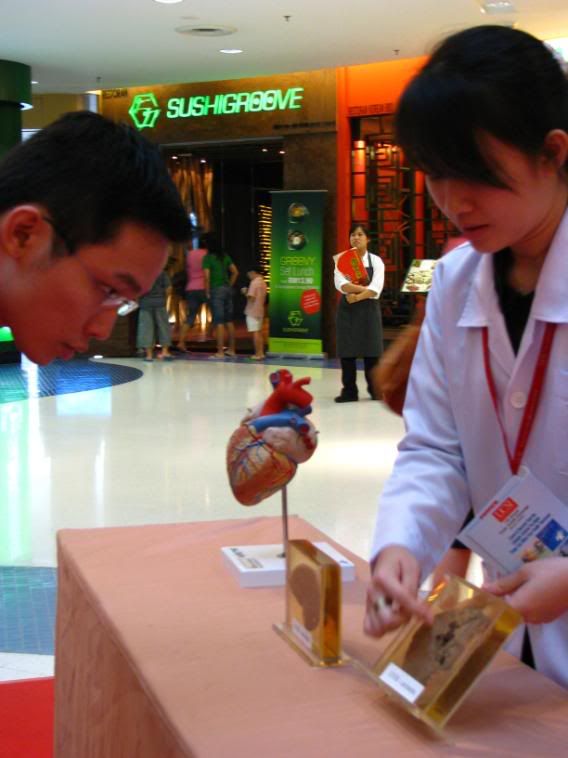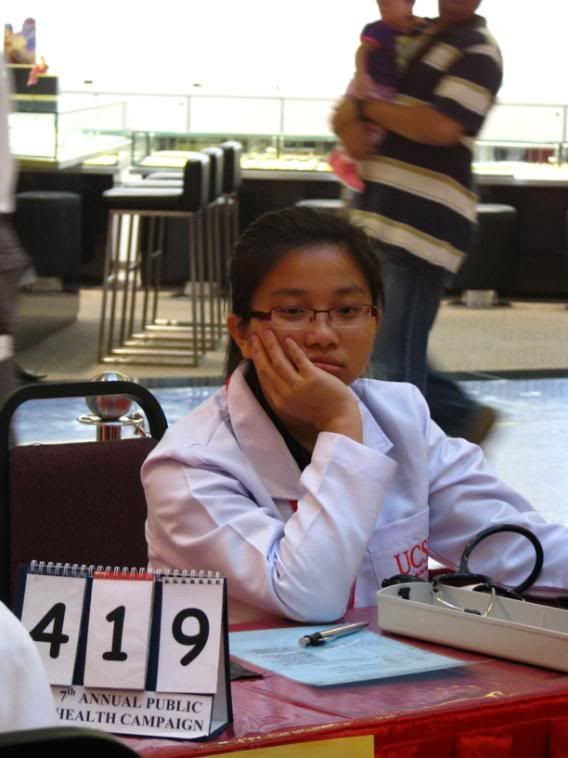 L- Kat explaining liver carcinoma R- Felica was bored when there was lesser crowd..she asked me not to write her curi tulang..so u know wat it meant?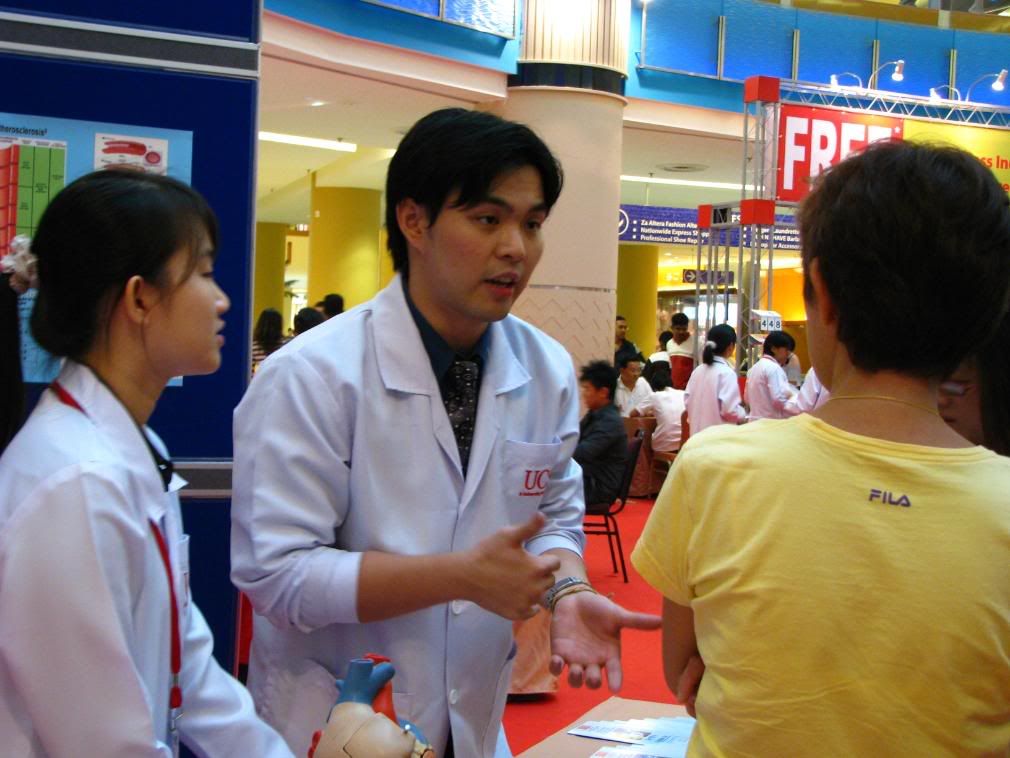 L- Suk Kuan doin the measurement R- Kat and Victor explaining to the public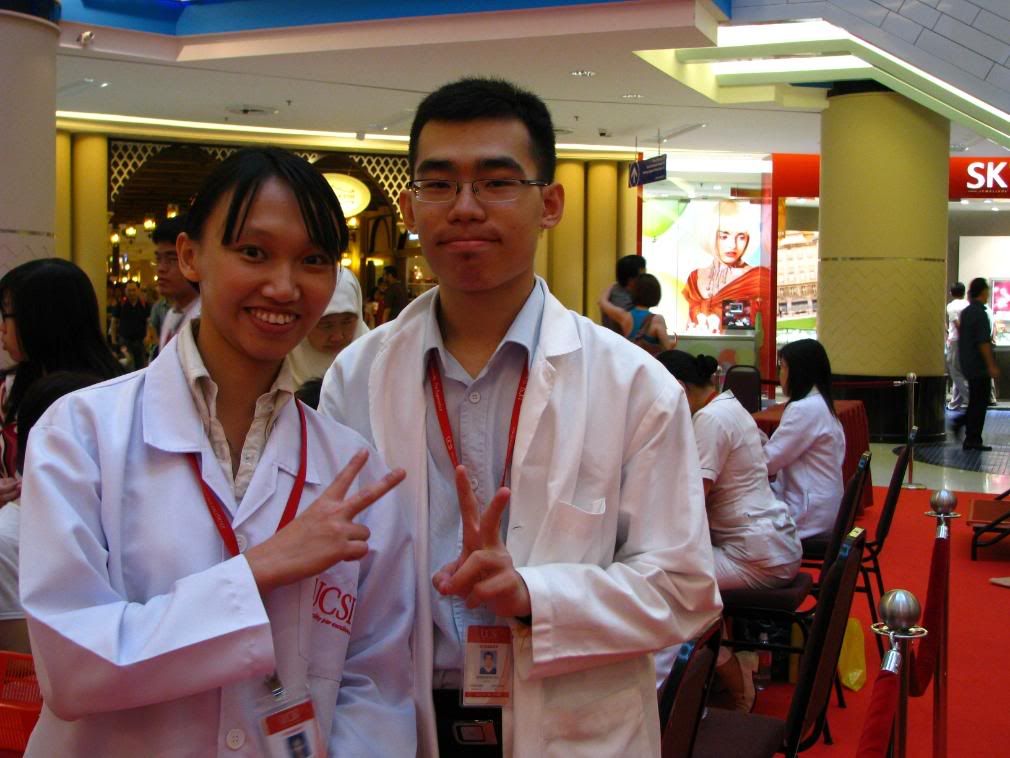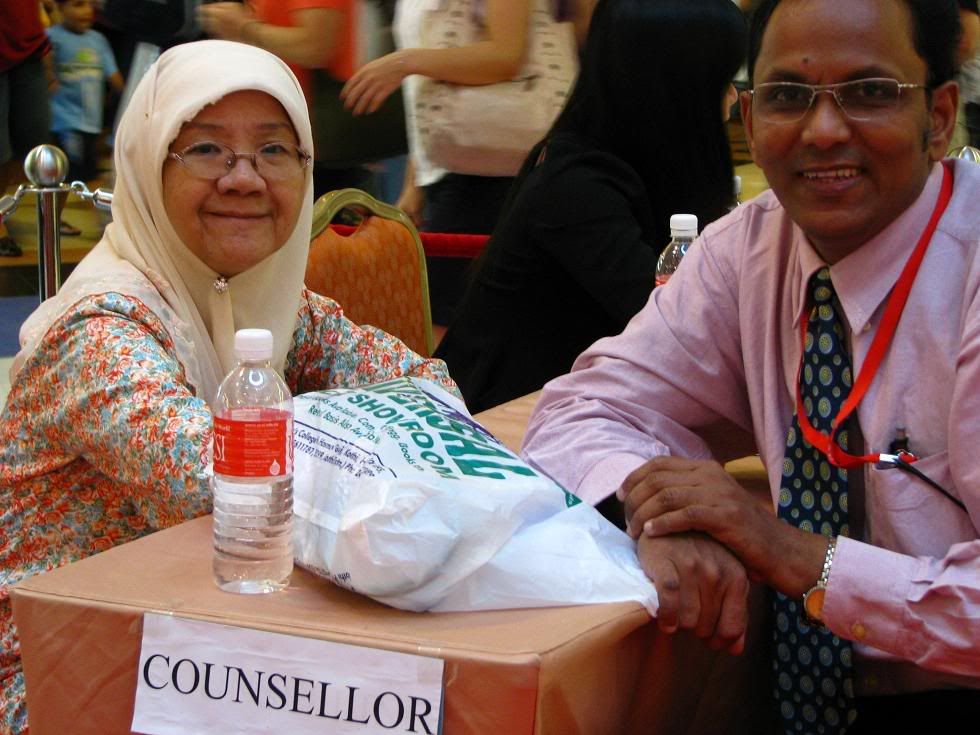 L- Suk Kuan and WY
R- Dr. A and Dr. B..sorry i rally dont know their name, if u know kindly inform me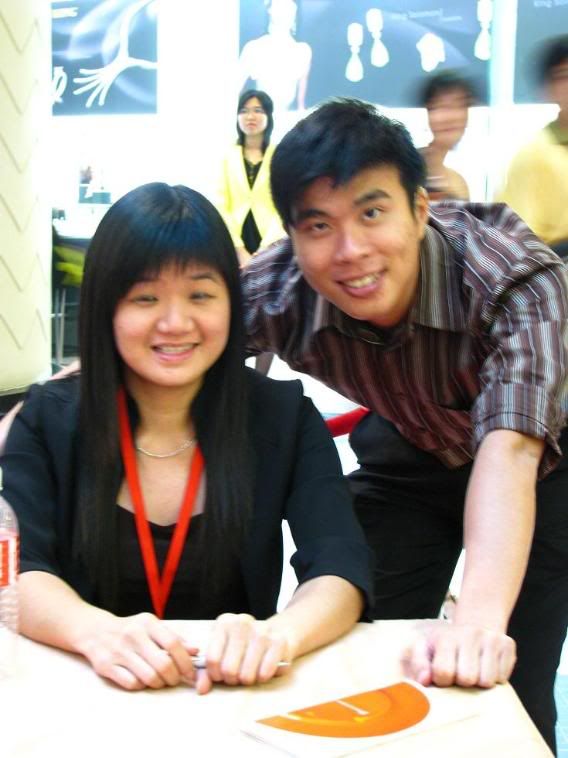 Ms Wong, Mr Jony and Ms Lyna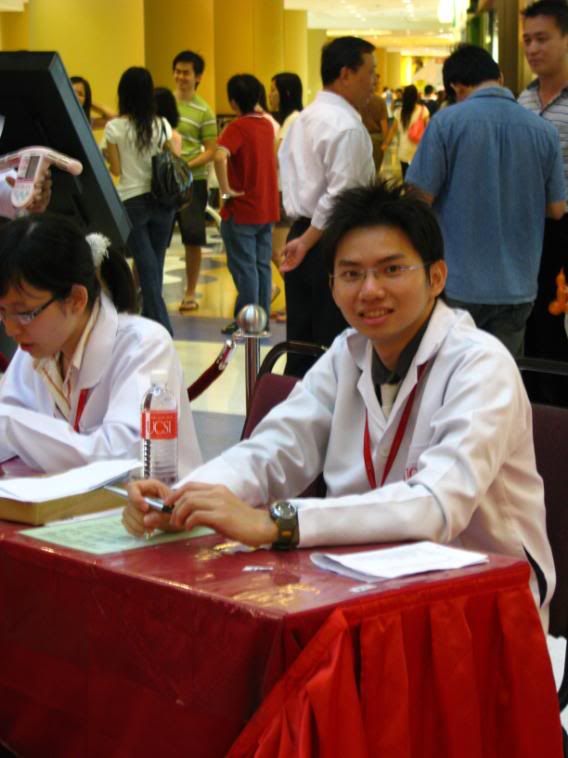 L- Me at BMi, body fat and visceral fat counter..
R- Wan Nah twisting her tongue..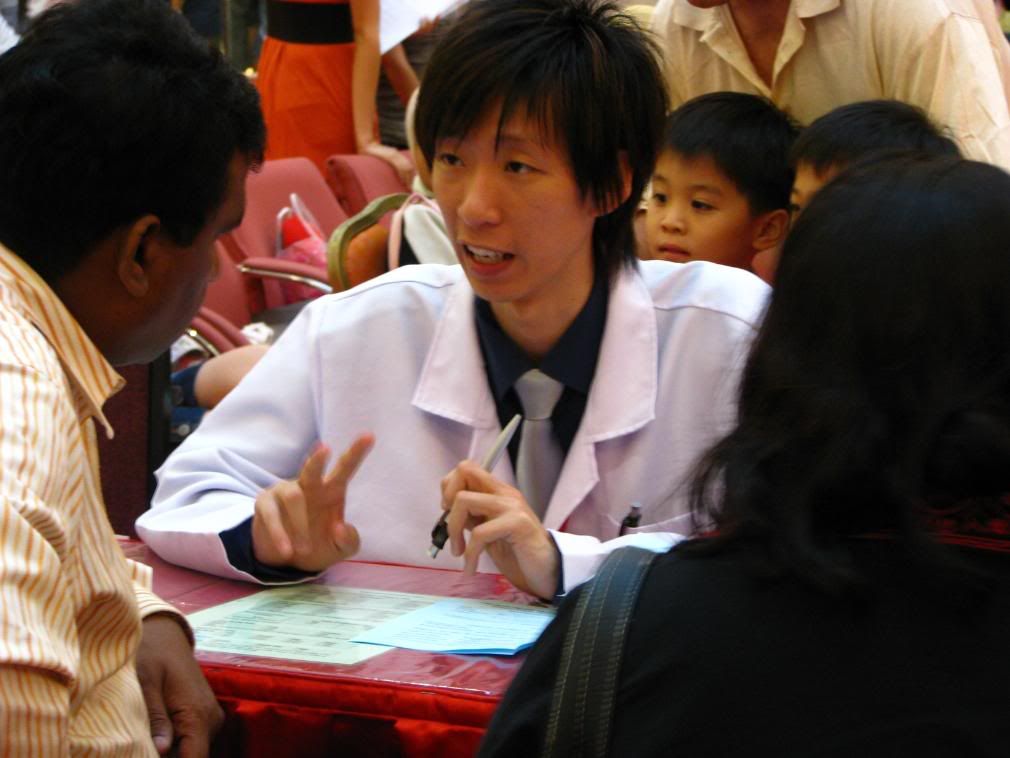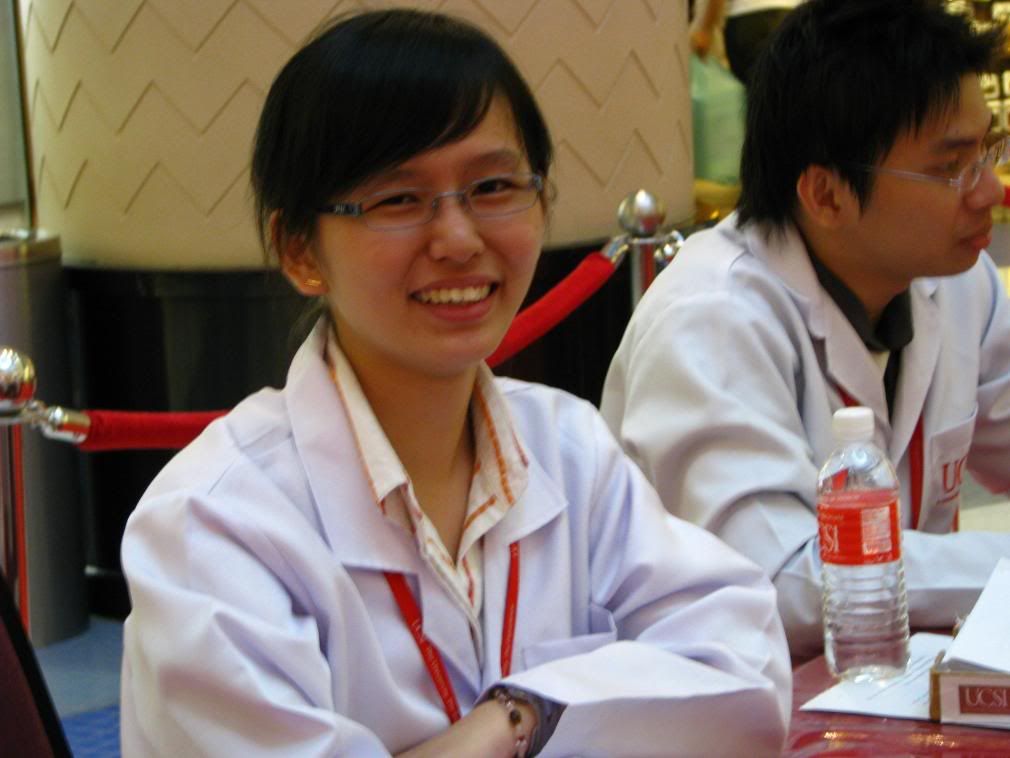 L- Joshua explaining the results R- Poh Xuan stationed beside me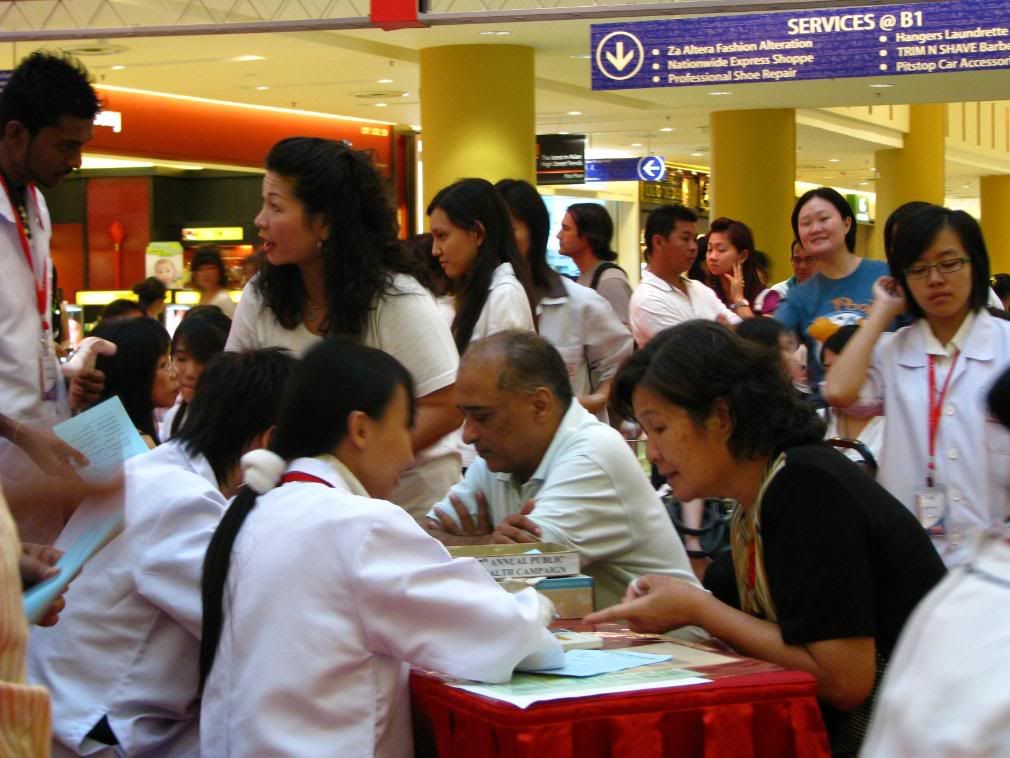 L- Dats Uncle Edwin..Suk yen's uncle who offered a job last time R- The crowd was increasing..
R-Wan Nah and Suk yen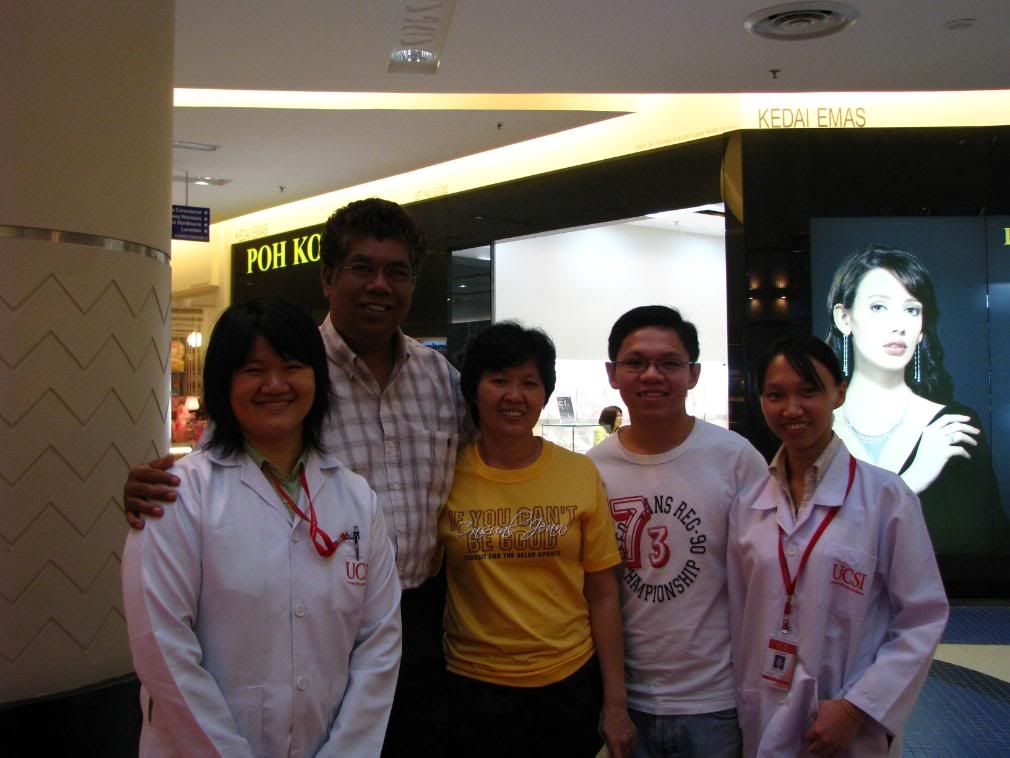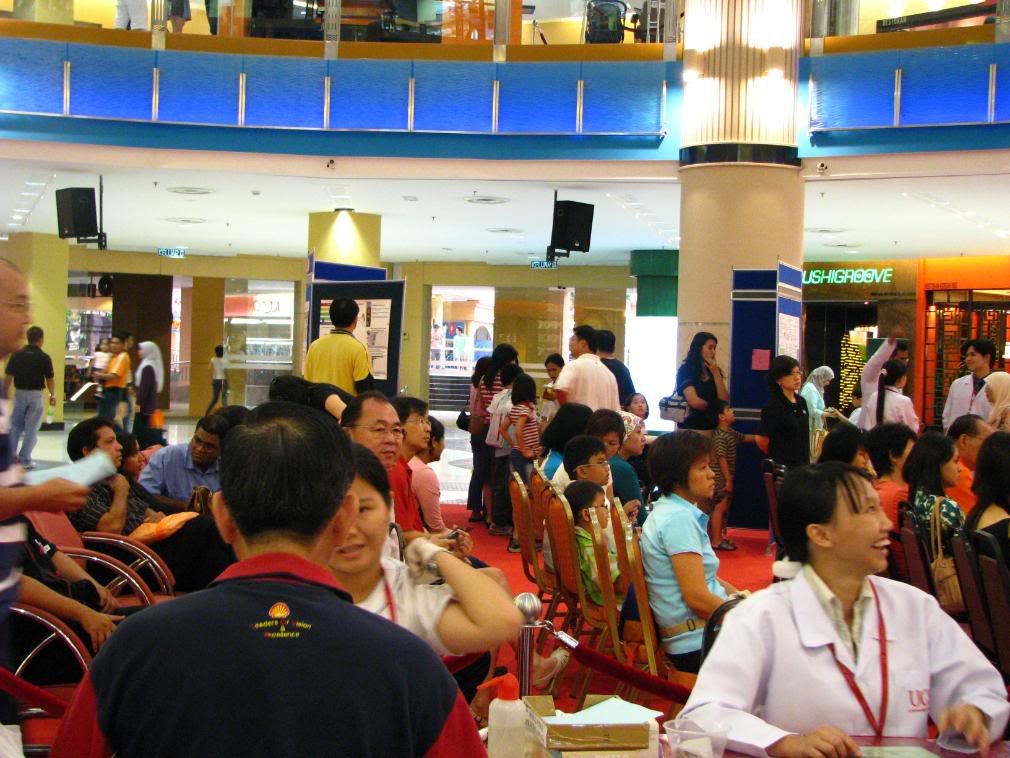 L- Suk yen & Suk Kuan & their relative
R- Suk kuan seem enjoying herself..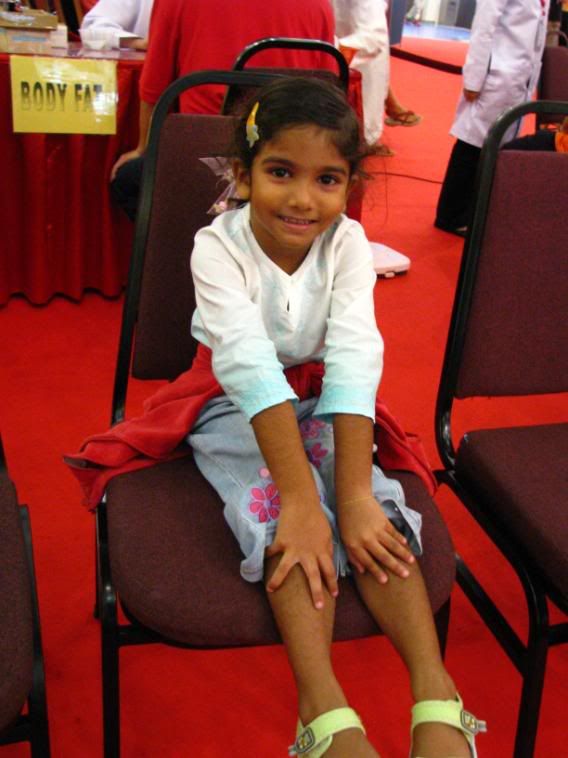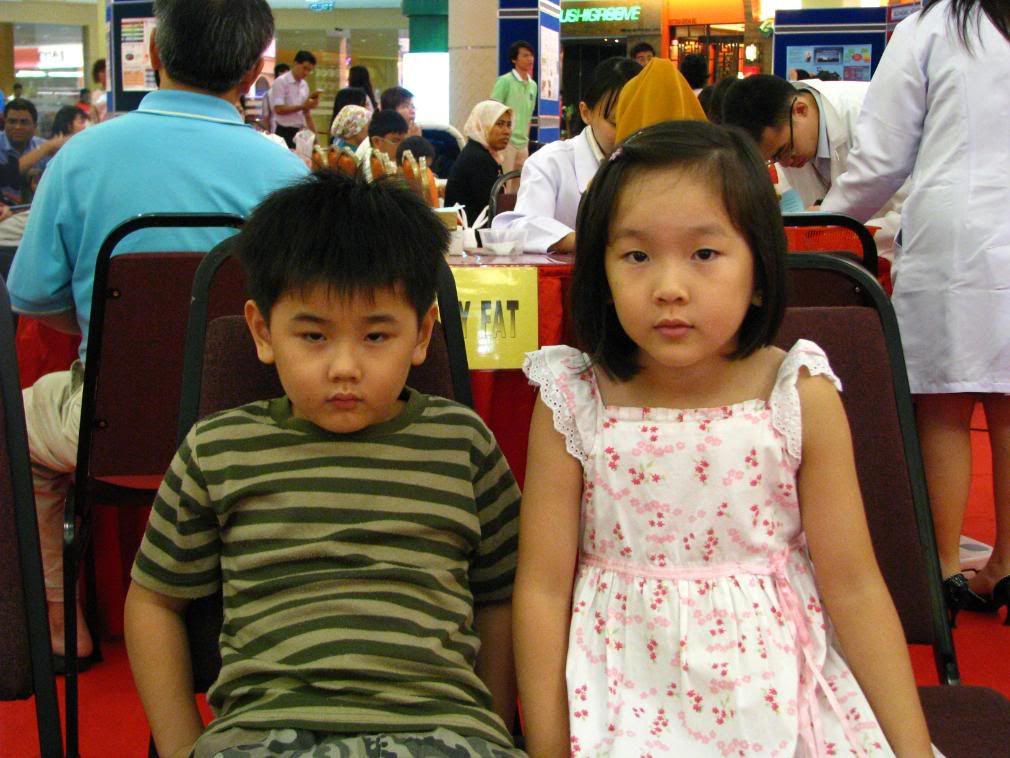 The kids sat quietly while waiting their parents for check up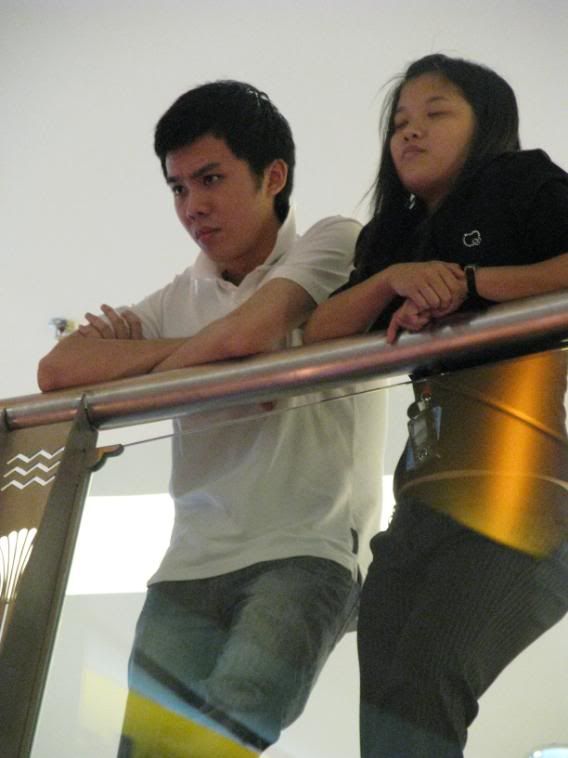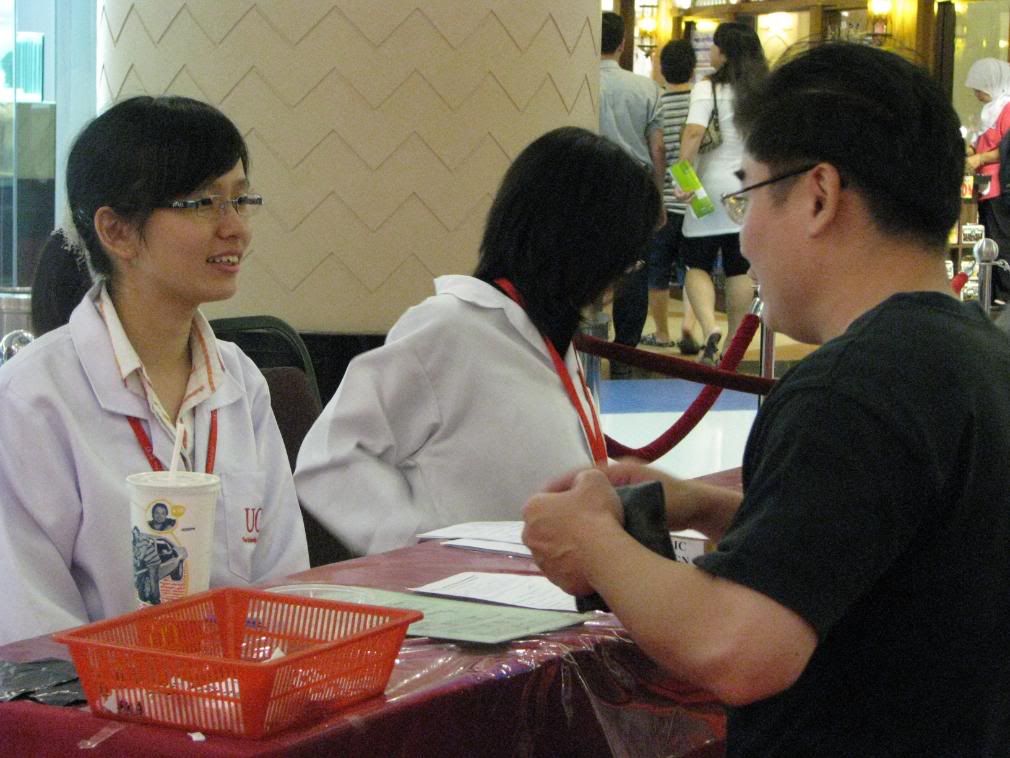 L-Ms Lee yin and sumbody?
R- Poh Xuan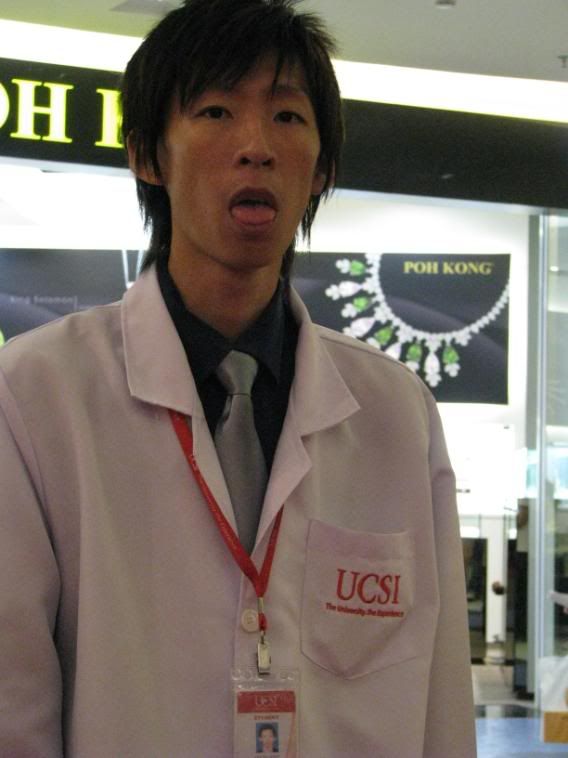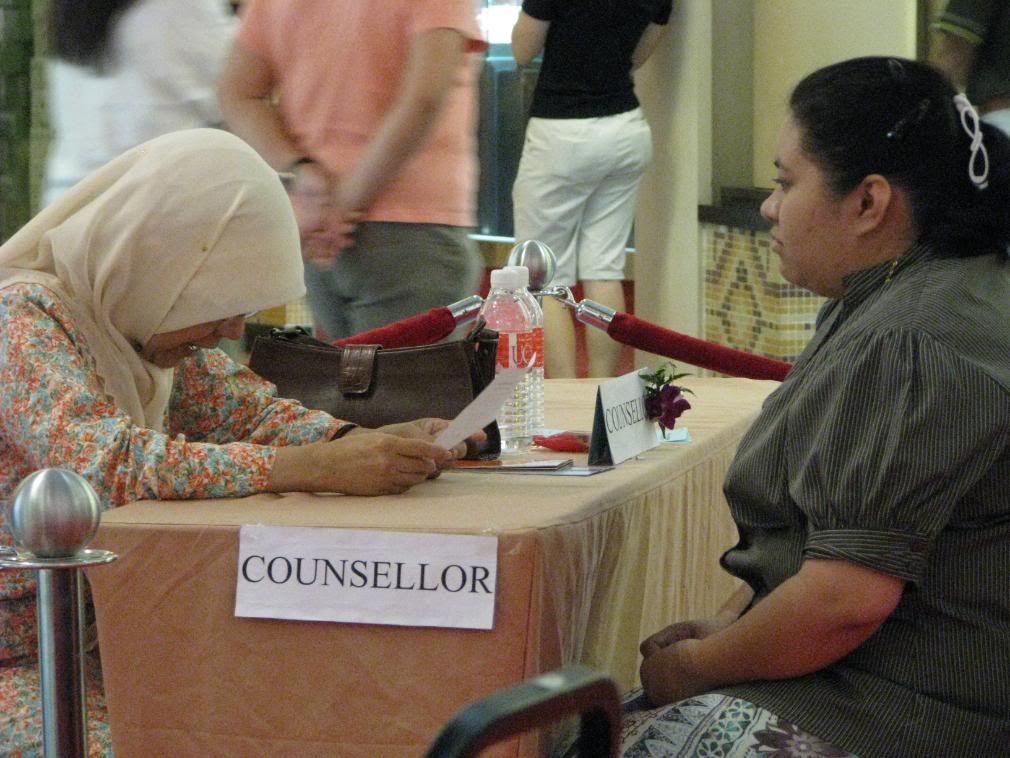 L- Joshua with his energyless face R- Counselling section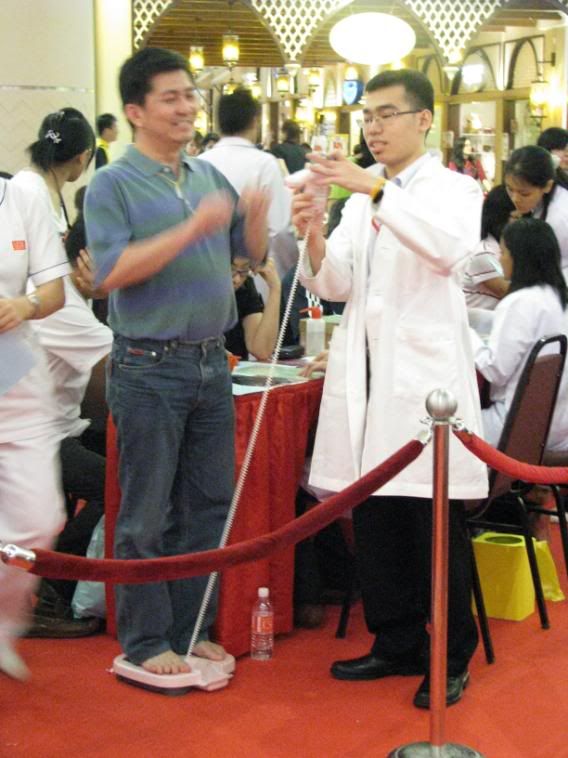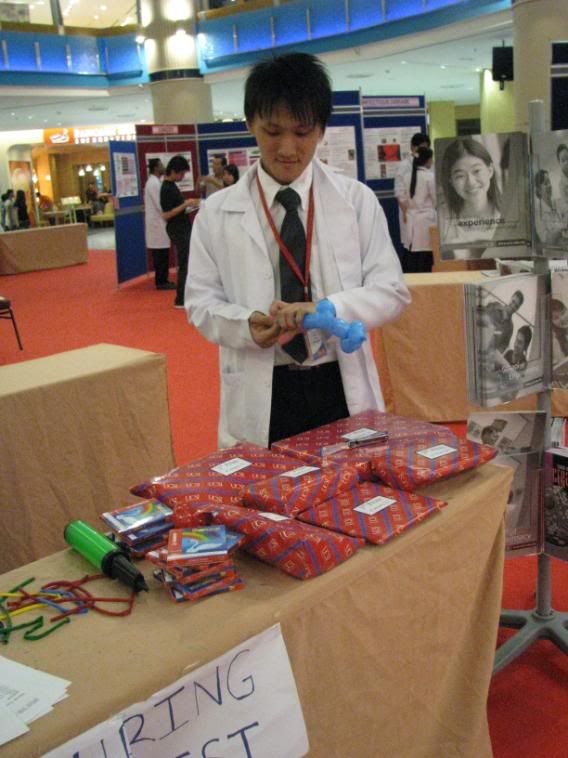 L- Wei yau, R- Louis playing with the ballons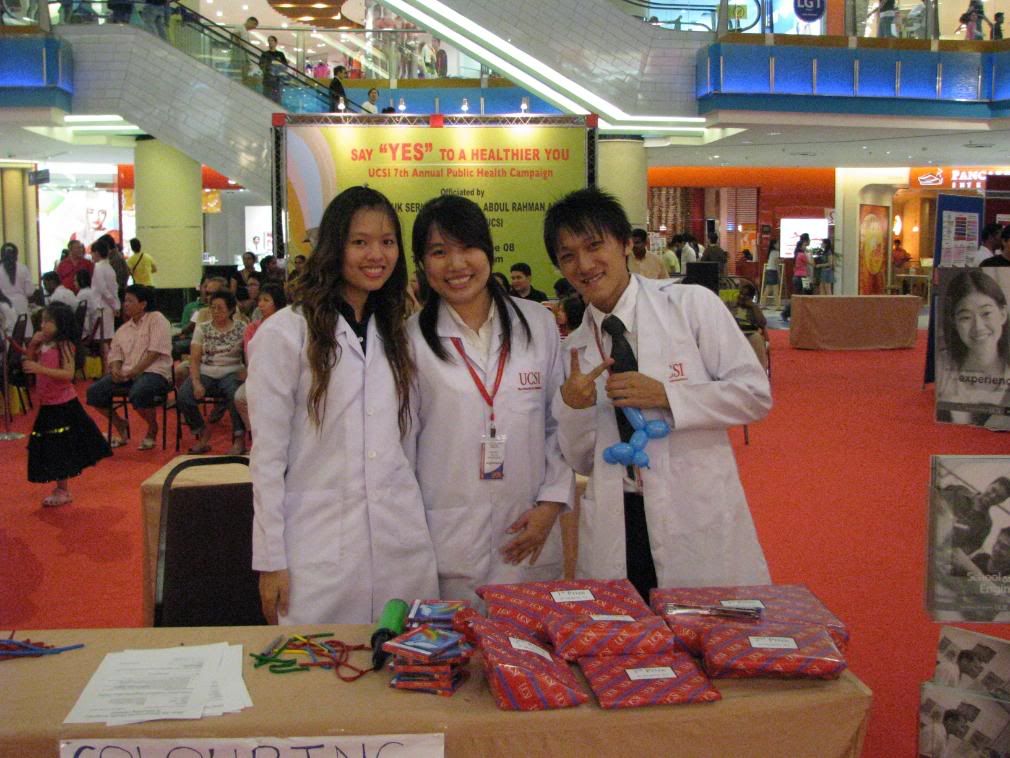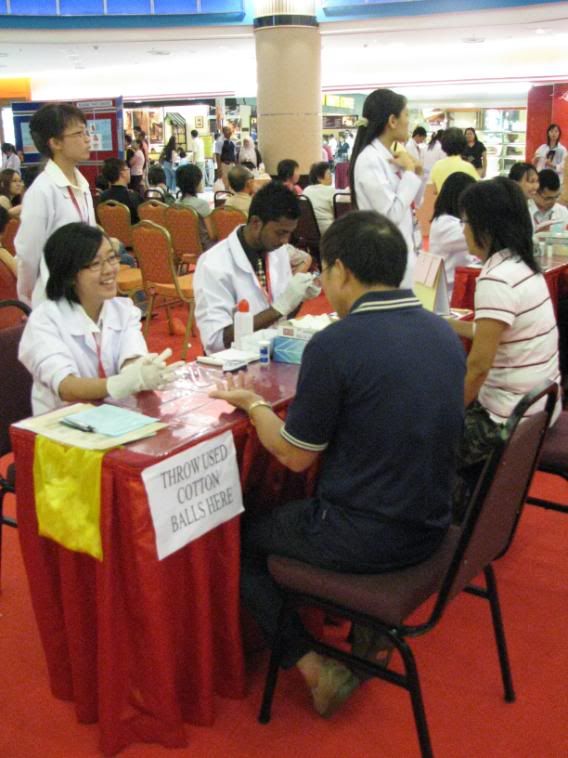 L- Alison, Angeline and Louis
R- Its wan nah again..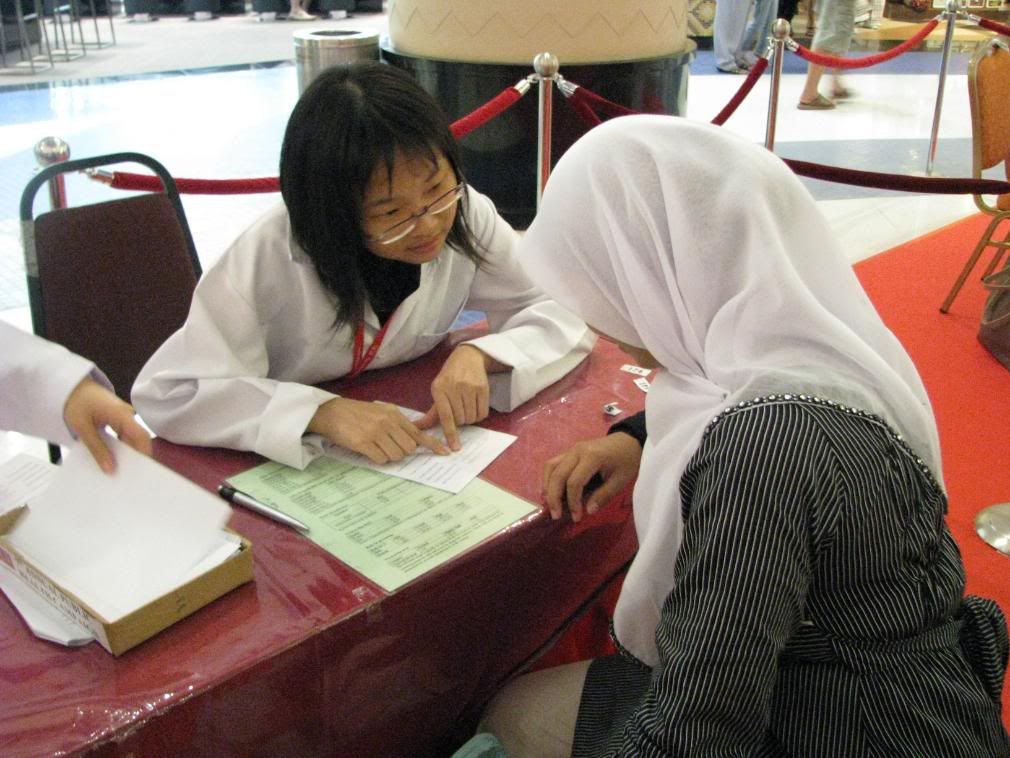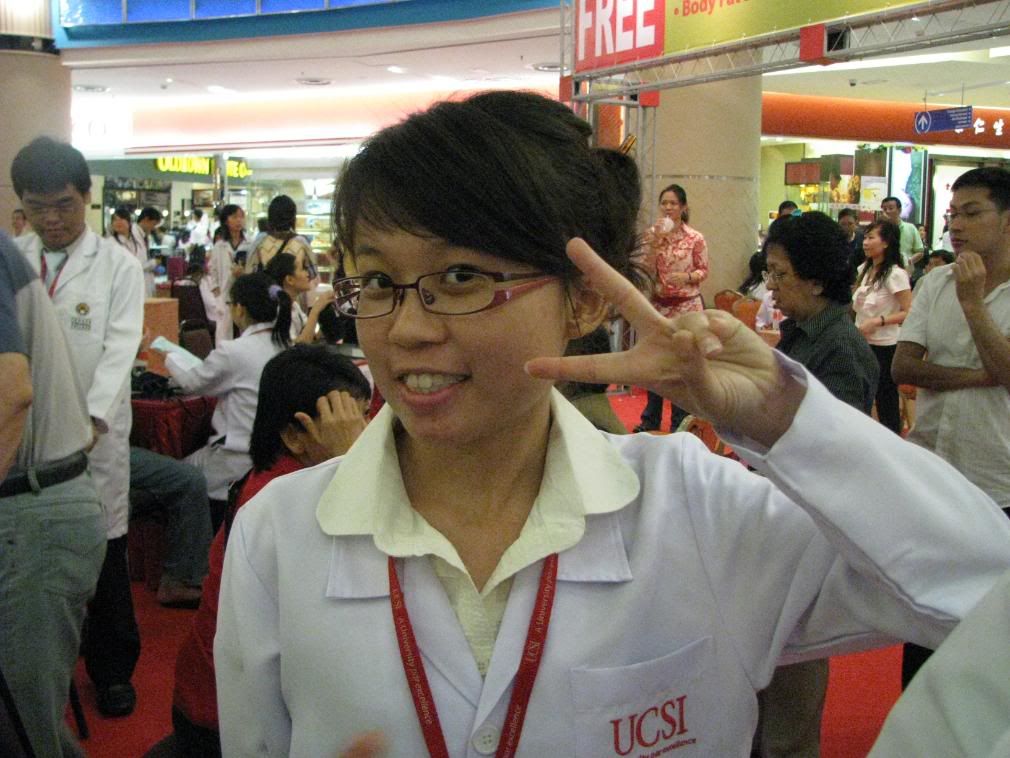 L- Poh Chin on duty
R- Pink Khee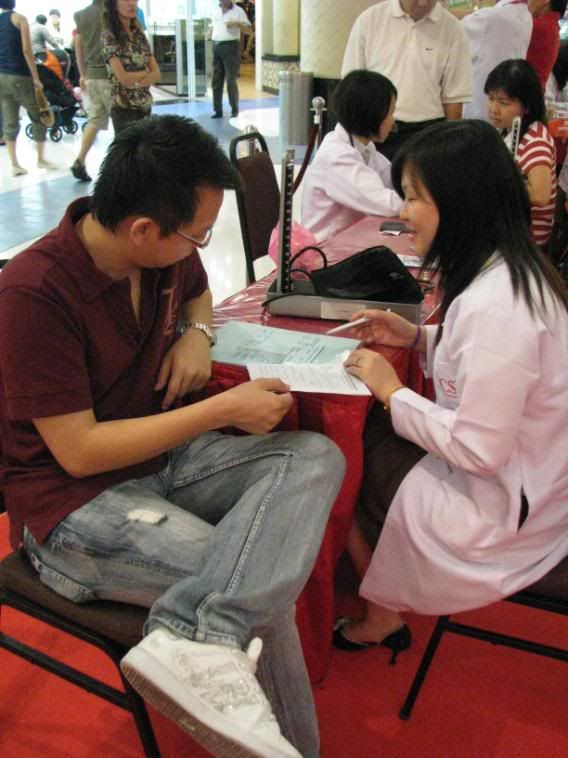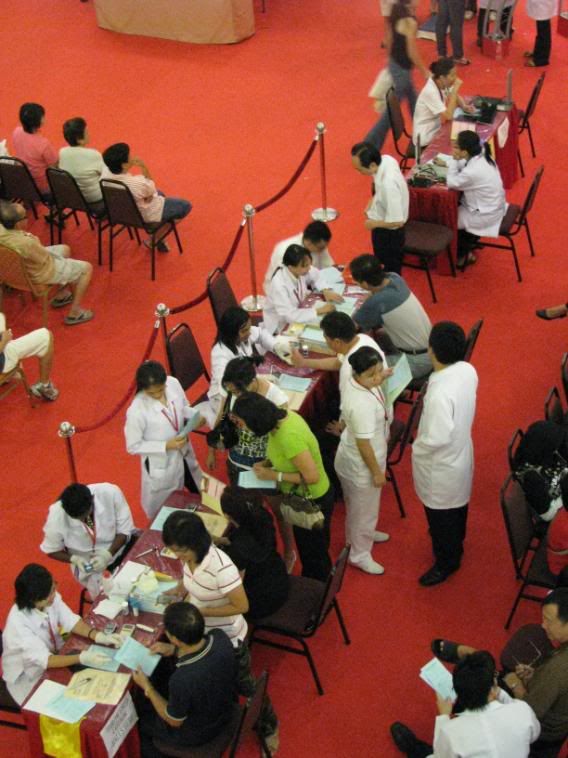 L- Charlene and Jerry., the mamak BOSS
R- The top view of the screening section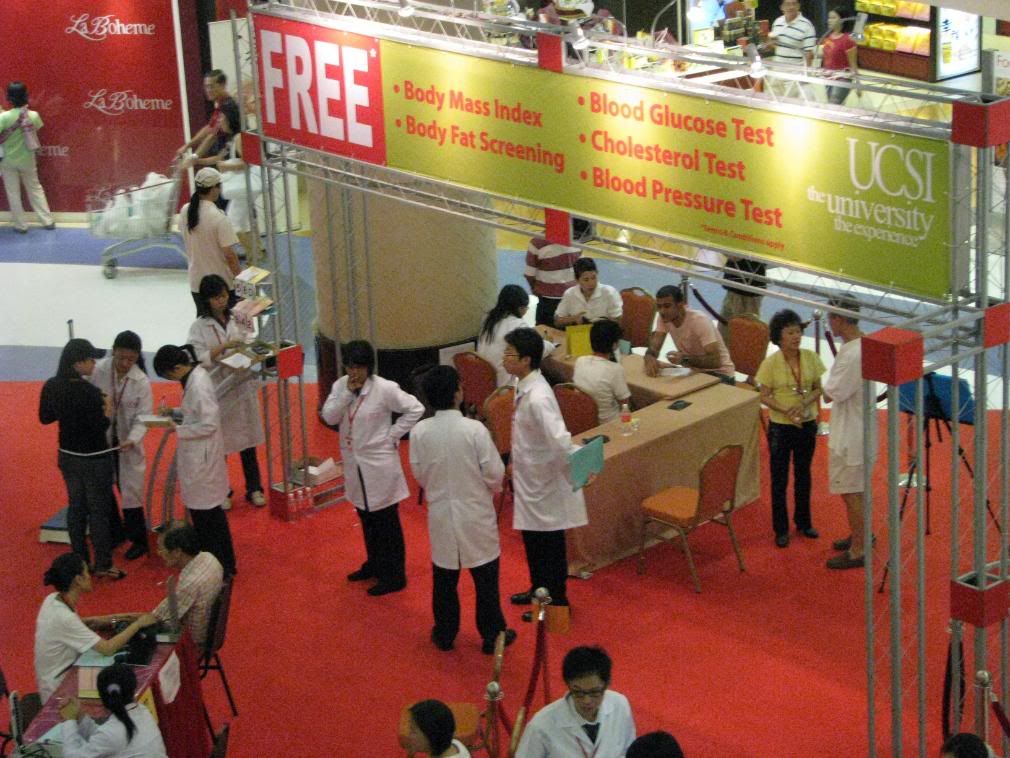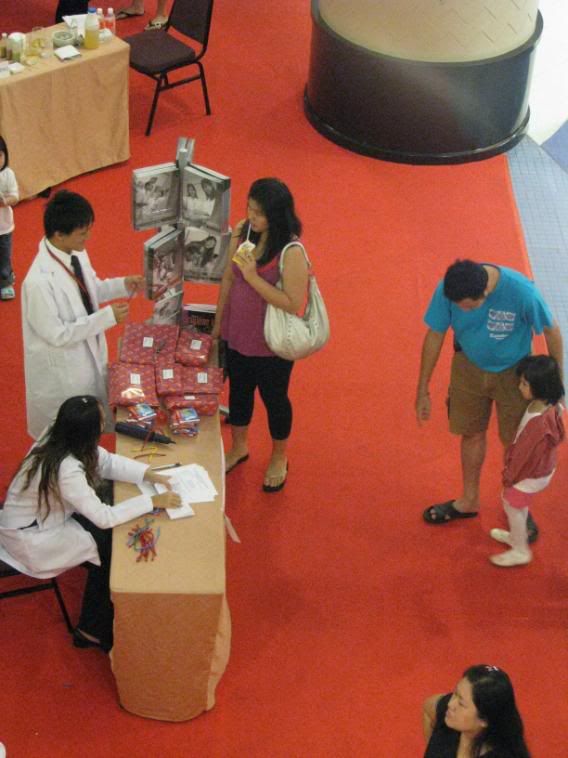 L- Registration counter
R- Publicity counter..colouring registration counter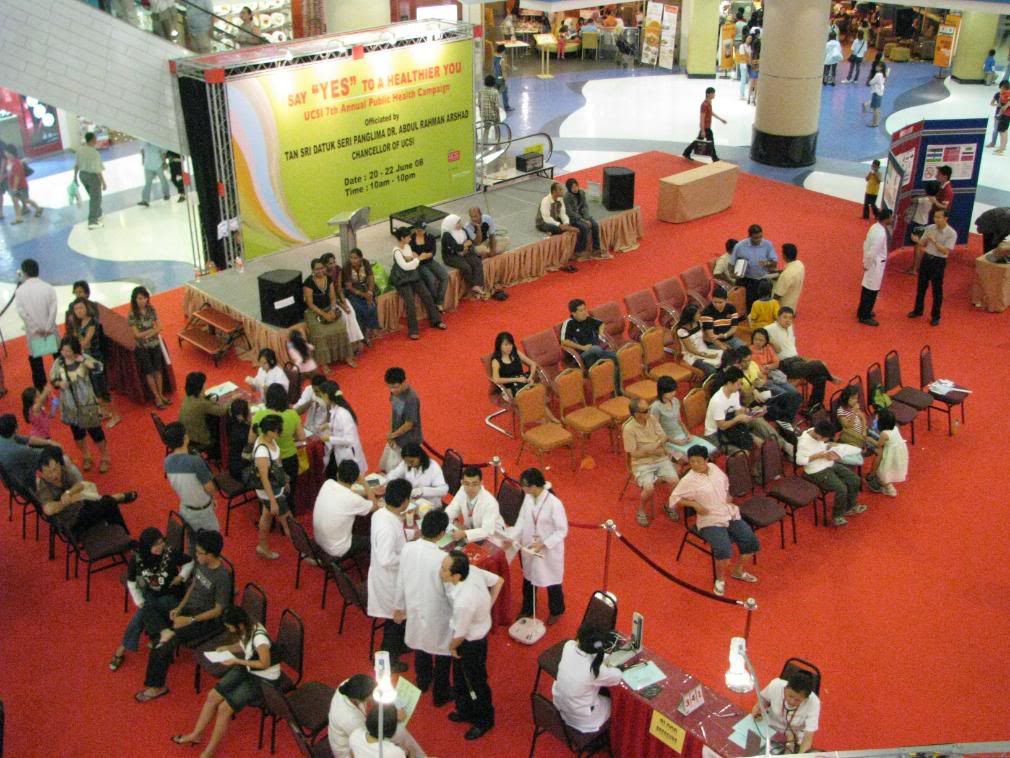 R- Blood pressure measurement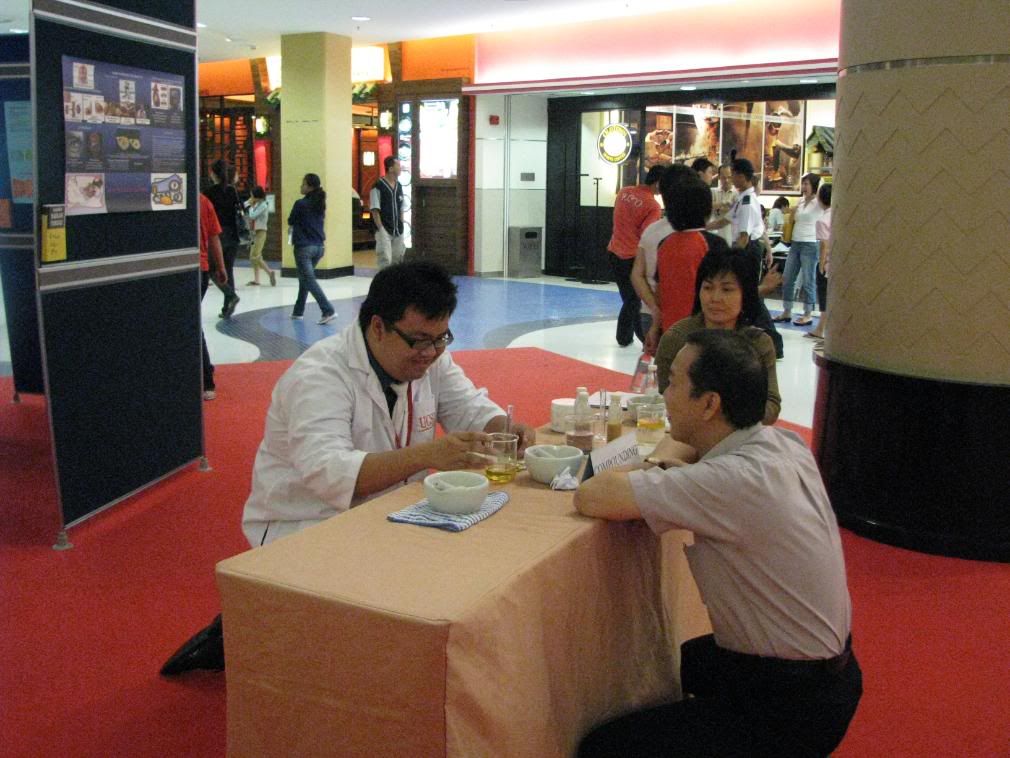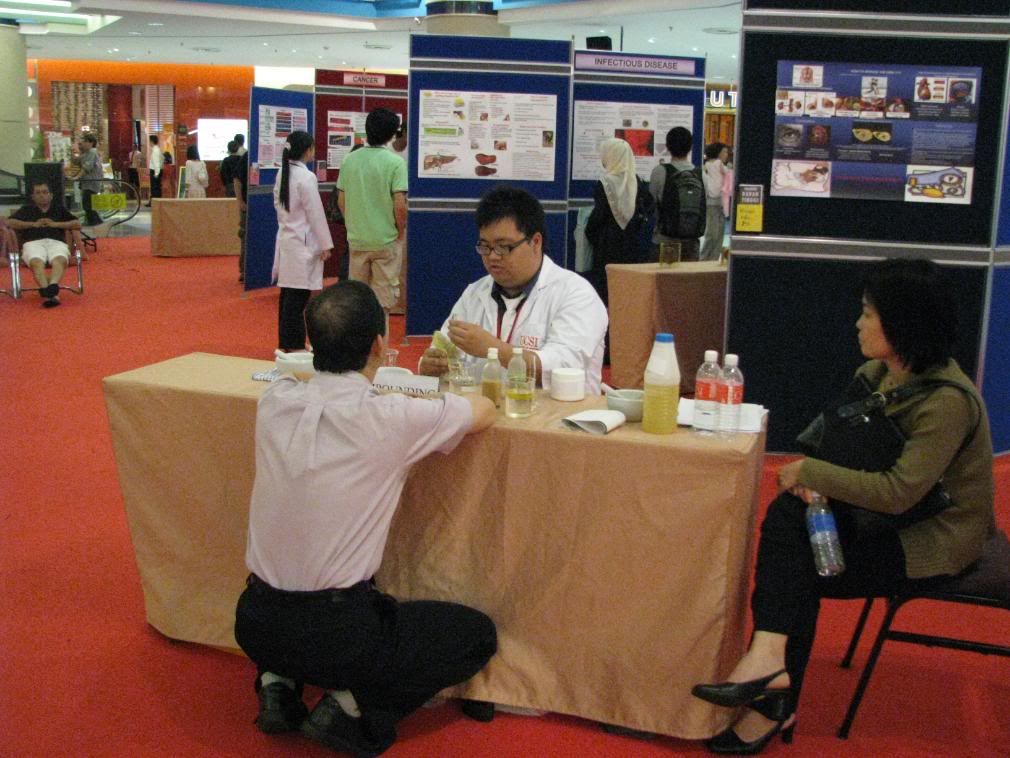 MF doing emulsion demonstration..How to mix oil and water with superb powder..acacia gum..wonder why this man squatted down and looked at MF?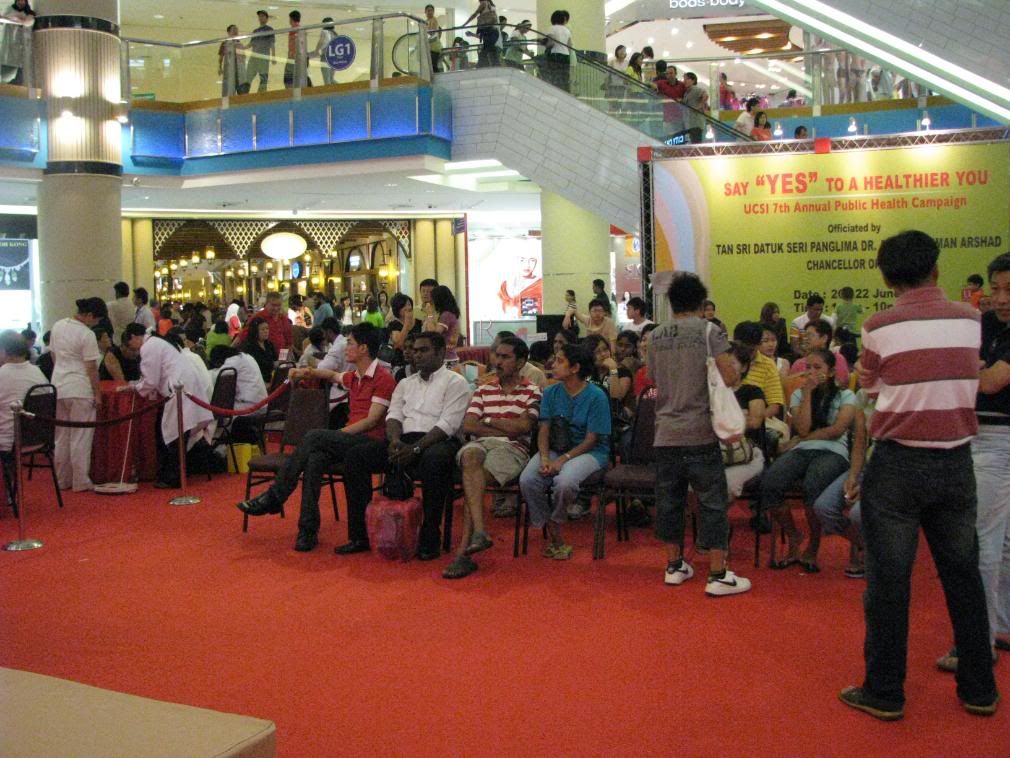 From the pictures themsleves, you can see the number of crowd..
And it seem getting more and more..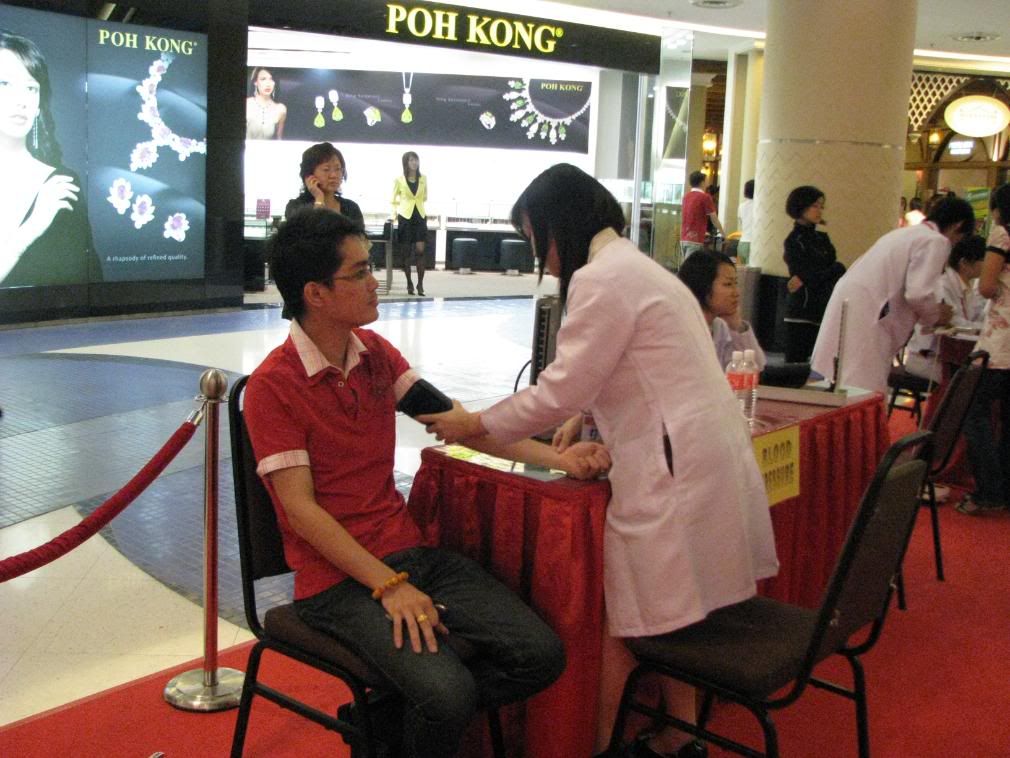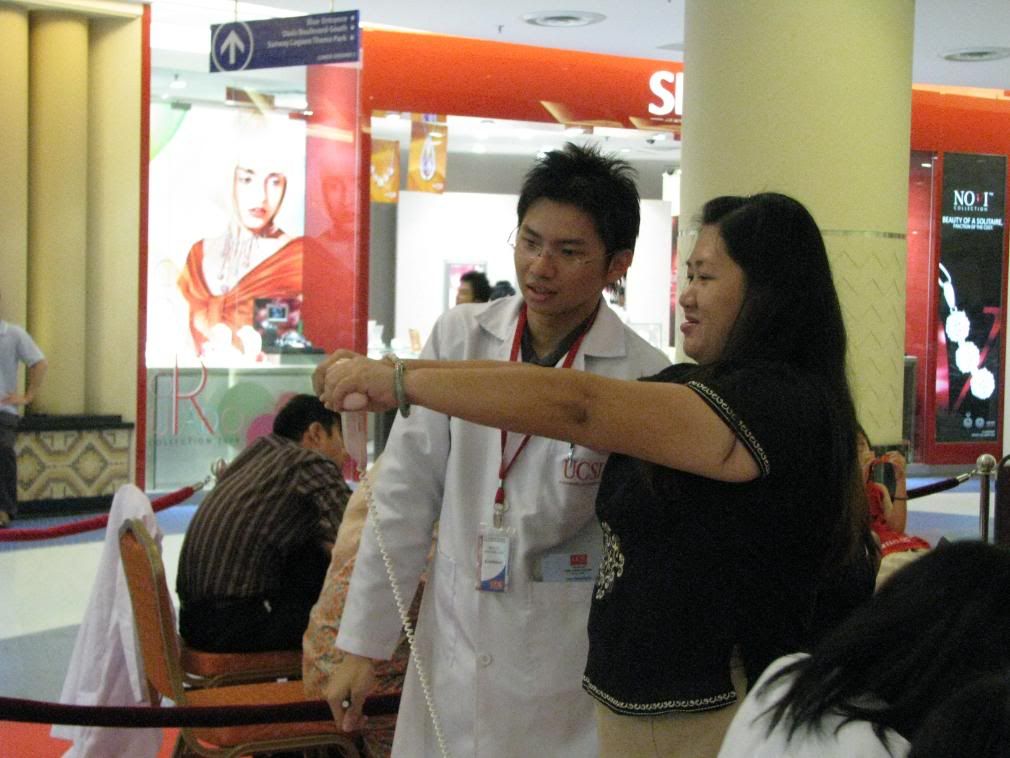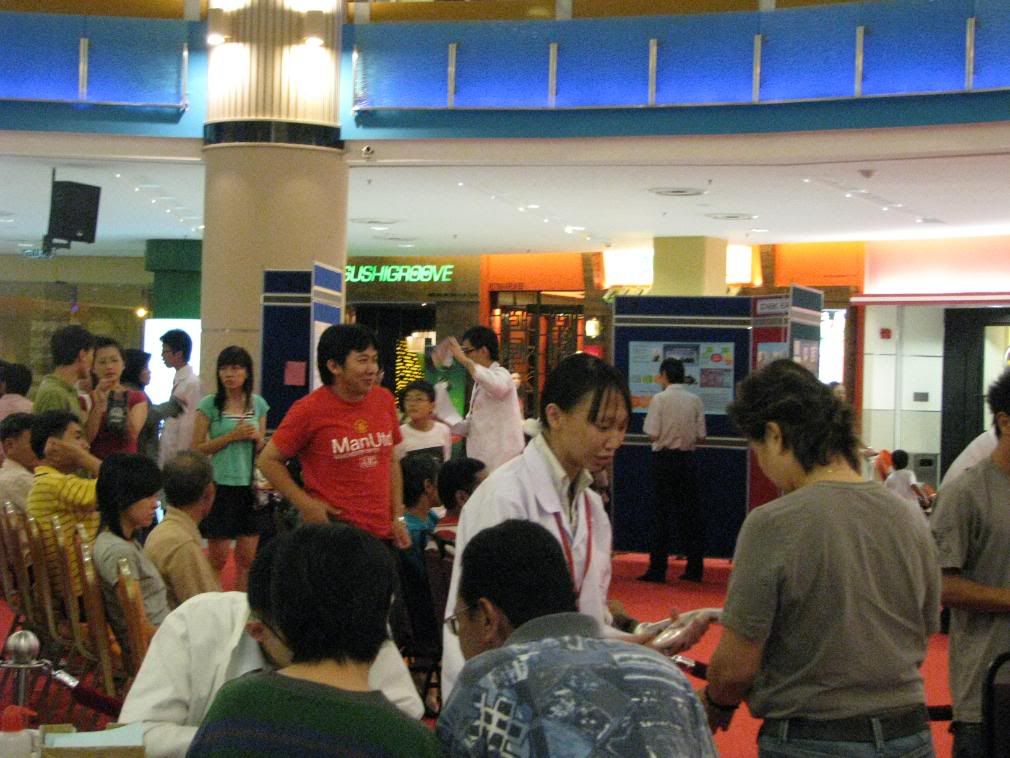 L- It was me doing the measurement...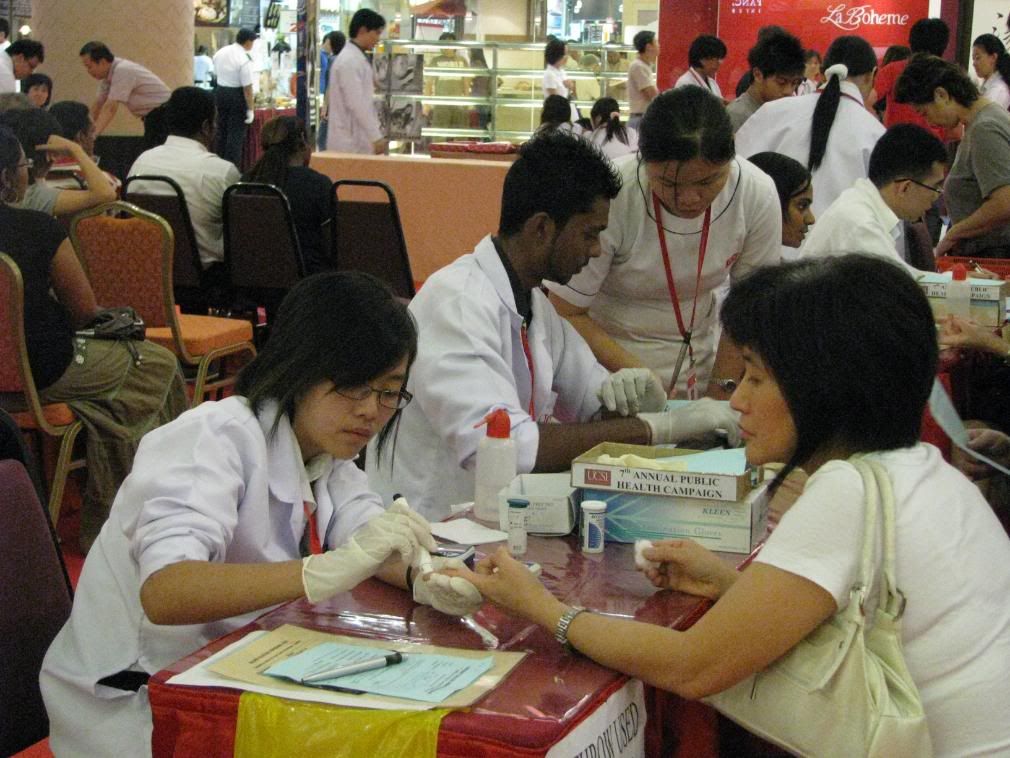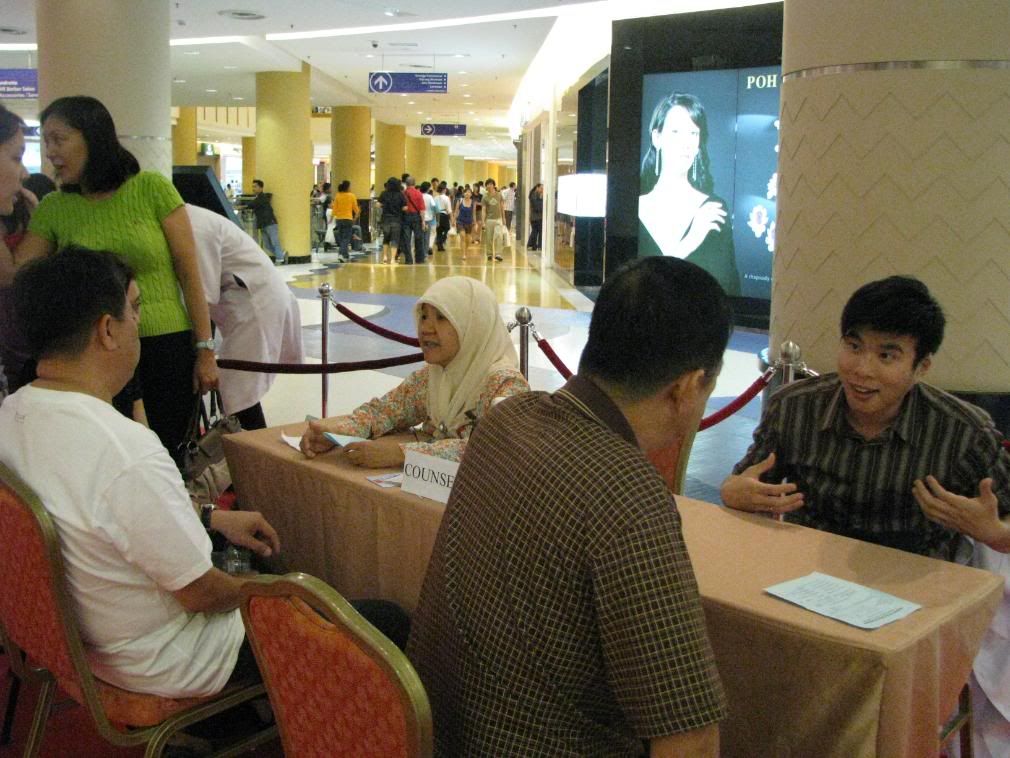 R- Mr Jony explaining to public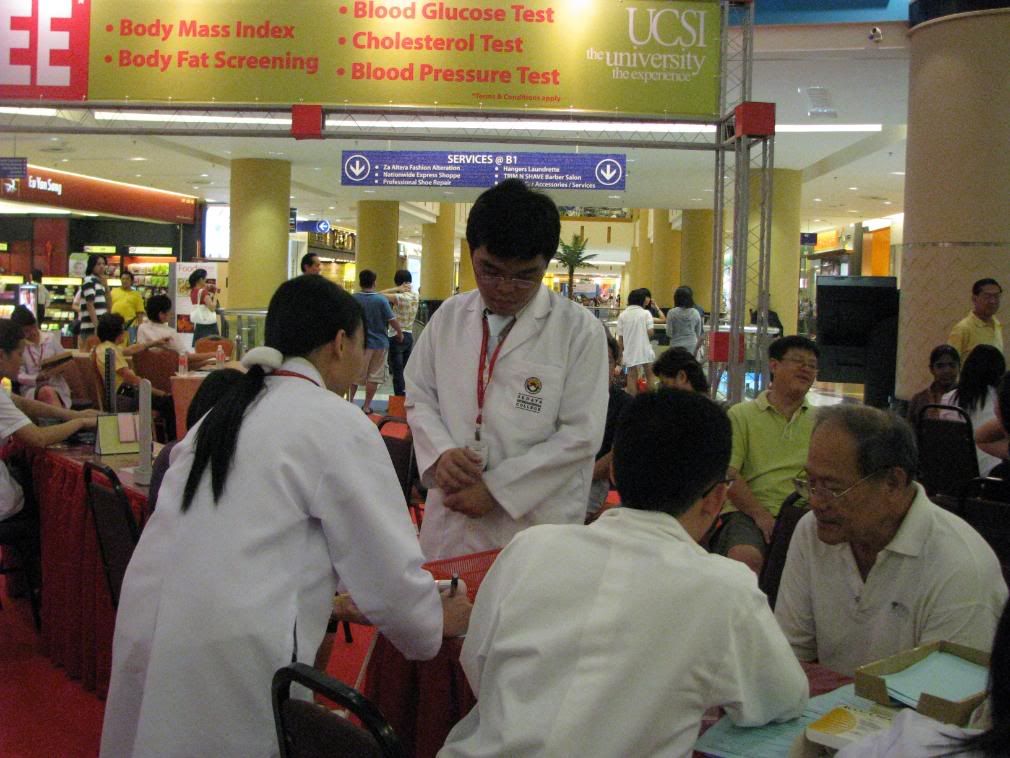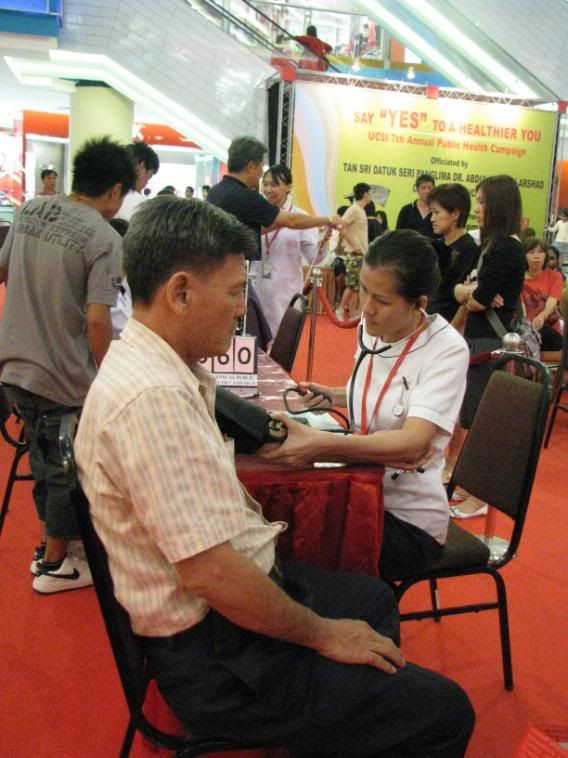 Christine doing the BSE...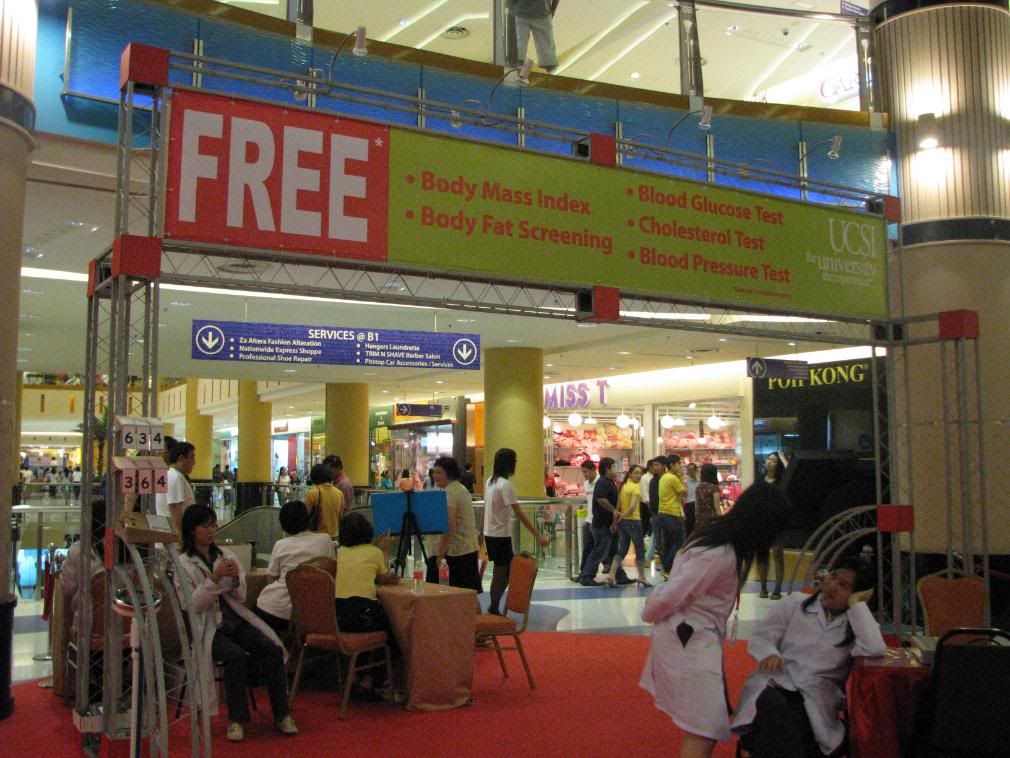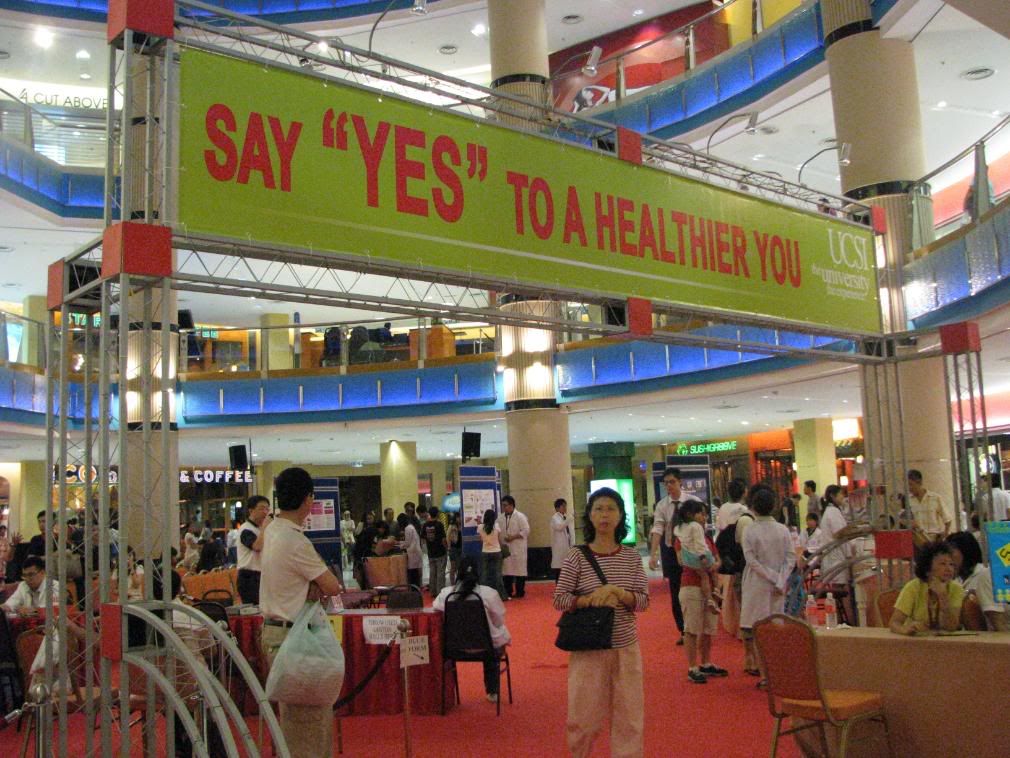 At about 9.30 pm..late at night..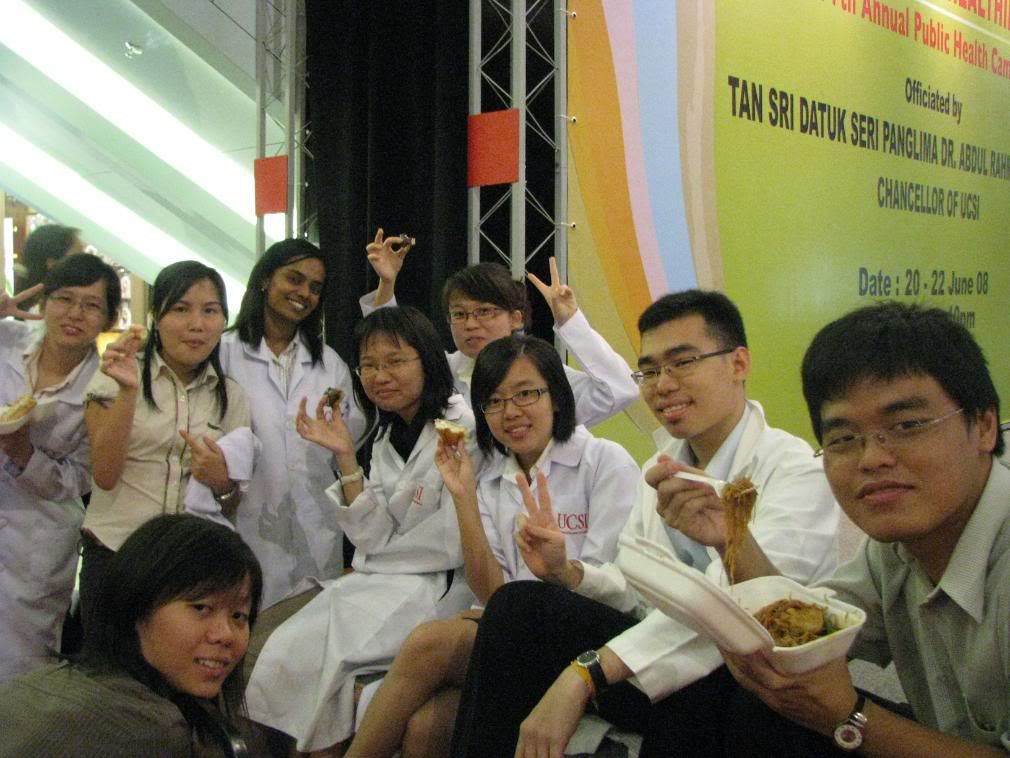 Vun having his 3rd pack of beehun... This beehun was the worse meal of all.. very dry and no taste..The rests were nice.. I went out to the corridor outside facing the Sunway lagoon pools with Christine, Vun, Kat, Shin Ying and Poh Chin to eat this dinner meal.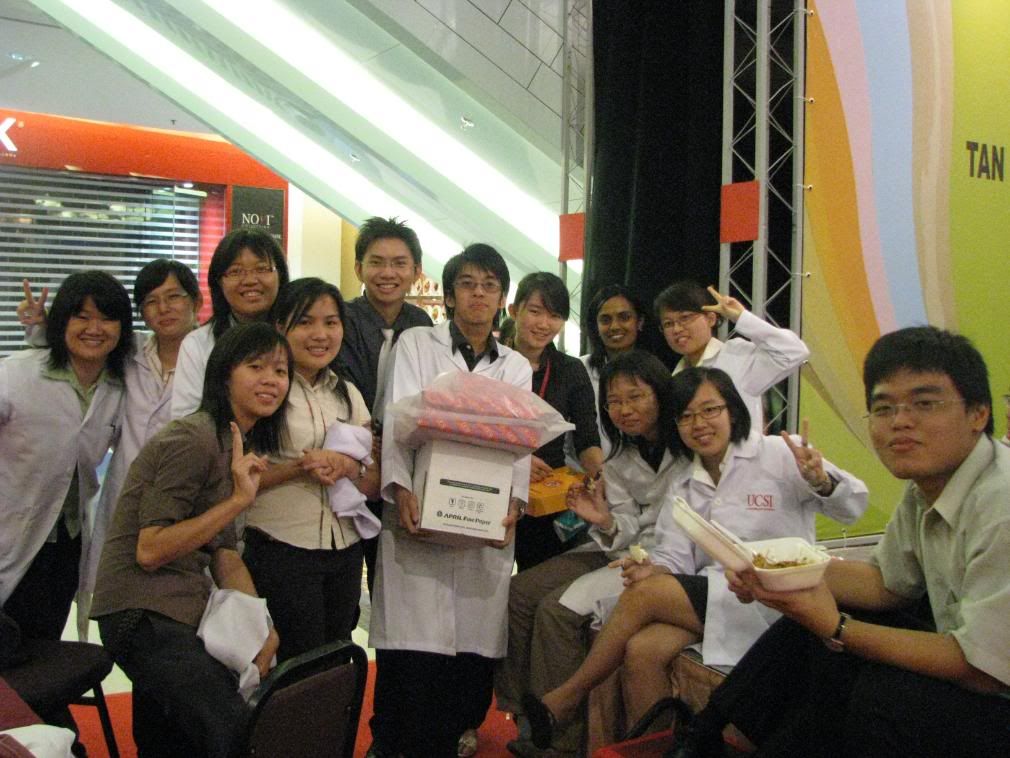 Taking the photo together..
The dat ended not just like dat. After everything has finished, a group of us (Wan Nah, Raj, Me, Vun, Joshua, CC, Poh Chin, Shin Ying, Charlene, Loges, Lee yen and led by Jerry) went to mamak till 2 am in the morning. Too bad suk yen can't join for her own reason. The name of the mamak was COCOA BANANA.... cool name?