Of all the snooker & pool centre I visited, this one is the best so far in terms of environment. Compared to
Club 2 Snooker & Pool
@ Bandar Puchong Jaya, the pool area is 1 floor above while the snooker area is on the ground floor. Hence, it can segregate those smokers who usually play snooker. As seen in the above picture, there is one cafe named PG Red Cafe located on the ground floor. The whole cafe concept is based on red colour. I haven't try the food in this cafe yet but it looks promising from the settings.
This is the view at the 1st floor. From the picture, I think there are 12 snooker tables. A very adequate number and with enough space. This snooker centre is owned by Sam Chong, former Malaysia Snooker No.1. They are using Dufferin house cues and Aramith Premier (competition grade) balls.
There are also two giant TV which showcast sport show. It will be definitely a place to hang out during the upcoming World Cup.
This is the pool area. There are 4 pool tables.
Alright, shall we start the game now?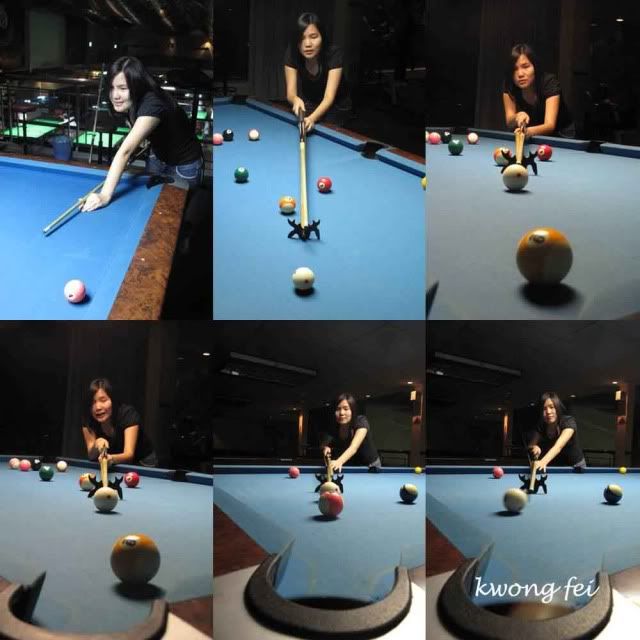 First and foremost, we have Shin Ying who had given her first virgin touch on pool to us.
Next, we have Suk Yen who holds a PhD in pool.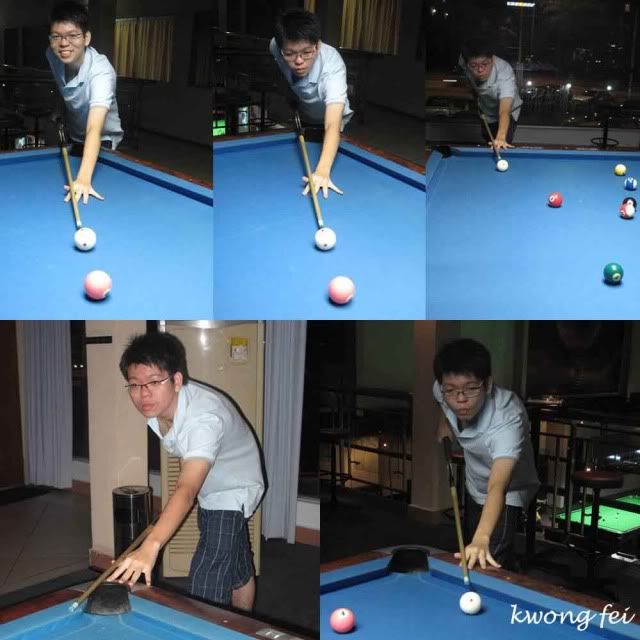 Next, we have Kuan Poh who was learning in fast pace.
Some cheerful photo during the play.
She was the one who brought us here. Pro look?
Some side dish that you can order. Oops smoking is hazardous to your health!
How about a maggie cup? Are you nuts eating maggie mee at pool centre? Opt for soft drinks to quench your thirst.
Group photo with flash on.
After the pool session, we went to yum cha'ing at Steven's Corner. Do you guys know that the outlet at old klang road had closed down and shifted to here with the name of Sri Steven's Corner? I'm not sure the significant of putting the word 'Sri'. Overall, the quality of the pool table, services rendered and environment are good. It will be even better for those who are shy to 'show off' their skills as the pool area is located above. Oh yea.. forgot to mention that the rate is RM 18 per hour. Till here~ Address: Top Two Snooker Centre, Lot No.14081, Jalan Kuchai Lama, 58200 Kuala Lumpur