For the very first time, Pn Chew invited all her students to her open house via FB. Friends of mine know very well I am virtually idiotic in FB. I once saw the invitation and couldn't able to find back the invitation. To my understanding, I thought the open house gonna be held next week. Luckily, I had met with Chee Fei a day before and he enlightened me on the event. Otherwise, I will be skipping this event due to idiotic reason. Haha.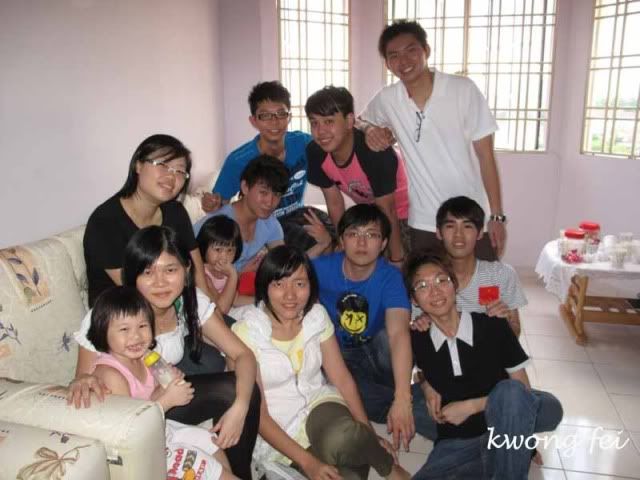 This was the group picture of my batch which was the pioneer group when Pn Chew first started her teaching at Setapak High School. Not in the picture were Kuan Phang and Yi Pei who attended the open house earlier than us. As usual, when we have Yi Pei, it means a short meeting. Haha. Don't kill me for this. In the picture were Pn Chew and her lovely daughters, Chee Fei, Jian Feng, Chee Boon, Me, Weng Kit, Chern Yung, Wai Hong, Suet Yan and Kar Wai.
Me, unknown, Soon Keat, Eng Tat (eng tau alrdy wor) and of course Pn. Chew. They left earlier before we started the blackjack game.
The younger generation of students who kept themselves busy with the playing card in a room. Well, they were just playing cards and 'no money' involved. =P.
The many uncommon faces.
I was told by Pn Chew that the Chinese Society is now active with more Form 5 students. good to hear that. By the way, do you the half ripe banana writing this was once the Vice President of the Chinese Society? Haha.. those were the days when 'chicken talks to duck'.
Outside at the living room, it was dominated by more senior students. We do the same interacting to each other through the play cards.
There was another group of senior students who do not play blackjack sitting right behind the 'socializing group' and was chatting while watching the TV.
Introducing you the Queen of Gamble, San Hui. She just won hundreds of ringgits at Genting Highlands days ago. Nonetheless, she was playing with us to show off her skills and again we did not 'gamble'. =P
Those seniors who played the blackjack with the Queen of Gamble took the opportunity to have a photo with her. 'Tar jie, gong xi gong xi'.
This was the rapper, musicians, guitarist, chemist and 'MANAGER' --> Chee Fei. Check out the background of the right picture. It was the wedding photo of Pn Chew and her husband which was strategically located at the background of the picture of Chee Fei and San Hui. Good couple?
Kingston Wong, this picture was taken by Pn Chew youngest daughter. Through my camera, I actually introduced Jun Jun to her. She was 3 years old while Jun Jun will be reaching 4 this year.
Me and Richie Tham. Most of the picture of the uncommon faces were taken by him. Thanks Richie!
Not to forgot, instead of steamboat last year, this time we have food catering. There were fried rice, mee hun and curry chicken as well as orange juice. For special drinks, just take it from the refrigerator. Haha.
Weirdo pictures of Chee Boon, Chern Yung and Jian Feng.
Pretty ladies with unknown identity.
Johanson Chew, Hana Chan, Pn Chew, Celvin Igor and Kingston Wong. A year younger than me. Although I will be only reaching 22 this year..shhhh~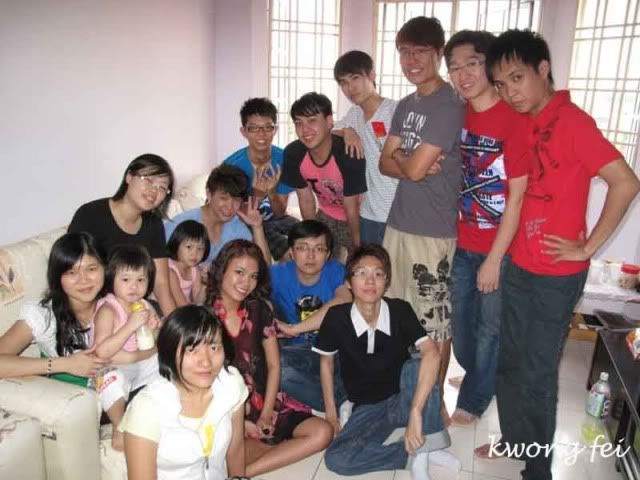 Group picture~ I was the cameraman for this photo.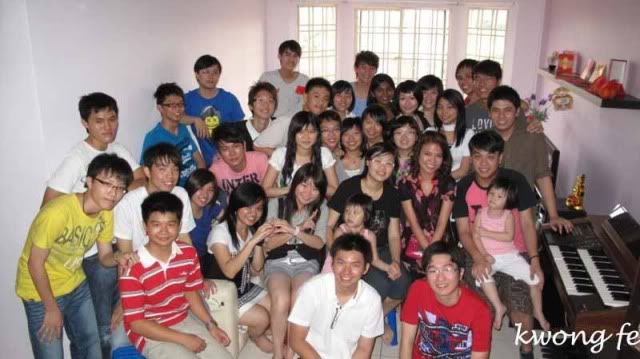 The big family of Setapak High School students comprising different generations attending Pn Chew open house. It was a great day to celebrate the 'everybody birthday' at chor 7. May the year of Tiger bring us lucks, prosperity, wealth and health. Till we meet again next year in a BIGGER house! *You may request for the original photo by contacting me.