*UPDATES ON 8 AUGUST 2009* Source:
Bernama
Amanah Saham 1Malaysia (AS1M) received strong support from the investing public with more than 1.4 billion units taken up within two days of its launch. The selling and buying price of AS1M is fixed at RM1. Unitholders, therefore, can purchase or redeem the AS1M units at RM1 per unit at all times, said Hamad. Redemption however could only be done after the 30 day offer period, he added.
Since units of AS1M is fixed at RM1 at all times, it is not defined as a "capital guaranteed fund" because by definition of the Guidelines on Unit Trust Funds, a "capital guaranteed fund" would guarantee investors the capital invested only if units are held until maturity, explained PNB. Fixed price fund meanwhile does not have a maturity date, and therefore its unit is fixed at RM1.
*UPDATES END*
Yo.. it is another successful camping and different type of experience today! I went to the Maybank at about 6.30 am. Initially, we were planning to go to the post office. However, since we got a lucky number 2 and 3, my friend decided to buy at Maybank instead. Perhaps, we have good companion with the 1st person and the 5th and 7th persons, our conversation went lively as we waited for our queue.
pre dawn

For your information, Maybank (the whole nation I guess) network server went down and could not connected to ASNB. My application was registered at 9.30 am with my account book printed, stamped and signed. However, I have to wait until 11.15 am for the server to be connected and my registration to be fully completed. On the other hand, post offices went smoothly. At 10 am ++, the number went far to 29 and at about 11 am ++, it reached 40. Information given is for post office, CMC , Taman Connought.
The number of crowds this time is far less than expected. Thanks for the uncertainties made intentionally and unintentionally. First and foremost, there is no enough time for the buyer to make the decision as well as to arrange time to make the purchase. I found it weird to have announce on the last Friday afternoon instead of few days before. Those who get the news late may not be able to apply leave on time.
Second, many potential customers had difficulty in getting the correct and precise information. From ASNB website, the information is too little for the public to understand in detail. As from the Maybank officers, there is no reliability in the information given. Some info may differ from branches to branches. Even the Maybank officers are confused on the plan. Third, potential buyers are scared away by the words from the Maybank officer. Those who had asked them on Monday or Tuesday will get this word when they asked for form 'Amanah Saham 1 Malaysia right, there is no capital guaranteed. Think twice before you buy. The price will go up and down'. From ASNB web, they found no such information provided. So, to play safe, better not to take the risks as this plan is a new one.
FAQs.
Do I need to get a new/special form to apply?
Answer is NO. It is the same form used in previous ASNB unit trust investment. The bank officers who claimed that you will get a new form to fill is a rubbish. See, even they themselves are not clear.


What is unit price per unit? Will it be fluctuating or increasing as told by Maybank officers?
The unit price per unit is fixed at RM 1. However, there might be an additional sales charge after the initial offer period. This unit price will be fixed at RM 1 and will not be changed accordingly to the market value as claimed. In another words, if today you buy 10,000 units for RM 10,000, you going to get the same amount should you sell it out.


What does the market value significant as told?
This market value will not affect the sales per unit. It will only affect the dividend payout or interests. Hence, at certain period of times, you get a higher return while at certain times, you might get a lower return. Lets say the price per unit shoot up to RM 2, the RM 1 sales per unit remains unchanged but the additional income will go to your dividend payout.


What do you mean by capital not guaranteed?
I also not sure. Perhaps, if the investment goes into deficit, you get zero money. Lets say you invest RM 100, 000 and the next months, the companies on which the money are invested all bankrupt. Hence, your capital is not protected as you may lose your 100, 000 either partially or completely. However, think of the good side or more applicable. If the investments are successful like all other unit trusts offered by ASNB, the sales per unit remained at RM 1 but the extra incomes generated from the investments will goes to your dividend payout.


Whats the correlation of market value despite the price per unit remains the same all the way?
It seems that the dividend payout or interest is given monthly. Hence, you may get low or high at different period of time. In addition, you can now sell your units at any time. You need not to wait until a full period of 1 year. When you sell your units, it will be fixed at RM 1 per unit. So, when you closes the account, the interest rates up to the time you withdraw will be calculated.
The information is correct at the time of posting. All information as stated have been cross checked with ASNB officer. It is advisable to look for ASNB officers rather than their agents or bank officers for information as they too are confused and not aware completely about this plan. Should I make any mistakes, do let me know.
Below is the only 1 page information distributed to all Maybank. So, the staff use this to explain to the customers. It is surprisingly why other vital information as seen below is not clearly stated in any other sources. Don't you think AS 1 Malaysia laucnhing is too rush? Government is indeed no more money and that's why the predicted launching in September had brought forward to first week of August with just 2-3 weeks away from the launching od additional ASM fund. I was told also in upcoming 1-2 weeks, the Amanah Saham Wawasan 2020 unsold allocations in last April will be open for sale.
The price per unit is FIXED at rm 1.00. Not capital guaranteed as defined under the Guidelines. One Indian uncle asked 'where is the Guidelines?'. If you good in economic terms, you should see the asset allocation. It is too technical for me to understand.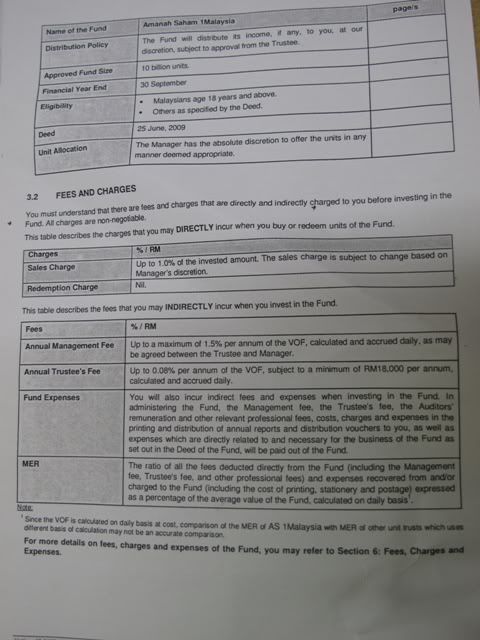 I don't understand what is the meaning of management and trustee fees. Can any 1 explain to me? Quite
surprise that we are not told on that.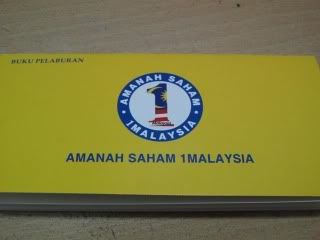 As usual, this is the photo of my investment book. Very happy to have my second investment book! yaHooOO!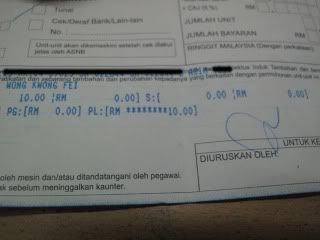 How much did I invest? Not much, only RM 10.00. Wakakakaka