What a special moment in my lifetime!! I am glad I did not miss it! I was about to start my PBL session before Kat PM me and told me about the timing of which only occurs once in a lifetime. Without any hesitation, I google for the timezone so that I can print the screen and immortalised this moment. Took some time to search the best clock and also to practise pressing on the print screen so that I can captured that moment. Then, she asked me to make a wish. I told her to change a new heart for me as the one that I am using now has increasing workload due to study induced stress induced high blood pressure. Haha. She then asked me to make a better wish. So, I told her I am going to make 9 wishes in accordance to the 9 digits in sequence. She doubt I can manage to do so before the time passed. Next, I prepared a paper and start writing my wishes. Oh..it is quite hard. What can I wish for? So, I listed simple wishes such as ....*SECRET, only God knows* and before I can further continue, the time is reaching soon. So, I stopped at wishes number 6. Ok, I am not going to be greedy with 9, will be equally satisfy with 6. So, paper is on my hand, the screen is ready..
I only make one wish.. that is.. my wishes come true.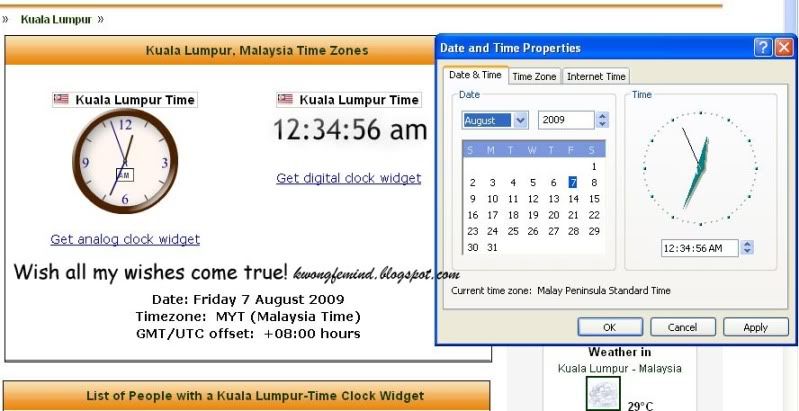 the moment of a lifetime... 12:34:56 am 7 August 2009
Later, Kat called me and I told her how I am able to make that many wishes in time. She laughed non stop. I admit I am a bit silly but I enjoy the moment! Haha. I thanked her continuously for acknowledging me earlier. Thanks thanks~~ I had make mine, how about you? Good luck!
Below is the proof I did not fake the above pictures.